Bristol & West Working Gundog Society – Novice Cocker Spaniel Trial results
Blog , +2
October 13, 2015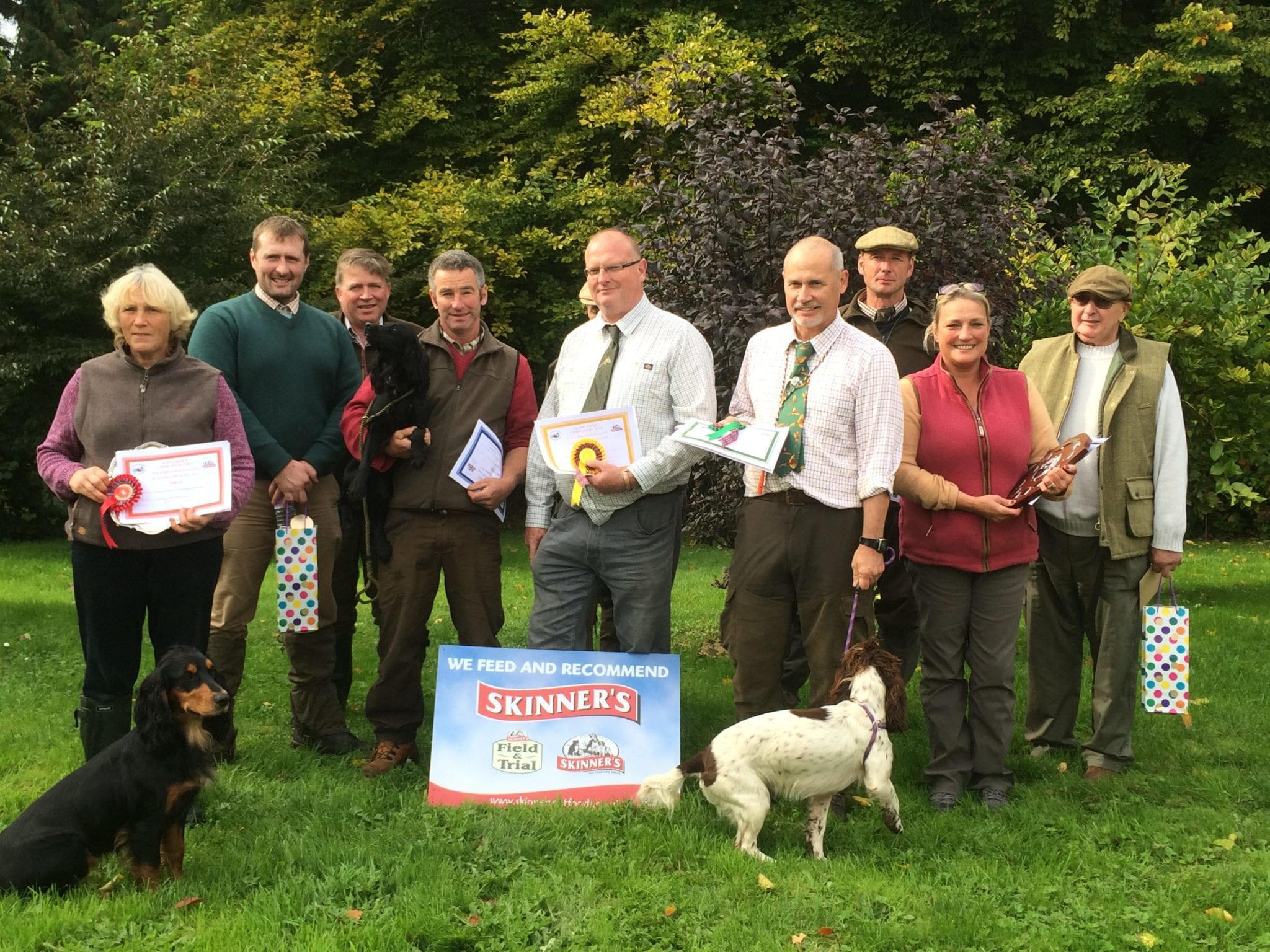 Bristol & West Working Gundog Society sent us the following report and photo from their Novice Cocker Spaniel Trial held on Saturday 10th October:
Novice Cocker Spaniel Trial – Stake 1, held at Alford Shoot, Castle Cary

By kind permission of Mr Edward Thring of Alford Shoot & Paul Smith the Keeper
Judges: Peter Jones & Gareth Davis
Guns: Andy Fisher, Simon Jones, Tom Shepherd & Colin Selwood
The trial commenced at 09:30hrs, on a lovely fresh morning with a full card.
The ground consisted of woodland, rushes & bramble which was absolutely perfect for the Novice Cocker Spaniels that competed.
Several handlers & dogs were put out due to various reasons, leaving eight finishing, one poor spaniel had the unfortunate ordeal of encountering a wasps nest, but thankfully the judge and gun acted swiftly, and the said dog was able to recover enough to complete her runs which resulted in gaining a certificate of merit.
It was nice to see a new handler in this trial and also gaining a certificate of merit in his first trial.
All handlers, judges & guns alike thoroughly enjoyed the ground and all the hard work that Paul the gamekeeper and his trusted team of stops, did to ensure all the birds were contained to the area's we used with the birds coming to hand.
We can't thank Paul & Mr Thring enough for allowing us to use such great ground for the third year running and as previously it was a great success.
There was a run off for first place between Julie Etherington & James Luxford dogs, the judges were left for a short while to tally up their findings and results finalised, which then the trial was deemed over at approx 12:30hrs.
On returning to the meeting place on the estate, there was a short break for refreshment and then the results were announced, the awards were kindly given out by Mr Thring.
The spaniel section thanked Mr Thring for his good will with a gift and also Paul & his team of helpers. Then went on to thank the judges for giving up there day on behalf of the Bristol & West with a gift each. Also a big thank you to the guns.
Results:
1st Shantae's Modesty Blaise handled by Julie Etherington
2nd Howeskye Lilly handled by James Luxford
3rd Dovesflight Jackdaw handled by Roger Wildsmith
4th Aveegotun Morning Cloud hand by Gary Holbrook
COM's
Rowston Rapper handled by Simon Blackman
CentrewalkFlute of Ryledon handled by Kevin Barraclough
Heolybwlch Ianto handled by Sue Hutton
Nettlebridge Aquaius handled by Mark Burr
Guns Choice: Heolybwlch Ianto handled by Sue Hutton