Everyone is welcome at The Glorious Playground
Blog , +1
August 29, 2023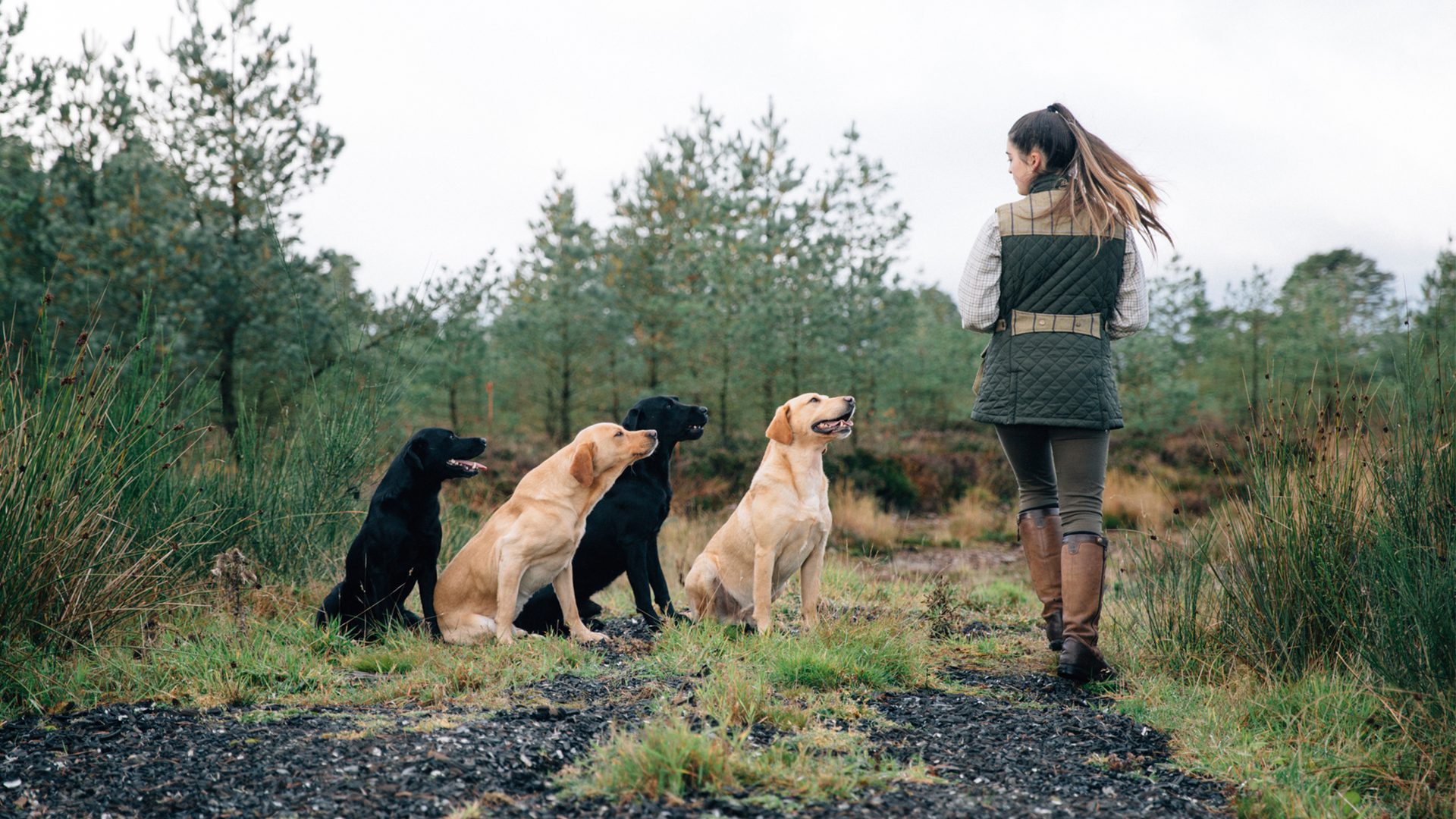 We are all familiar with Gleneagles, the stunning hotel in the heart of the Scottish countryside. If you have ever been, you will already know that guests of the hotel can enjoy a stay packed full of adventure and it provides the perfect backdrop to make memories that will last a lifetime. But, did you know that your dogs can also enjoy this experience? Yes, that is right, your dogs can also enjoy a stay at this world-renowned hotel.
We caught up with Iona McKechnie, Supervisor of the Kennels to find out more…
But it is a man's world…isn't it?
Sadly, the perception is still there that the gundog world is a male dominated space but with many groups now popping up all over the country, we are seeing a rapid change in attitudes. There are many Instagram accounts and groups now actively encouraging girls to give this sport a try and to get involved in the industry.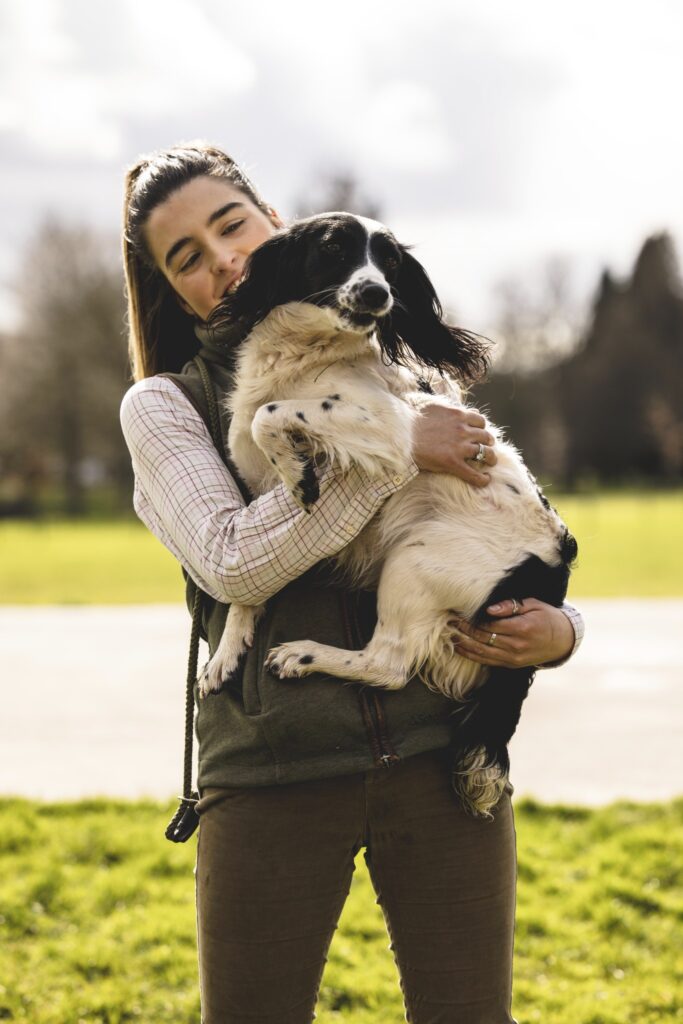 Iona was one of these girls, first coming across the world of working dogs on Instagram and very quickly wanted to get involved with the sport. Seven years ago, whilst still at school she followed her passion and joined the Gleneagles team as a volunteer. Once completing her full-time education, she took on a full-time position and continued to work hard to develop her skills and knowledge. Over the years she has worked her way up to her current position of Kennel Supervisor.
She recalls her first shoot; "it was interesting being a young girl new to the sport. There were a lot of men, but, although it was nerve racking, as soon as you got to know everyone, they were very welcoming to me…. I was also with another girl in the same position as me, so we supported and exchanged our first day feelings. Now on shoot days we see a lot more girls involved which is great, it makes you smile."
We asked her what she loves about working dogs, she replied "it is about the feeling you get taking a dog out that you have put so much time into and trained up. When you go out and see them doing the actual job – picking up and retrieving – you see all your hard work paying off. Yep, that is worth the blood, sweat and rainy days."
In recent years, Gleneagles have seen an increase in demand from young females looking to get involved in field sports and trying the many different experiences that the hotel has to offer. Iona explains, "our taster days have become a wonderful way to share and pass on our knowledge. We have also seen more women apply for roles within our team, which is great to see that world widening. It is great to show young girls that this is not a male dominated sport and that this can be for everyone."
Take it slow and steady!
We could not have this interview and not ask; how does she train a gundog? Using Skinner's Field & Trial Training Treats Iona advises "take it slow and steady. Do not push your dog too hard too soon. We have a lot of young dogs here at the hotel at the minute who need a lot of attention. BUT the more you bombard them with information, the more frustrated they become with themselves…do not move on too quickly, once you have learnt something, keep on that for the next week or so and then move on to something different so it really sits with the dog."
As a young woman that has been in a sport a while now, we asked Iona what advice she would give to a complete novice looking to get their first dog? Laughing, she says "start with a Labrador" before going on to explain "Whatever breed you choose, look for a good breeder and ask lots of questions to those who love the sport and have experience in the industry. Once you have your dog home, let them be a pup. That first year they should enjoy life. If you let them do too much as a puppy, by the time they are a year old, it gets quite bored. They need to be a puppy, obviously you can teach them bits and pieces with the whistle, but at a year old the demanding work starts. Also, do not be afraid to ask for help, I asked loads of questions – it is the best way."
You do not need a gundog to experience the sport!
You do not even have to have a dog to experience what it is like to work a gundog. Under the guidance of Iona and her team at Gleneagles they have a pack of Labradors, Flat-Coat Retrievers and Spaniels that you can handle for the day and will take you through the basics. And, if you are an experienced gundog owner, then her team can assist you with challenges you may be facing, helping to take your skills to the next level.
The have-a-go sessions are 45 minutes long, with a dog of your choice. These experiences are tailored to each guest, from working through hand signals and commands through to training aspects to achieve a stop whistle. You will work with dummies to replicate real in the field scenarios and they even have an obstacle course which replicates hurdles commonly faced on a real shoot. As a guest, the team guide you through how to tackle each one.
By using their own dogs (aged between 1 year to 9 years), Iona's team can demonstrate the abilities of dogs at various stages of development and experience, therefore can replicate situations and challenges that you may face with your own dogs. By experiencing different dogs, at all the various stages, you will see first-hand the benefits and results of sticking with the training the team recommend. Guests can take the advice away, practice at home and then email or call Iona and her team to follow up on the dog's training.
They come in all shapes and sizes.
Although the training and experiences take place with the Gleneagles team of gundogs, you can take your dog to Gleneagles, and they can stay at their boarding kennels in the beautiful grounds of the hotel.
The dogs that stay at the hotel are an eclectic mix now, from traditional gundog breeds to Yorkshire Terriers the hotel welcomes them all.
Skinner's at Gleneagles
Skinner's first came to Iona's attention at the end of 2022 when the hotel, who have several different dogs with different requirements, carried out a review the foods the dogs were all being fed.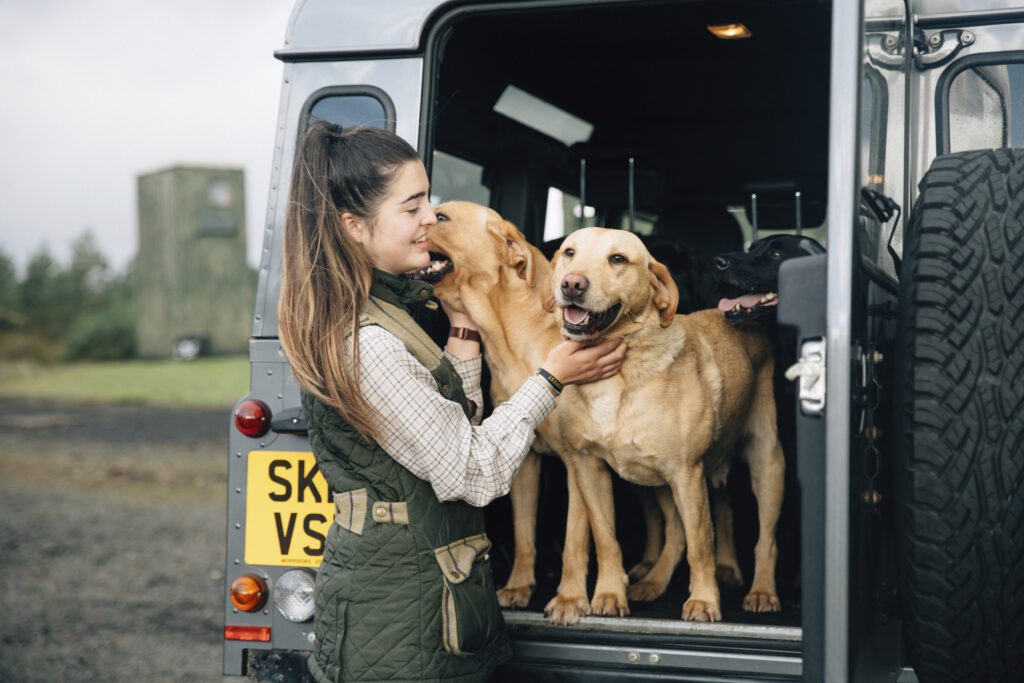 Working with our Nutritionist, Zoe Russell, one of the concerns Iona had, was finding a food which would support the older dogs with joint issues. Zoe highlighted that before diet changes, it is important that a dog's body condition is good and that the weight is kept off. With regards to feeding them, always weigh their portions and where needed adjust slightly as our guidelines are guidelines – every dog is different. The dogs were in good condition, and they transitioned the older dogs on to Field & Trial Maintenance Plus. Iona advises, "it has made a huge difference to our older dogs with the joint supplements in it."
Another challenge faced by Iona and her team was about keeping weight on their highly active Springer Spaniel. This dog was very muscular but does not fill out as much, although her weight is fine. Zoe recommended Field & Trial Working 30 as it is our most nutrient dense food. Zoe explains that "with weight gain, fat is the key nutrient and protein for the muscle. Always weigh out their portions as scoops can be inaccurate resulting in under or over feeding. As with all our diets you can adjust the amount you feed slightly as our guidelines are guidelines – every dog is different (10% increments). Some dogs do run really lean, and in these situations, it can be a case of increasing the number of daily meals and reduce the portions as it can be easier for them to digest."
The Spaniels have been on this diet for some time now, and Iona describes the results as "they have done really well on the Working 30, it's put the meat back on them which has been so hard in the past as they just have so much energy."
The rest of the younger dogs are all on Maintenance, they are doing well; maintaining weight and their coats are nice as well.
Transition should not be scary!
Iona explained that she worked closely with Pete, our Scottish Area Sales Manager, and found the transition to Skinner's Field & Trial as "straight forward and easy. We were nervous to start with as it was a big jump from where we were. We were using so many diverse types of food. It went smoothly." Pete also worked with Marshall from Broomehall Feeds, a local wholesaler, to ensure prompt and regular deliveries straight from this Scottish wholesaler to the door of Gleneagles.
Ask questions and seek advice.
Iona expanded on this further, "…we even have guests walk past the paddocks and often ask how we keep the dogs in such good shape, and we can offer some lifestyle and nutritional advice when needed."
Iona continues to work with Skinner's Nutrition Officer, Zoe Russell, to continue to develop and expand on the nutritional offering and bespoke advice that the Gleneagles team can offer guests.