Friday 13th…Black Shuck the Demon Dog ~ Suffolk's Very Own Ghostly Dog.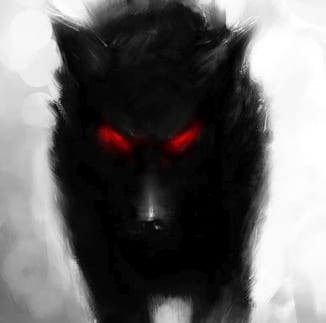 Considering it is Friday 13th October, it is only fitting we get in the mood for Halloween by starting off with a spooky story from Suffolk…
There are many myths and legends which cover the depths of the Norfolk and Suffolk Countryside. One of which being the haunting of a 7ft tall black demon dog named 'Black Shuck' which was one of many demon dogs haunting across the country. Black Shuck made an alleged appearance in 1577 at Bungay and Blythburgh churches.
Black Shuck was described by locals by being a 7ft tall black dog with flaming eyes (some describe him with having one eye) that were either red or bright green and the size of saucers. Sightings of Black Shuck did vary, sometimes he was seen headless and other times floating on a carpet of mist. He was mostly seen in graveyards, side roads and forests.
(Leiston Abbey, English Herritage).One of the major sightings of Black Shuck was at the churches of Bungay and Blythburgh in Suffolk. August 4th 1577 during a heavy thunderstorm, Black Shuck was said to have burst through the doors of Blythburgh church. He ran down the aisle past everyone killing a man and a boy, causing the church steeple to collapse through the roof. On his way out he left large scratch marks on the door which can still be seen to this day. These marks are referred to by the locals as the 'devils fingerprints'
In May 2014, the skeleton of a large dog was recovered from the grounds of Leiston Abbey, Suffolk and is linked the legend of Black Shuck. The bones found were traced to a date of around 1650-1660, 1730-1810 or post 1920. There have still been sightings of a large black dog to this day around different areas in Suffolk. One man said he had seen the dog on the marshes in Felixstowe.