How can I keep my dog safe over the Christmas period?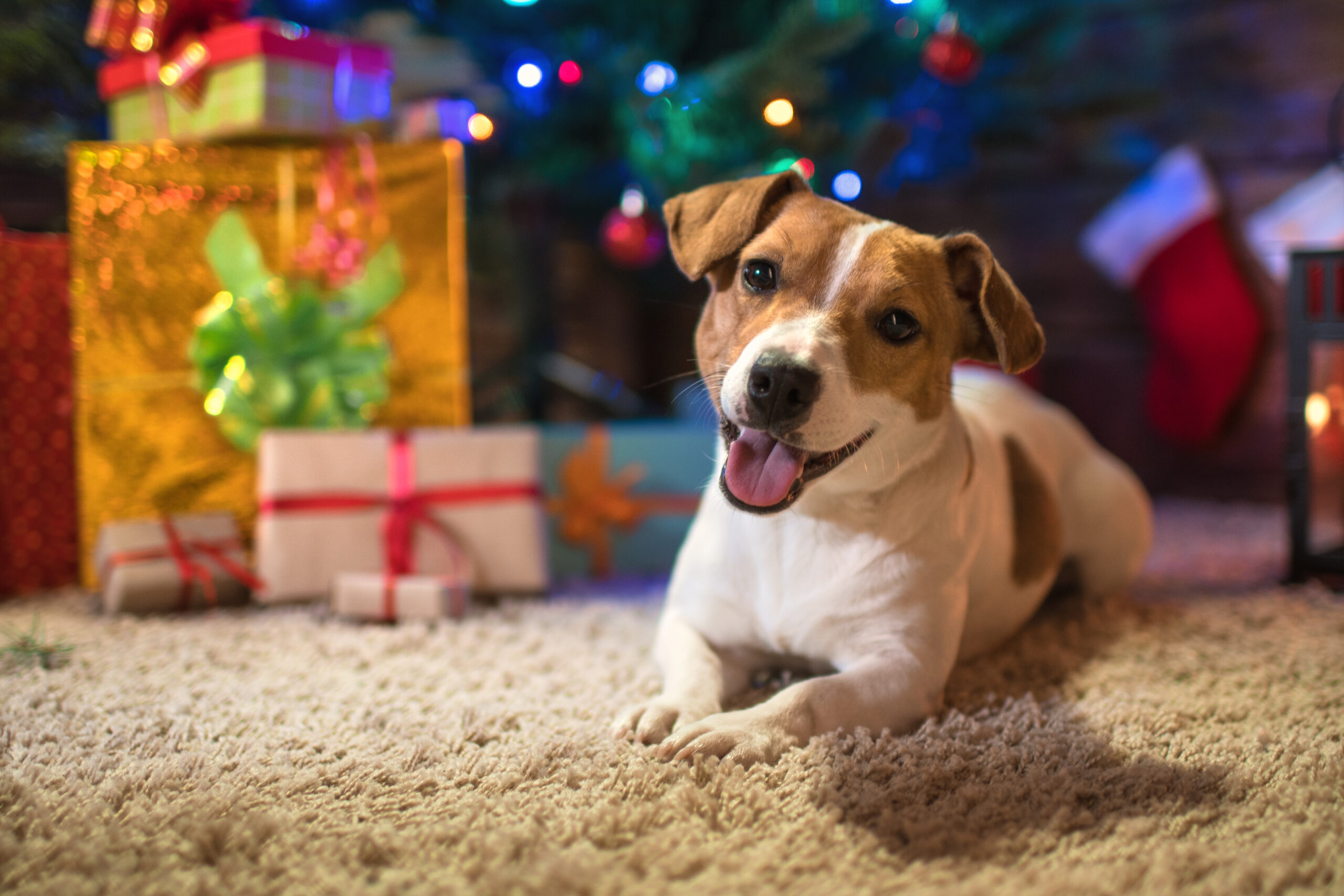 This time of year should be a happy and enjoyable one for everyone, even your dog! However, it's important to consider the risks that can potentially arise, and make sure you put in the right steps to ensure everyone has a stress-free festive period as possible…
1. Christmas Tree cautions
There's nothing quite like the smell of a real tree, not to mention how lovely they look; but they could pose risk. The main hazard is the needles, which can cause pain if they get in their paws; we would suggest getting a non-drop one to reduce the likelihood of this happening.
Whilst most are not toxic and it's unlikely that they will eat any of it, some can cause discomfort if consumed. If you are concerned, please contact your vet immediately.
Remember to make sure it is securely in place. The last thing you want is your beautifully decorated tree tipping over in the living room! More importantly, you don't want to risk your dog getting stuck under it either. We suggest keeping them in separate rooms unless supervised, to avoid any mishaps!
2. Foods to avoid
Our Nutrition Officer, Zoe Russell says "By now, we all should be aware that dogs aren't allowed chocolate, but what other foods pose a risk for them at this time of year?
Foods such as raisins, currants, sultanas, macadamia nuts and artificial sweetener (xylitol) all pose a health risk to if they are consumed, even in small doses. Therefore, it's important to keep them away from popular festive treats like Christmas cake, mince pies and Christmas pudding.
It's not just the sweet treats that raise a red flag; savoury foods such as cooked bones can splinter and cause internal damage if eaten, whilst onions, garlic, leeks and shallots should also be avoided as they can cause damage to their red blood cells. It's also important to steer clear of very fatty foods such as turkey skin; too much dietary fat can contribute towards problems like pancreatitis.
If at any point you become worried about what they have eaten, please seek veterinary assistance immediately.
Now this may seem unfair stopping them from over-indulging over the festive period, but it's vital that we keep them safe. That being said, there are a number of foods they can enjoy during the time, providing they are fed in moderation.
Foods such as raw carrot make a tasty, low-calorie training treat, while vegetables such as peas and plain, cooked cauliflower may also be given in moderation. When it comes to meat, a small amount of cooked, lean meat with no bones or skin may be safe to give as a titbit, providing your dog is healthy and has no dietary intolerances.
We don't suggest supplementing any more than 10% of their diet with other foods, and it's important to remember that introducing new foods into their diet can contribute towards dietary upset; so please consider what you are feeding, the amount you are feeding and their individual needs. If you are unsure on any of this, give our free online feeding guide a try to receive a personalised recommendation for your dog."
Just because there are foods that your dog can't enjoy over the Christmas period, that doesn't mean they have to miss out! Why not treat them to a bowl of our delicious Turkey & Rice? Or perhaps they'd like to try our NEW Turkey, Chicken & Cranberry wet food?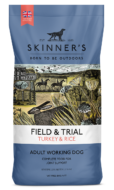 Turkey & Rice
Specially formulated for joint support.
£12.75 – £53.89
3. Dangerous decorations
It's not Christmas without fairy lights, and lots of them! However, please be mindful with the places that you put them and ensure they are kept out of reach of your dog where possible. We know this isn't always possible when you put lights around your tree, so be extra vigilant. Hazards could include getting tangled up, or getting an electric shock if chewed; so it really is important to keep them away.
We also recommend keeping baubles and hanging decorations out of reach. They could quite innocently knock glass ones off with their tail, which if smashed, could be a risk. They might also be tempted to try and eat one, which is why it's best to leave the bottom of your tree bare.
4. Festive plants
Mistletoe and Holly are plants that we all associate with the big day but are extremely toxic to our four-legged friends if consumed!
We would suggest avoiding having them in the house where possible. However, if you must have them, then ensure they are completely out of the way of your hound.
Contact your vet immediately if you do find yourself in the situation that they have been consumed.
5. Visitors
This festive period will certainly be one like no other, and whilst we will probably be meeting up with a lot less people than we normally would, you may still have a small gathering. Remember that this can be daunting, particularly when this year you haven't had many new people come into the house; and they can feel like their personal space is being invaded.
Make sure they have somewhere "safe" that they can go, where they know they won't be disturbed and will get a bit of peace and quiet. If there's children in the house, let them know to leave the dog alone when they are in this "safe spot". Read one of our previous articles about keeping them calm here.
Remember if you are concerned, to seek veterinary advice in the first instance.
After what has been a challenging year, we hope you are able to have an enjoyable and safe Christmas and a Happy New Year!