Keep canine calm and carry on… exercising (just a bit differently!)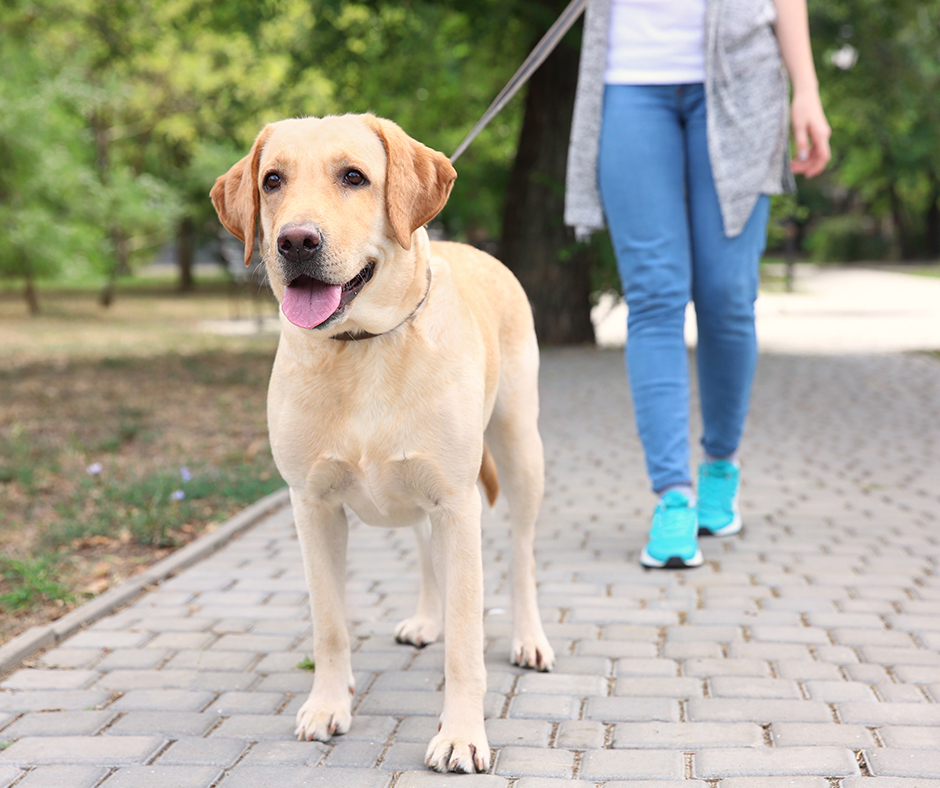 Written by: Dr Jacqueline Boyd, BSc (Hons), MSc, PhD, PGCHE, CHES, FHEA, MRSB
Nutritional Consultant, Skinner's Pet Foods
The nation's dogs are experiencing an unprecedented level of human attention and companionship just now. However, the physical distancing advice and restrictions look set to continue for the immediate future as a result of the ongoing COVID-19 pandemic. This means that for many dogs and their people, the usual exercise routines have had to adapt. However, this can create an opportunity for us to perhaps be a little more creative and inspired in our activities with our dogs. Physical distancing need not mean that we become distant from physical exercise! In this article, we will explore key points for exercise in the current circumstances and in the next article, we will examine alternative ways to exercise body and mind!
"Walkies"
Current advice is that dogs can still be walked but with sensible precautions and maintaining physical distance (at least 2 m) from other people. If you have more than one person in the house, their once-a-day outing for exercise can incorporate exercising the dog. For some lucky dogs, this means that their usual daily walks can be continued. For others, this might mean a single walk from home per day, if there is only one person in the house. Either way, try to ensure the exercise is as physically and mentally beneficial as possible – for both dog(s) and person! Mix your speed of movement, allow your dog time to sniff, take different routes and even practice basic training such as heelwork and waiting at the side of the road.
Reliable recall?
In these strange times, be extra cautious about letting your dog off lead, unless you are sure they have a reliable recall. This is not the time that you need the additional worry of trying to find a lost dog, when other people (and indeed public services) will be unlikely to be able to help you. Consider using a long line or similar if you are concerned. Make sure their microchip details are up-to date, and ensure they are wearing a collar and tag with their home address and other contact details.
Pick up your poo!
Poo picking is something every dog owner should be doing as standard, but it is even more important now as more dogs are likely to be frequenting similar walking/exercise areas and people do not want to be risking touching surfaces or items (such as filled and left poo bags!) that are not their own. Remember diseases that can make our dogs (and us!) ill can be spread in poo, so pick it up and dispose of it sensibly. Indeed, with public services being under pressure for other essential tasks now, consider taking your bagged dog poo home rather than using public dog poo bins just now, as these are likely to not be emptied as frequently as normal.
Take the lead
While your dog might love meeting other dogs and people, now is not the time to either encourage or allow it. Pop your dog on lead if you see either other people or dogs. This will ensure you meet the guidelines for physical distancing AND you can also help safely manage dog to dog and dog to human interactions. Ironically, for many people with dogs who are nervous of other dogs, this is proving to be a useful time where they are not constantly worried about the out of control, excessively boisterous, bouncy and "he only wants to be friendly!" dog! Don't be that owner with the out of control dog and use your lead when necessary.
Go green!
Current guidance is to avoid unnecessary travel and to exercise from home. As a result, try to explore your local area more (whilst ensuring physical distancing measures are met) and use any open, green spaces if possible. If you have a garden, explore your garden with your dog and use it for playing, exercise and games with your dog too. Even a small garden (or patio!) can become a fun area for scent work, simple retrieves or training exercises to work body and mind!
Be safe!
Most importantly, keep you and your dog safe. Remember, vets are following restricted contact guidelines, meaning that veterinary advice and help is not as accessible as normal and is primarily restricted to emergencies only. Look out for anything that could injure your dog (broken glass, barbed wire etc) and also don't suddenly go running several miles if neither of you are fit for it – it is surprisingly easy for simple injuries to occur if you or your dog are not physically conditioned for new forms of exercise! After walking, ALWAYS wash your hands well on returning home.
Stay safe and stay well. During times like this, our dogs can be great sources of comfort, support and can even help create opportunities for us to keep some physical exercise within our daily schedule. Keep an eye on the Skinner's blogs too, for further advice and more ideas of helping you to help your dog. As ever, if you have any questions regarding food choices or nutrition for your dog, our experienced and friendly nutrition team would be delighted to help you.