NEWS: Skinner's Pet Foods Announce Official Partnership with Gloucester Rugby Club
Blog , +1
December 13, 2018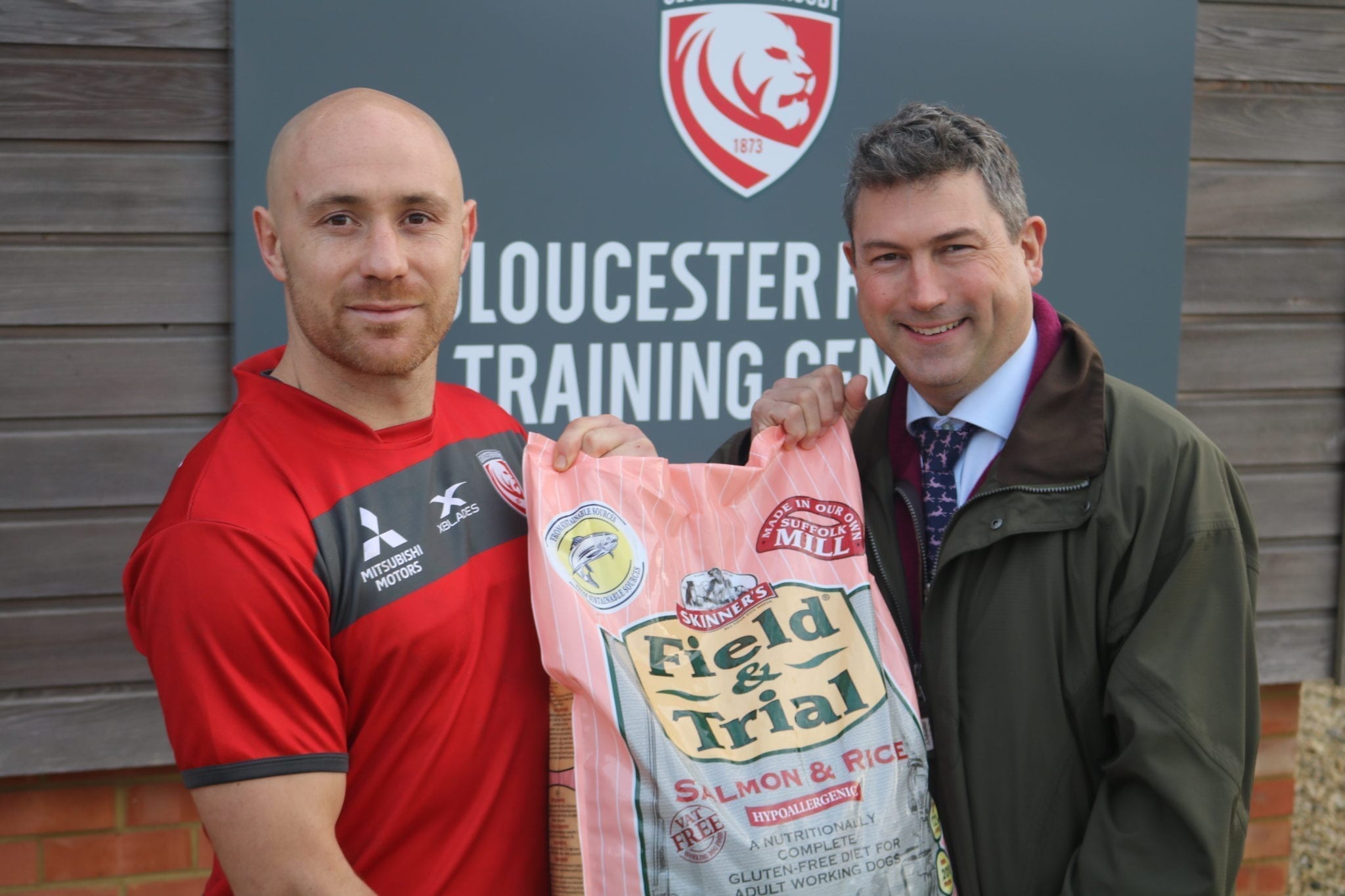 Suffolk based pet food manufacturer Skinner's Pet Foods, has signed a long-term agreement as an Official Club Partner of premiership team, Gloucester Rugby Club.
Skinner's Pet Foods, is a family owned business which has been manufacturing premium quality dry dog food for almost 50 years. The Field & Trial range, which is available in 2.5kg bags and 15kg bags consists of 19 different diets, varying from puppy to adult and has a broad spectrum of nutrition suitable for working or pet dogs.
A large number of the Gloucester Rugby first team squad, members of the club staff and many of the supporters are happy dog owners. In fact, the players can often be seen walking their dogs between sessions at the club's training base at Hartpury College.
Gloucester Rugby's Chief Commercial Officer, Adam Benson, commented:
"The pet industry has shown tremendous growth over the last twenty years and this agreement shows just how dynamic this market sector is.
"We're a very dog friendly club. Lots of members of the playing department, as well as the staff at Kingsholm, are proud dog owners.
"This partnership is a perfect fit for Gloucester Rugby and we're looking forward to working with the team at Skinner's on some really exciting projects."
Speaking of the partnership, William Delamore, Sales & Marketing Director for Skinner's Pet Foods said:
"We are delighted to become a partner of Gloucester Rugby. I spend every Sunday morning during the season watching my son play junior rugby, many of the people I meet have dogs, enjoy the countryside and outdoor pursuits. This is a perfect fit for us to build our brand and support a sport we love."
He continued:
"The rugby community is very comparable to our canine world. The companionship, loyalty, and love for your four-legged friend is similar to the relationship you have for your team and team mates. We know that sport, exercise and activity is great for your health, body, and spirit, owning a dog provides this to so many people.
"By partnering with Gloucester Rugby, we can engage further with our audience of existing and prospective customers. The rugby community and values mirror Skinner's philosophy of teamwork, respect and passion for what we do. We are looking forward to a long and productive relationship with Gloucester Rugby."
Skinner's Field & Trial range is currently stocked in over 2,000 independent pet stores, country stores and most online retailers