Get Out & Go! It's time to discover our new range
Written by Zoe Russell, BSc (Hons)  
Nutrition Officer, Skinner's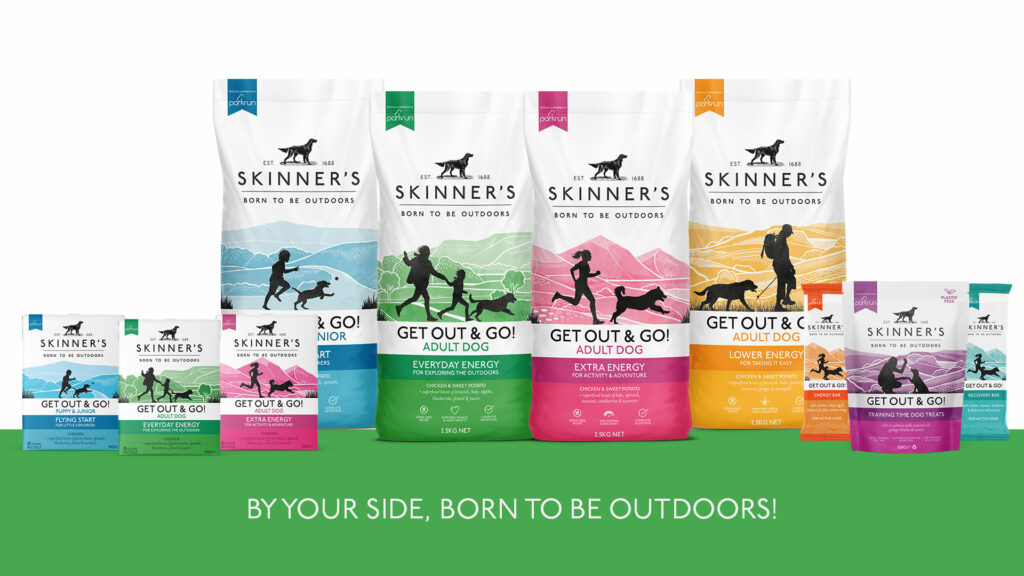 New dry food range
We have formulated a range of exciting new dry diets for active dogs who like to Get Out & Go! All of these are made to a grain-free recipe and have been developed to suit dogs of all life stages and activity levels. Our range starts with our Flying Start Puppy & Junior which has been specifically made for the growth and development of young puppies. We then have a range of adult diets to suit all activity levels including Lower Energy, Everyday Energy and Extra Energy. Our products allow dogs to work up and down the range, depending on how active they are and all of our recipes are nutritionally complete and balanced so provide all the nutrients they need to stay healthy.

Brand new wet diets
Formulated to support active partnerships and made to grain-free recipes, our new wet diets are perfect for active dogs and those who may benefit from a sensitive diet. Our recipes are nutritionally complete, so can be fed alone, or alongside or delicious dry diets for an appetizing mix of flavours and textures. Starting with our Flying Start Puppy & Junior wet food, we can support dogs right the way from weaning up through adulthood. Once a dog is fully grown and developed, they may move onto either our Everyday Energy wet diet, or for those dogs with above average energy requirements, the Extra Energy wet food.
Exciting new treats
It's important to positively reward our dog's good behaviour. That's why we have created our new Get Out and Go! Training Time Dog Treats which provide a tasty snack for dogs aged 2+ months. These complimentary treats are made with nutritious ingredients like salmon, carrot and coconut oil, as well as ginkgo biloba which is traditionally associated with cognitive health. Our treats are also soft-bake, meaning they can be easily broken apart and portioned to suit your dog's needs. These make the perfect accompaniment to our wet or dry diets!
Boosting energy bars
We know active dogs often need a little 'boost' when they are on the go. That's why our new Energy Bar has been developed with active dogs in mind, as it can help to energize dogs during periods of intense activity, to ensure they are fuelled throughout the day. We advise portioning the bar according to the intensity and duration of your dog's activity and while considering their individual needs. The bar is perfect during long hikes, walks or if they need a 'pit-stop' refuel during a run!
We know active dogs not only need the right nutrition to support their performance, but also the right nutrition to help them recover after periods of intense activity. That's why we've also created a Recovery Bar which contains ingredients such as chicken which provides a source of protein to support muscle repair, as well as honey and dextrose to aid muscle glycogen recovery. We recommend feeding this within 30 minutes following activity, for example once you've finished a race or hike and don't forget to supply your dog with fresh, clean water too.
Contact us
If you need any more information about our diets, then please contact our nutrition team at nutritionsupport@skinners.co.uk or call us on 01379 384247.