"And they call it puppy love…" What is so special about the human-dog bond?
The partnership between person and dog can take many forms and covers a wide spectrum. For some, dogs represent friends, confidants and family members. For others, dogs are working tools and companions, forming an essential part of a working day. Here at Skinner's, we know that we feed the whole range of dogs; from hardworking sheepdogs and gundogs, through to dearly loved family pets, and our range of complete diets covers the requirements of all breeds/types and activity levels. For this reason, we are passionate about making the world better for dogs and their people, with diet and nutrition being only part of that. However, what is it about dogs that make our relationships with them so special? Let's examine some of the amazing things about how we live with dogs, that science has identified.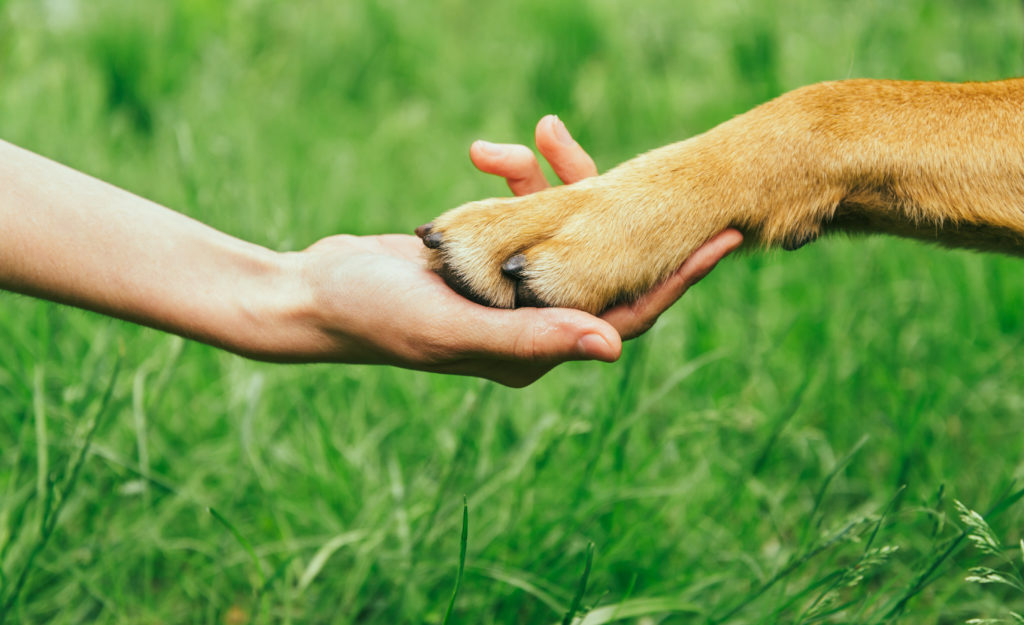 Dogs and us
The first thing is that dogs and humans appear to have closely co-evolved and have developed similar biological strategies to enhance bonding, even between two very different species. Evidence suggests that dogs and humans have co-existed in one form or another for thousands of years. During this time, dogs have managed to develop some similar abilities to us. For example, it appears that gazing into your dog's eyes, helps create deep emotional bonds, in the same way that human to human gazing aids bonding and relationship building. Dogs are also great at being able to respond to pointing cues from people; in fact, even better than other species! Dogs will also make eye contact with humans when they are trying to solve a problem, showing the level of communication that is possible between person and dog. Indeed, I am sure I am not the only owner that has had their dog "lovingly" gaze at them when they have rolled their favourite ball under the sofa, urging me to retrieve it for them!
The eyes have it
In addition to developing bonds through gazing into the eyes of a dog, it seems that dogs have altered their eye anatomy and physiology to appear more "human" to us! A study published in 2019 revealed how a specific muscle controlling the ability to raise the eyebrow can be found in domestic dogs, but not wolves. The study also showed that dogs are adept at raising their eyebrows and this can result in a human urge to nurture them! It is often joked that dogs are better at training us, than we are at training them, and science is possibly providing some supporting evidence as to why this is the case!
The human-dog bond and diet
It is also interesting to note that as humans and dogs have co-evolved, dogs also seem to have developed an ability to digest cooked, starchy food, to a much greater extent than wolves. This ability would have stood dogs in good stead during their early domestication alongside humans – an ability to eat and successfully digest food provided (or indeed thrown away!) by their human companions would have proven to be a useful survival tool, and this ability remains to this day. It also indicates that contrary to popular belief, dogs are capable of digesting carbohydrates, although some breeds and types are better adapted to levels of carbohydrates in their diet than others – all dogs are individual when it comes to their biology!
Fuelling the bond
At Skinner's, we recognise the diversity of relationships our customers (both human and canine!) have. As a result, we have a range of diets to help fuel and support the bond between you and your dog(s). Whether you and your dog are competitive runners, regular walkers, sofa snugglers or working colleagues, we want to help fuel your bond and support you in your endeavours. This is just one way in which we want to make the world a better place for dogs and their people.
For friendly and experienced nutritional advice, contact our Nutrition Team who will be delighted to help you.