Energy Bars – How can they support your dog?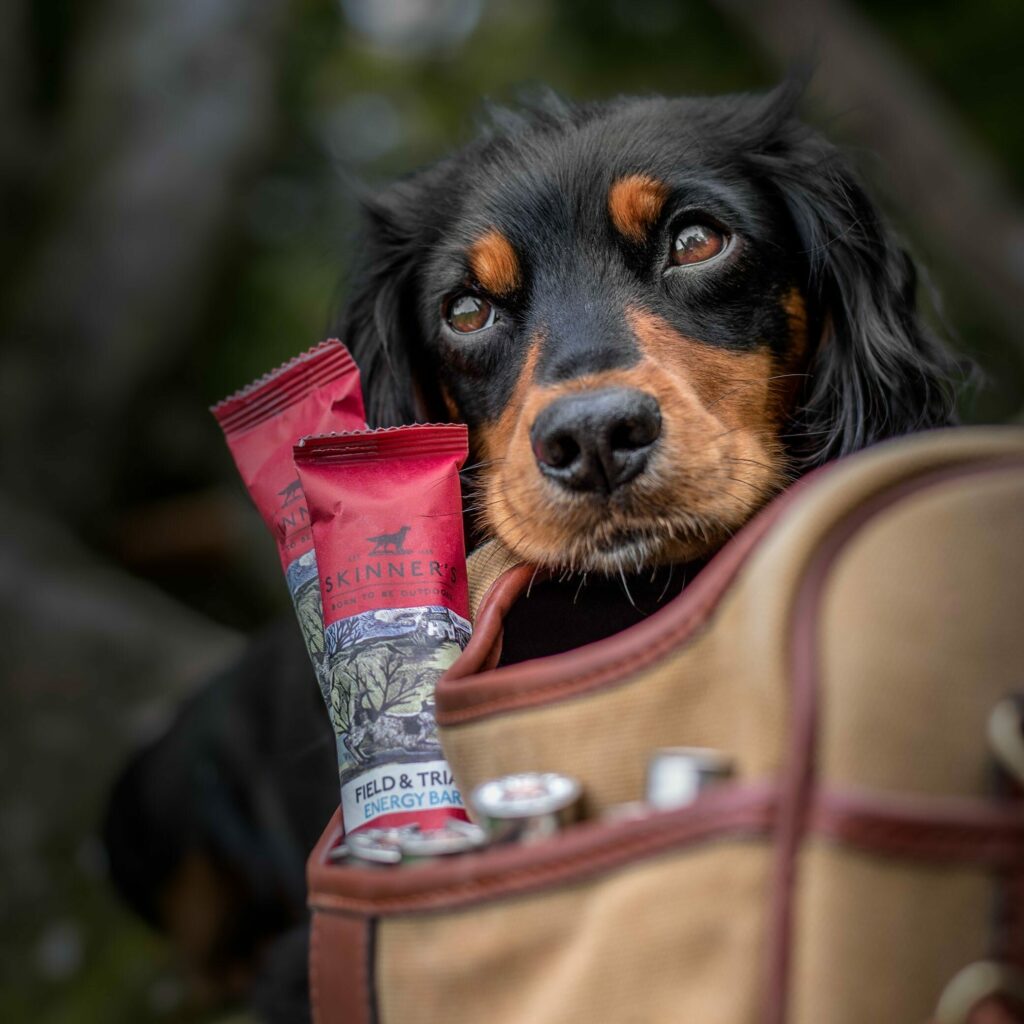 Written by Zoe Russell, BSc (Hons)  
Nutrition Officer, Skinner's
You may have noticed our exciting new Energy Bars in both the Field & Trial and Get Out & Go! ranges. These have been designed to support active dogs, helping to fuel them through periods of intense activity. Whether your dog's working out in the field or hiking in the mountains, we've got them covered.
How does an Energy Bar work?
Our Energy Bars use ingredients such as honey and dextrose to provide a source of digestible carbohydrates for quick-release energy. Our unique recipes also contain ingredients such as chicken, dried egg and whey, which help supply dietary protein for energy as well as muscle repair and regeneration. Not only this but these bars are packed full of antioxidant-rich ingredients including carrot and apple which can help limit the impacts of oxidative damage.
Does my dog need an Energy Bar?
Often owners will say their dog is fit, well-conditioned and well fed, meaning a snack is not needed. This is not untrue, however most active dogs (pets and gundogs alike) are not regularly exercising at the same energetic output, meaning their fitness and stamina will often be pushed beyond their 'norm'. Coupled with this, there is some neat science about the benefits of providing a digestible snack during an intense work session to help maintain performance. This is perhaps even more relevant if you have a dog who runs themselves to exhaustion or one who suffers from "hunting dog hypoglycaemia", which is essentially low blood sugar.
How much do I need to feed?
Our Energy Bars are what's known as a "complementary food", meaning they are designed to be fed alongside a complete and balanced diet. As with any complimentary food, they should not make up any more than 10% of your dog's daily calorie intake.
The amount you feed will therefore depend on your individual dog, as well as the intensity and duration of the exercise. For example, a very active dog doing a 10k competitive run may need a larger portion than a dog doing a relaxed 5k run.
Which bar is right for my dog?
For all the hard-working gundogs, the Field & Trial Energy Bar makes the perfect 'boost' during a working day. They fit neatly inside your pocket and can be easily broken into squares and fed as and when they are needed. Whether it's elevenses or lunchtime, this is the ideal time to refuel your dog with an Energy Bar, to ensure they continue to perform at their best for the remainder of the day.
If your dog is hiking, running, cani-crossing and being generally active, the Get Out & Go! Energy Bar is the one for them. It can fit snugly into your treat bag or the pocket of your running shorts and can be portioned according to your dog's needs. Furthermore, the Get Out & Go! bar is made to a grain free recipe, so makes the ideal choice for dogs with dietary sensitivities.
Contact us
If you need any nutrition advice, then please contact our nutrition team at nutritionsupport@skinners.co.uk and we would be more than happy to help.