Feeding A Pregnant Dog
Ensuring the best start in life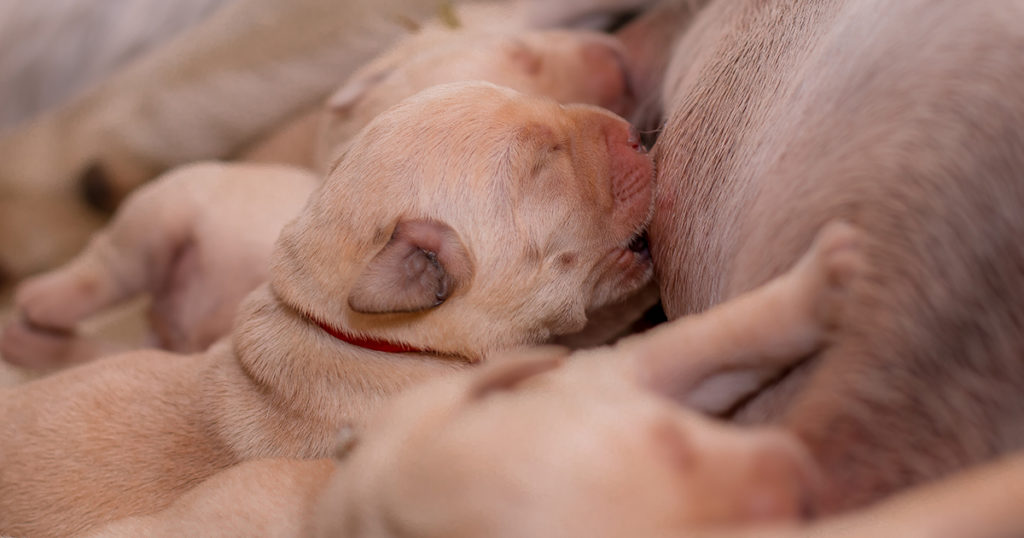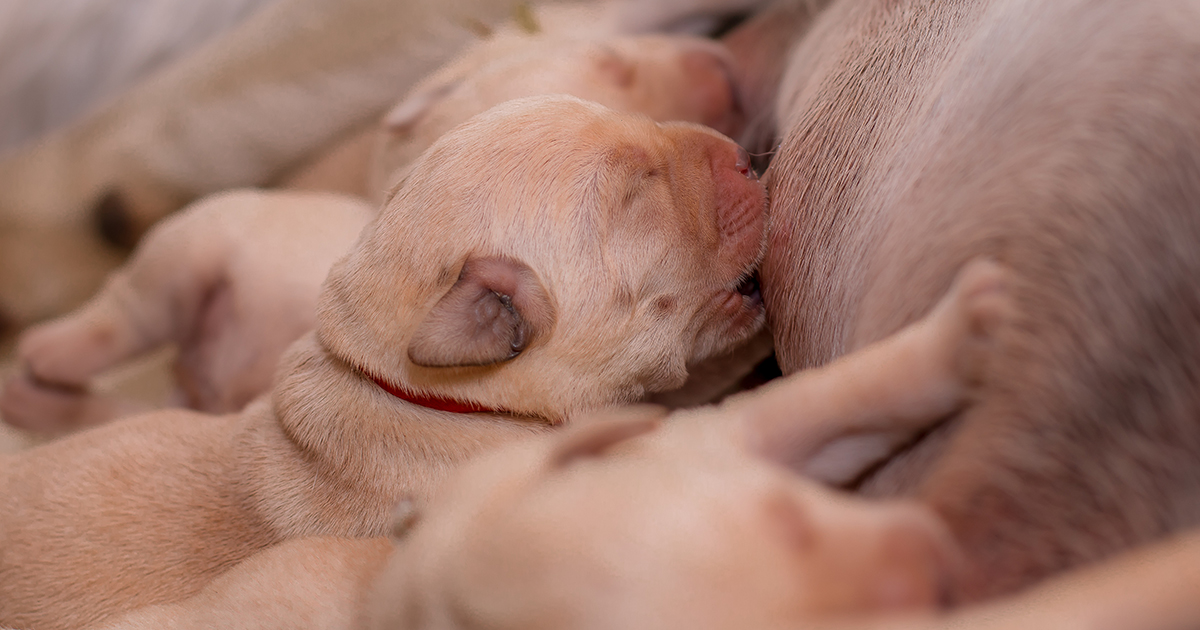 Feeding well means a diet that supports your dog's nutritional needs, providing all they need to support their growth and development towards a long, healthy and active adulthood. This is particularly true at key stages in a dog's life – for stud dogs, for bitches about to go through pregnancy and for the new litter of puppies.
For most breeders, when considering the care of a pregnant dog, food comes high on the list of considerations.
The health and wellbeing of your puppies' parents – even before mating – is important to the long-term health of the litter. It's why good breeders ensure their breeding dogs are fit, healthy and well nourished, that they are fed a balanced diet that is rich in key nutrients.
Before the arrival of a new litter
From Dachshünd to Labrador, or any indeed any other working dog breed, stud dogs typically benefit from a complete diet that supports an active lifestyle and has balanced levels of key nutrients to support normal activity levels and the bitch will be nutritionally helped through pregnancy, birth and lactation.
For breeding bitches, a complete balanced diet is important – even before she is ready for mating. Ensuring a balanced diet will help prepare her for pregnancy, birth and lactation. She should be fit and active and not carrying any excess weight as this can affect both her fertility levels and her ability to whelp (give birth) easily.
It's also worth looking at the key nutrients in the diet of a bitch intended for breeding. Excess levels of vitamin A should be avoided because this can be associated with birth defects, while folic acid can support the very early development of puppies before birth.
The breeding bitch
Of course you'll be asking yourself what dog food Is best at every stage of the breeding process. For pregnant bitches, no dietary changes are typically needed until about week five of their confirmed pregnancy. At this point, it's good practice to gradually move to a diet higher in key nutrients such as protein and fat carbohydrates, as well as balanced levels of the minerals calcium and phosphorous especially.
At around week five of pregnancy we recommend the gradual transition of a pregnant bitch on to one of our Field & Trial Puppy foods or to Field & Trial Working 30. This is when the physical demands on the female dog will increase.
Each of these foods is formulated to support growth and development both before and after the birth, as well as providing mum with key nutritional support too. Even after the birth, we recommend the bitch is kept on this higher nutritional level until weaning is complete and she starts to return to normal activity levels.
It's also worth bearing in mind that a pregnant bitch might also need an increased number of small meals each day as the pregnancy starts to impact on her digestive system and limit the amount of food that she can eat in one meal. Little and often is a good motto for the last couple of weeks.
After the birth
Once the puppies are born, the mother dog will certainly have her work cut out. Supporting the litter's growth and development is – nutritionally – one of the most demanding periods in her life.
After whelping, she may appear to go off her food. This is not unusual, but you can help her digest her food by soaking it in a little warm water and making a mash with a porridge-like consistency. This will also help ensure she gets additional fluids. As the puppies get older and less reliant on mum for milk, you can decrease the amount mum eats and gradually swap her back onto her pre-pregnancy food and normal exercise routine.
Lactation will place huge demands on her. So now is a time you're probably thinking how much should I feed my dog? A good strategy is to allow her free access (sometimes called ad lib) feeding to her food, unless she is especially greedy. This can also be useful when the puppies have opened their eyes and have started to move around – this way, exposure to the food they will be weaned on to will be more gradual and not a stressful experience.
Interestingly, some new mums actively eat and then regurgitate some of the food for the puppies. This is an entirely normal and natural behaviour, so don't be alarmed.
The weaning stage – what to feed a puppy
Many breeders will start to wean their puppies somewhere between three and five weeks of age. In fact, many bitches begin to spend time away from their puppies at this point to help naturally wean them.
During this time, puppies will still nurse from mum but it's also good to start getting them used to solid food. Gradually decreasing the reliance of puppies on their mother's milk also has the benefit of helping dry up her milk production slowly and with minimal stress. Studies also suggest that exposing puppies to a range of food types during weaning and early development can help their overall gut and digestive health, even into adulthood.
For many puppies, soaking a complete puppy formulation kibble in some warm water is a good way to introduce them to solid food. Simply allow it to soak, then fork it through to make a meal with a porridge-like consistency. Multiple meals per day will be required initially and the amount of soaking can be reduced as the puppies grow and develop. Often they will be on an entirely dry kibble by around eight weeks of age.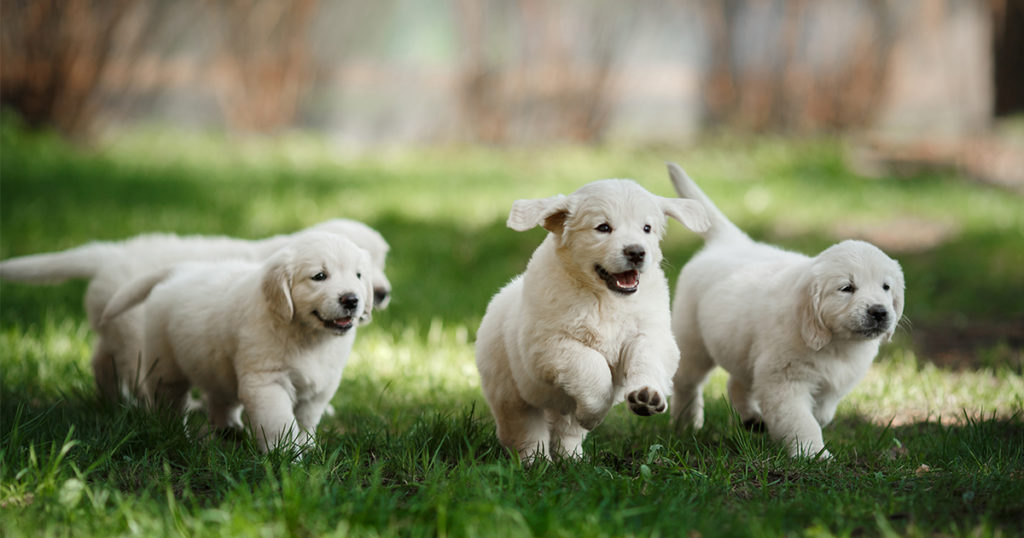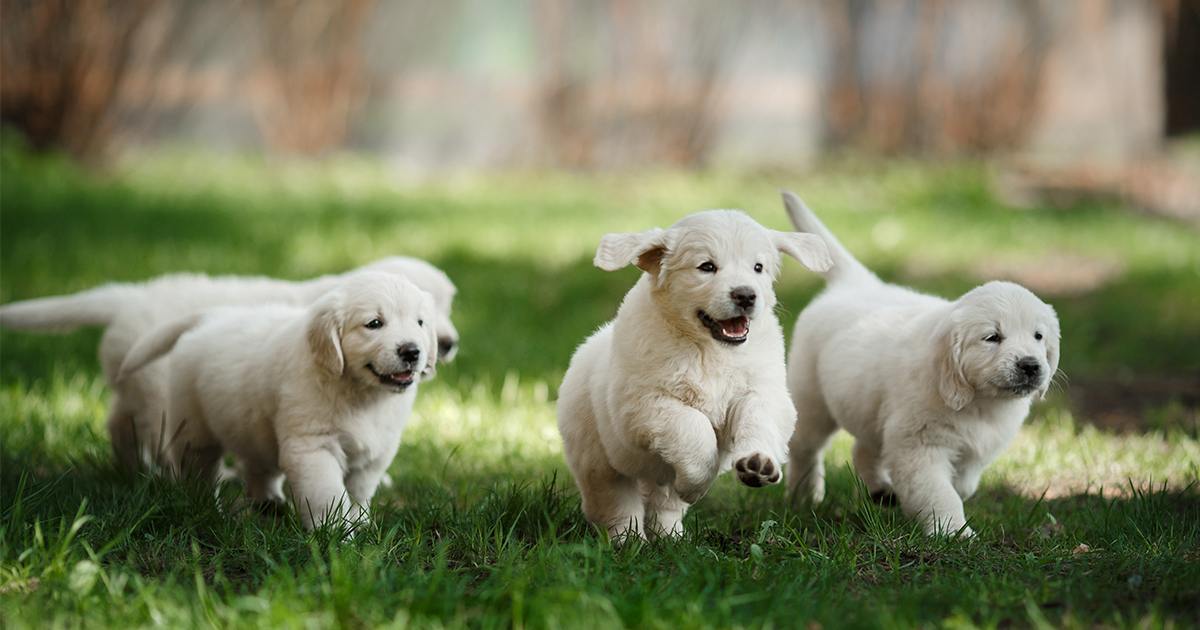 We're working dog food experts
Generations of puppies have been reared on Skinner's Puppy foods and they remain a firm favourite with breeders around the UK. There are three different foods in our range – Field & Trial Puppy, Puppy & Junior Duck & Rice and Puppy & Junior Lamb & Rice.
Field & Trial Puppy is a specially formulated complete dog food. It's ideal for weaning puppies on to from around three weeks of age and is also suitable for pregnant and lactating bitches to support the growth and development of her puppies, before and after birth.
For the early weaning of puppies, it can be created into a softer form by adding a small amount of water to the kibble. Simply let it soak in before mashing it together using a fork. This will make it easier for your puppy to eat and the food even more appetising.
Field & Trial Puppy contains all the nutrients your puppy will need to grow into a fit, happy and healthy dog. It includes chicken meat meal, which is a highly digestible protein source, and is both wheat and gluten free.
It is formulated to provide a complete balance of vitamins and minerals to support growth and includes chicken fat – a great source of essential fatty acids – to help keep your puppy's coat in fabulous condition.
Finally, it also contains MOS (mannanoligosaccharide), a prebiotic that helps support gut health and development.
Good digestion is key to puppy health
Field & Trial Puppy & Junior Duck & Rice is formulated to be a highly digestible kibble and is specially formulated to ensure the correct level of key nutrients for puppies of different ages, shapes and sizes.
It is maize and wheat gluten free – making it particularly suitable for puppies with food sensitivities – and includes linseed as a valuable source of essential fatty acids, which help maintain your puppy's skin and coat condition.
Marine algae is added to provide key omega 3 fats to support brain and eye development. It contains duck meat meal protein (28%) to support puppy growth and development and MOS (mannanoligosaccharide) is included as a prebiotic to support gut health and development.
Field & Trial Puppy & Junior Duck & Rice also contains a balance of vitamins and minerals to support your puppy's healthy growth.
If you're looking for a dog food with lamb, Field & Trial Puppy Lamb & Rice has been specially formulated for larger breed puppies. It has protein levels of 24% and fat content of 12% to support a steady growth rate.
It contains British lamb meat meal as a highly digestible protein source to aid your puppy's development and is maize and wheat gluten free, making it ideal for sensitive puppies.
It contains MOS (mannanoligosaccharides) and FOS (fructooligosaccharides) as prebiotics to support gut health and development.
In summary
Good nutrition – even before birth – can help your puppy grow well and be a happy, healthy and active adult dog. So why not choose the very best British made dog food for your brood.