Feeding for breeding
"Feeding for the Future – choosing a pup-perfect diet"
Nutrition is one of the few variables we can control in the care and management of our dogs. We cannot change their fundamental genetics, personality or physical appearance and abilities, but we can amend and alter what, and how we feed our dogs. When we start to consider the next generation of dogs, there is little doubt about the importance of good nutrition for future health and vitality. Feeding well means that a diet supports the nutritional needs of an animal and meets their behavioural, activity and other physiological requirements. For puppies and young dogs, nutrition is vital to support growth and development towards a long, healthy and active adulthood. With the plethora of choices available, how can you best decide what and how to feed your stud dog, breeding bitch or your new puppy to ensure maximum health? Let's explore some of the key points about "feeding for breeding" and see how we can best "feed for the future".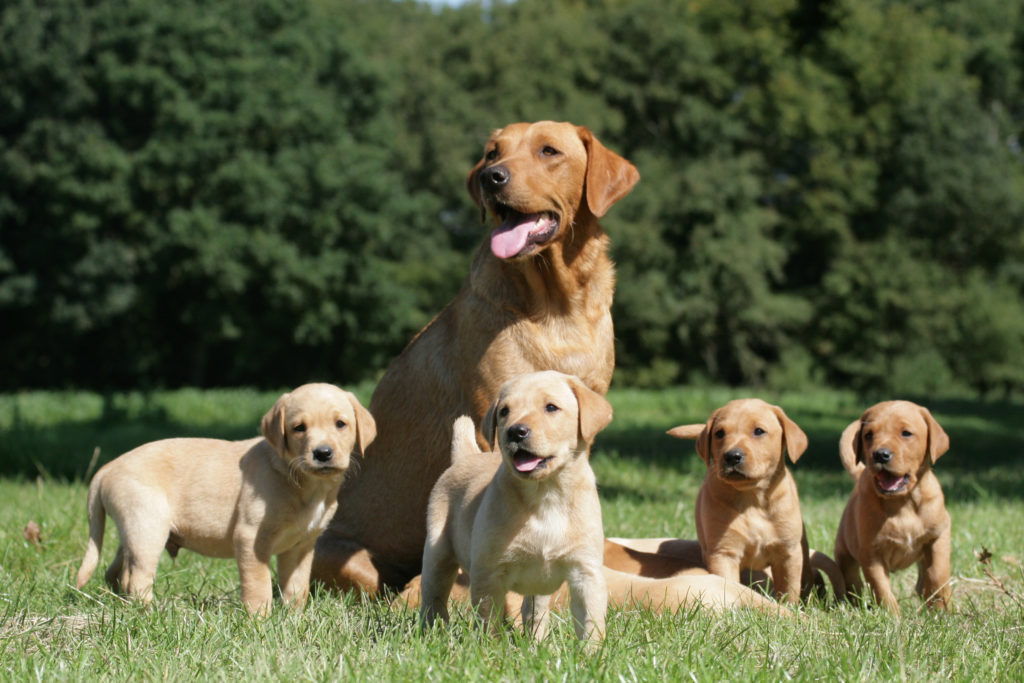 Before birth
It might surprise you to know that the nutrition of your puppy's parents, even before mating is critical to the long-term health of your puppy! Good breeders ensure that breeding animals are fit, healthy and well nourished. That doesn't mean fat, rather it means they are fed a balanced diet, rich in key nutrients that will support fertility, and for the female, will also support pregnancy, birth and lactation. Stud dogs typically benefit from a complete diet that supports an active lifestyle and has balanced levels of key nutrients to support normal activity levels.
For breeding bitches, a complete, balanced diet even before she is ready for mating can help to prepare her body for pregnancy, birth and lactation. She should be fit and active and certainly not be carrying any excess weight as this can affect both fertility and her ability to whelp (give birth) easily. It's also worth looking for key nutrients in the diet of a bitch intended for breeding – avoid excess levels of vitamin A as this can be associated with birth defects but look for essential nutrients such as folic acid that can help support the very early development of puppies before birth. Feeding a complete, well formulated diet can help to avoid potential nutritional issues for mum and puppies!
The breeding bitch
For pregnant bitches, providing they are in good physical body condition and are not either underweight or obese (both of which will negatively affect fertility and successful pregnancy) no dietary changes are typically needed until about week five of their pregnancy (and pregnancy is confirmed!) At this point, it is good practice to gradually swap the pregnant bitch onto a diet with a higher provision of key nutrients (protein, fat carbohydrates and balanced levels of the minerals calcium and phosphorous especially). At Skinner's, we recommend the gradual transition of a pregnant bitch onto one of our Field and Trial Puppy foods about week five of pregnancy, or Field and Trial Superior. This is because from about week five until birth (typically 63 days after mating), the puppies greatly increase in size and place additional demands on the female. Such foods are great choices as they are formulated to support puppy growth and development both before AND after birth, as well as providing mum with key nutritional support too. Indeed, even after birth, we recommend that the bitch is kept on this higher nutritional level until weaning is complete and she starts to get her normal activity level (and figure!) back. A pregnant bitch might also need an increased number of small meals per day as the developing puppies start to impact on her digestive system and limit the amount of food that she can eat in one meal – little and often is a good motto for those last couple of weeks before birth!
After birth
Once the puppies are born, supporting their growth and development is one of the nutritionally demanding periods of a bitch's life! Sometimes, after whelping, a bitch appears to "go off her food" and this is not that unusual. You can try and tempt her and help her digest her food, by soaking it in a little warm water and making a mash with a porridge consistency. This also has the benefit of ensuring that she gets additional fluid as well as good nutrition. Indeed, it goes without saying that fresh, clean drinking water should always be available.
Lactation places huge demands on a bitch and feeding large litters can really take their toll. A good strategy is to allow your bitch free access (sometimes called ad lib) feeding to her food, unless she is especially greedy! This can also be useful when the puppies have opened their eyes and started moving around, as exposure to the food they will be weaned onto can be gradual and not a stressful or scary experience. This is another benefit of feeding "mum" a puppy food, as it is already there for the puppies. Additionally, some bitches actively eat and then regurgitate some food for their puppies. This is an entirely normal and natural behaviour for the domestic dog, so don't be alarmed, but again, provision of puppy food for mum will mean that this what the puppies get exposed to. As the puppies get older and less reliant on mum for milk, you can decrease the amount mum eats and gradually swap her back onto her pre-pregnancy food and normal exercise routine.
Weaning
Many breeders will start to wean their puppies away from mum somewhere between about three and five weeks of age. Indeed, many bitches naturally will start to spend time away from their puppies at this point and help "naturally" wean them. During this time, puppies will still nurse from mum but it's also good to start getting them used to "solid" food. Gradually decreasing the reliance of puppies on their mother's milk also has the benefit of helping dry up her milk production slowly and with minimal stress. Studies also suggest that exposing puppies to a range of food types during weaning and early development, can help their overall gut and digestive health, even into adulthood!
For many puppies, soaking a complete puppy formulation kibble in some warm water and forking through it when soaked, to make a meal with a porridge-like consistency is a good, if sometimes messy way to get them starting to eat solid food! Multiple meals per day will be required initially and the amount of soaking can be reduced as puppies grow and develop, until often they are on entirely dry kibble by 8 weeks of age, when they are ready to move to their new homes and families.
After 8 weeks of age
By the time a puppy is ready to move to their new homes, they should be fully weaned and be happily eating a balanced food suitable for growing puppies. The Field and Trial range includes "Puppy", "Puppy Duck and Rice" and Puppy Lamb and Rice", all of which are suitable for a range of breeds and types, although for the larger and giant breeds that are slower growing and need a more moderate level of energy nutrition to support their prolonged growth and development phase, we would suggest using the "Puppy Lamb and Rice" diet.
Good breeders will ensure that their puppies go to their new homes complete with at least a week's worth of the food they were weaned onto and full instructions for the new owners. Breeders who have signed up for the Skinner's Breeders Scheme, benefit from "Puppy Packs" that includes some of the food that their puppies have been weaned onto. This is critical to help minimise digestive upset at an incredibly stressful time for a puppy! It also helps the new owners by ensuring their puppy can continue being fed consistently and allows time for any dietary changes that new owners might want to make. It is worth noting however, that the transition to a new home, environment, people, other pets, vet visits, de-worming, vaccinations and all the other experiences a puppy has in a new home can be stressful and occasionally cause digestive upsets. Try not to be tempted to make huge dietary changes during this sensitive period!
From 8 to 16 weeks old
From about 8 to 16 weeks of age, most puppies will need their daily food ration split into three or more commonly, four meals throughout the day. During this period, puppies grow rapidly as well as having lots of energy, so a good diet is needed to support both their development, growth AND activity levels. It's a good idea to carefully identify the amount your puppy should be fed based on feeding guidelines provided with their food and amend both the amount and number of meals per day based on the age and growth of your puppy. We would also suggest that you get into the habit of both weighing out your puppy's food AND weighing your puppy, so that you can feed accurately and monitor their overall growth and development.
Also remember that when your puppy is teething, they often have sore gums and might find chewing/crunching hard kibble sore, so be prepared to soak their food again if they seem to be struggling a little at that point. One key point of advice is to remember and try not to make any sudden dietary changes for your puppy in the first few weeks of their new home; remember they will be getting exposed to lots of things that can upset their little digestive systems, so keeping diet consistent initially is important.
From puppy to junior
Typically, recommendations include keeping your puppy on a quality, well formulated puppy food until they are between 6 and 12 months of age (depending on breed/type) when a transition to a "Junior" diet is useful. Field and Trial "Junior" is a good option, or if your puppy is a little more sensitive and needs a diet formulated without wheat, consider Field and Trial "Junior Duck and Rice". These diets can act as useful nutritional "bridges" between the puppy diet and adult diets. Interestingly, for larger breeds, Field and Trial "Puppy Lamb and Rice" is an ideal choice for both puppy hood and into the junior stage, as it is less energy dense than the other diets and might be more suitable for those breeds with longer growth periods before physical maturity.
As with puppy foods, these junior foods are carefully developed to support the ongoing growth of your young dog, as well as providing the energy needed to support their activity levels! At this stage it is also good to start monitoring the weight of your young dog and watching for the early signs of excess weight gain so that you can reduce the amount of food accordingly, or even look to swapping to an adult, maintenance ration as your young dog matures and starts to settle down; this happens for most dogs by about 18 months of age, although for larger and giant breeds, physical maturity might not be reached until about 2 years of age.
General points to remember
Good nutrition, even before birth can help your puppy grow well and be a happy, healthy and active adult dog. A proper balance of key nutrients is critical for young, growing dogs and choosing a quality, well formulated food, such as Field and Trial, especially designed to support puppy growth and development, can help take an awful lot of guesswork and worry out of feeding your puppy. Combining this with lots of nutritional information in the form of feeding charts and our nutritional helpline if you need more support, means that you can make the best nutritional choices for your puppy and help ensure you feed a "pup-perfect" diet. Enjoy your new addition and remember that the friendly team at Skinner's would be delighted to chat to you about puppy-perfect nutrition, whether you are a breeder, intending breeding or have just brought home your new addition.