How is your gundog performing this season?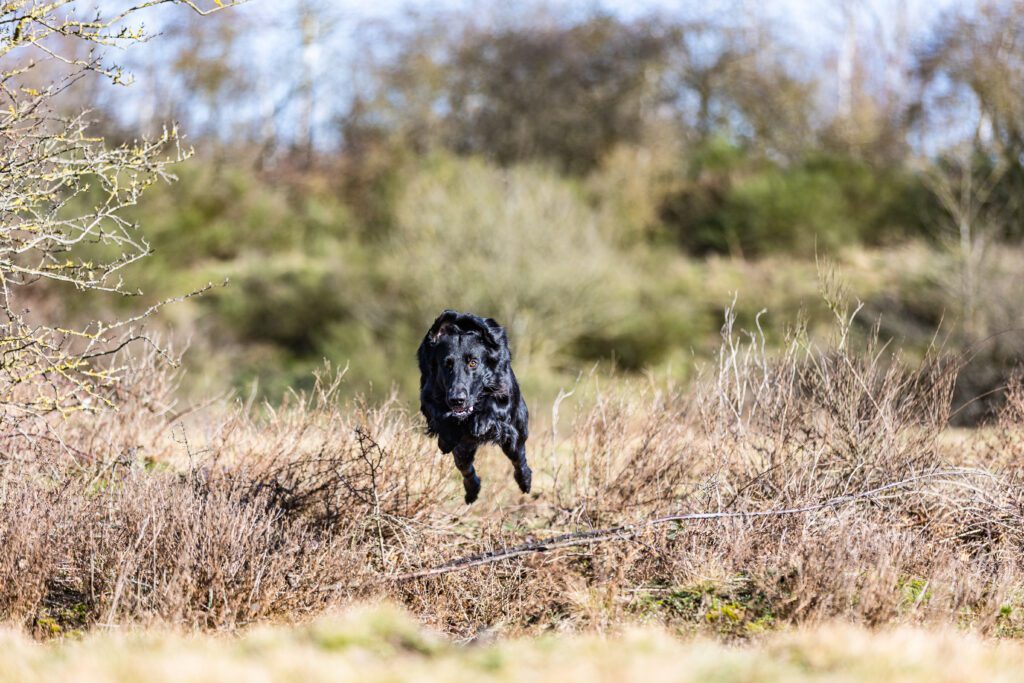 Written by Skinner's Nutrition Team
By mid-November, the working season is well underway, meaning it's the ideal time to review how your dogs are looking and performing. It's important to assess your dog throughout the season, and make any adjustments to their diet where appropriate, to ensure they stay in top condition for the remainder of the season.
Measure, monitor, manage
We often hear of dogs dropping weight and condition during this time, as many will be working at a high-energy output, often in cold and wet conditions. A drop in body condition can go un-noticed during a busy season and is often only detected when it starts to affect their performance, or when their form drops more significantly. Therefore, it's imperative to regularly weigh your dog and monitor their overall body condition at least once per week. This helps us to observe and track any changes, which will allow small nutritional alterations to be made where needed. If you are unsure how to assess your dog's condition, take a look at the 'Dog-size-O-meter'.
What is the correct feeding regime for a working dog?
In the morning before a shoot, try to ensure your dog's first meal is fed at least one hour before activity, and ideally sooner if possible. This will help to support overall digestion and absorption of nutrients. For many, feeding twice per day works well and helps to ensure a consistent level of nutrients in the bloodstream, while keeping working dogs fuelled throughout the day. For some, this means dividing their daily intake into two equal portions, while others may benefit from a different ratio. For example, some owners will choose to feed 1/3 of their dog's daily intake in the morning and 2/3 in the evening, so they have all night to digest the majority. However, just be mindful of the volume you are feeding and when you are feeding it.
How to adjust your dog's diet…
An essential starting point would be to weigh their meals using accurate, calibrated scales. This allows you to make more precise adjustments where needed and can limit the likelihood of over- or under-feeding!
If you find you are having to significantly increase your dog's feed intake above the recommended guidelines, then it may be beneficial to move onto a more energy-dense food. This allows you to feed more 'managed portions' from which your dog will benefit due to having more 'fuel' in their diet. A good example is the Field & Trial Working 30, which is one of our most energy-dense diets and provides a good source of digestible protein (30%) and fat (20%). This can also be a good nutritional 'step-up' from diets such as the Working 23 or Working 26.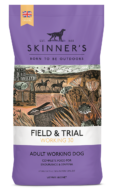 Working 30
Higher in protein & fat for endurance and stamina.
£9.30 – £41.79
Fuelling a working dog throughout the day
For most, an energy-dense diet fed in the right quantities will help fuel working dogs throughout the day and enable them to maintain a healthy weight and condition. However, for some, their fitness will be tested during a working day, and they can often benefit from a nutritional 'boost'. Our Field & Trial Energy Bars makes an ideal, on-the-go snack! The bars are soft-baked and can be broken apart easily and portioned depending on the dog's individual needs. These bars can help sustain a dog throughout the day, while also supporting recovery and muscle integrity. In evidence of this, interesting scientific studies have shown that – by providing a digestible snack during an intense work session – a dog's performance can be maintained and even boosted!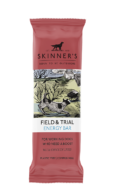 Energy Bar
Perfect burst of energy when your dog needs a boost.
£13.80
Contact us
If you need any help selecting the right diet, then please contact our nutrition team at nutritionsupport@skinners.co.uk and we would be more than happy to help.