How to wean a puppy
Written by Zoe Russell, BSc (Hons)  
Nutrition Officer, Skinner's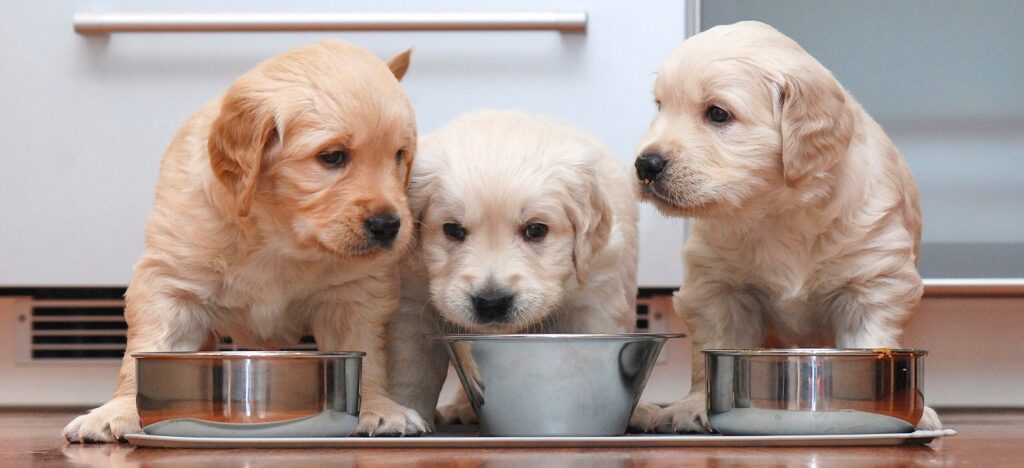 If you're a first-time breeder, raising a litter can be a very rewarding but also rather daunting experience. Providing your puppies with the right diet can be a critical first step in their journey to adulthood and will help support a healthy growth and development.
Weaning is an important nutritional phase as they begin to become more independent, ready to go to their future homes.
The first steps of weaning a puppy
They will get a lot of important nutrients from their mother's milk, especially in the early stages of feeding. However, in the event that they need emergency bottle feeding or even in the case of large litters where the bitch struggles to feed them all, Skinner's Puppy Milk can act as an essential milk replacement.
Our Puppy Milk is a highly palatable, liquid source of key nutrients that can help to support young puppies where needed. It is suitable for newborn puppies all the way through to weaning. Even before your bitch has whelped, it's important to have a tub on-hand in the event of unexpected circumstances.
Starting the weaning process
Most breeders start to wean their litter between 3 and 5 weeks of age. At this stage, many bitches will start to naturally wean their young by spending more time away from them. They will still be nursing from mum but it's good to start getting them used to puppy food, to help gradually reduce their reliance on her and to help slowly dry up her milk production.
When preparing their food, we would suggest boiling the kettle and letting it cool. The water can then be added to the food and forked through to reach a porridge-like consistency.
Our puppy foods are the ideal choice for weaning, as they are nutritionally complete and balanced, providing all the nutrients they need to grow and develop.
Initially, pups may be a little hesitant about the food but will soon get used it, especially as they learn from mum and their siblings. If they take a little time to adjust to their new food, it's not usually a problem as they should still be getting some nutrients from their mother*.
As the bitch begins to spend more time away from the litter, you can begin to increase their daily intake of food by adding an extra meal every 2-3 days until they are on the full ration of complete puppy food.
After six weeks of age you may also start to reduce the amount of water added to the food, until they are on entirely dry kibble by 8 weeks of age.
Leaving for their new homes
They usually leave for their new homes at around 8 weeks of age.
If your breeder uses our breeder scheme, then your puppy should come home with a 2.5kg bag of the puppy food they have been weaned onto (along with some other goodies). This bag should last around 1 week, depending on their size.
It's important not to change your puppy's food for at least 2 weeks after bringing them home. This is naturally quite a stressful time for them as they have recently been separated from the litter, so it's important to minimise dietary changes where possible.
The next steps
As your dog grows and develops, they can usually stay on a puppy or junior diet until around 12-18 months of age.
For more information, take a look at some of our blogs or alternatively please contact our nutrition team at nutritionsupport@skinners.co.uk and we would be happy to advise you further.
*of course, if you are ever concerned about your puppies then we would suggest seeking veterinary assistance in the first instance.