Introducing Field & Trial Salmon Grain-Free Recipe
Written by Zoe Russell, BSc (Hons), ANutr
Nutrition Officer, Skinner's
You asked, we listened! Introducing our new Field & Trial Salmon Grain-Free Recipe formulated without chicken. This diet is the ideal choice for dogs with intolerances towards ingredients such as grains and poultry, while being complete and balanced to provide your dog with all the nutrients they need.
Our recipe
At Skinner's, every ingredient we use is packed full of nutritional benefits and this recipe is no different;
Salmon provides a source of essential omega-3, which supports immune function, as well as joint and skin health, while having anti-inflammatory properties
Sweet potato is rich in vitamins and minerals and also provides a source of fibre for digestive health
Linseed and vegetable oil naturally contain omega-6, which can support immune health, reproduction, growth, plus coat and skin condition
MOS and FOS are useful prebiotics which help to 'feed' the friendly bacteria in the gut
Glucosamine and chondroitin are helpful in managing joints and aiding healthy mobility
Shape and size
We have chosen a dual-shape kibble to help keep mealtimes interesting- our new recipe uses both a cube-shaped and cross-shaped kibbles. We have also found the cross-shaped kibble can be great at slowing speedy eaters down and so may help support the feeling of satiety, by increasing the length of mealtimes. The kibbles are medium in terms of size so can be suitable for most adult dogs, but if you wanted to take a closer look then when not try a sample?
Key benefits
There are a whole host of benefits that come from feeding this diet. However, we've picked out a few of our favourite benefits here;
A great choice for dogs with intolerances to grains such as wheat, maize, oats and rice.
Ideal for dogs who cannot tolerate chicken in their diet
Aids healthy movement and mobility
Supports digestive health
Formulated with a moderate level of protein (25%) and fat (13%)
Complete and balanced so doesn't require supplementation
Dual shape kibble to keep mealtimes interesting and to slow eating
Contact us
Looking for more information about your dog's diet? Why not contact our nutrition team at nutritionsupport@skinners.co.uk or call us on 01379 384247 and we would be happy to help.
---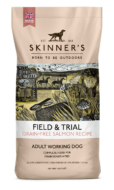 Grain Free Salmon & Sweet Potato Recipe
Our BRAND-NEW complete food for dogs with grain sensitivities.
£14.15 – £59.99