Look out for our new product names
This year you will have seen our new look, new products and recyclable packaging, but there is another exciting change that is still to be celebrated!
During the working season, it is common practice to review your dog's diet and make appropriate changes. Until now, Working 23, Crunchy and Superior were the go to diets for stepping up, or down, to meet the varying energy requirements of your working dogs. We have reviewed these much-loved diets in the Field & Trial range, and they now have new names: Working 23 is now joined by Working 26 and Working 30. Our Nutrition Officer, Zoe Russell, talks us through the renamed diets.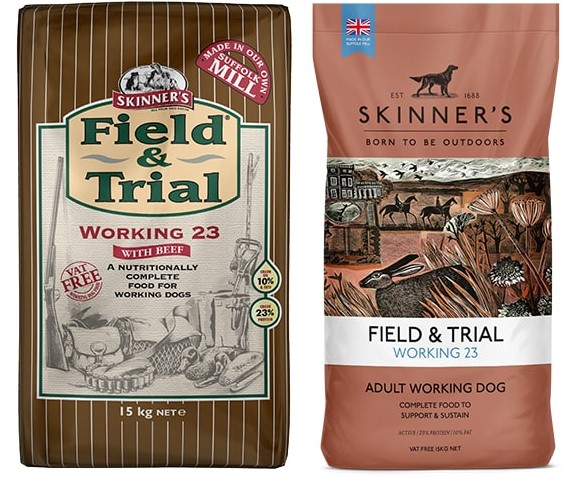 Working 23
Our tried and tested Field & Trial Working 23 has fuelled many working dogs and is a diet highly regarded by their handlers. With a moderate level of protein (23%) and fat (10%), this diet is the perfect choice for dogs with moderate energy demands. Many owners feed this diet during the working season with great success, while some may even feed it out of season if their dog has a consistent level of energy output all year round. It's also a nutritionally balanced and complete diet, so provides all the key nutrients your dog needs.
However, if your dog is prone to dropping weight or is working harder than usual, and you have to increase their daily intake beyond the recommended amount, then it may be beneficial to take a nutritional 'step-up' with their diet.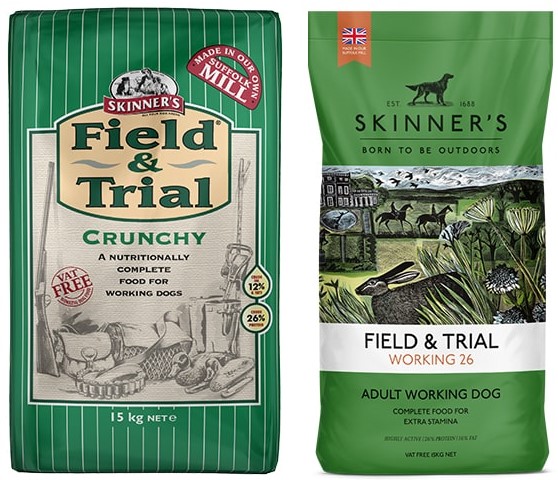 Working 26
This diet is a nutritional 'step-up' from the Field & Trial Working 23, as it is higher in key nutrients like protein (26%) and fat (16%). Being a more energy-dense diet, it can be suited to active dogs working at a moderate to high energy output. As dogs preferentially use fat as a source of energy, this diet provides a higher level of fat to support their working day, as well as a good source of digestible protein to aid recovery and repair after a hard day's work. Digestible carbohydrate sources also help to provide a rapid source of energy during periods of intense activity. Being nutritionally balanced and complete, this diet provides all the nutrients your active dog needs in all the right quantities.
However, if your dog is working even harder this season, or perhaps they struggle to hold their weight, or maybe you are considering breeding a litter from your bitch, then a diet such as Field & Trial Working 30 may be the right choice.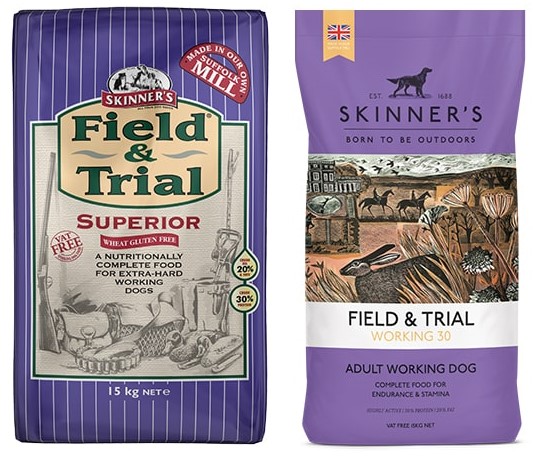 Working 30
Field & Trial Working 30 is the ideal diet for very active, working dogs who are regularly working at high intensity. Being our most nutrient-dense diet (30% protein, 20% fat), it can help to support their higher energy demands. With carefully balanced nutrient levels, Working 30 provides a highly digestible source of protein for the repair and regeneration of tissues in hard working and active dogs. Our recipe has also been carefully developed to provide a calorie distribution weighted towards fat as a "fuel" source. This is because a dog's metabolism preferentially utilises fat as source of energy, therefore fat can provide a concentrated source of energy in the diet, meaning that nourishment can be provided in energy-dense meals. Not only this, but a good source of fat also helps to make this diet highly palatable and tempting to dogs with a smaller appetite, who may also benefit from a smaller, but more energy-dense meal. As if this was not enough, our wheat-free recipe makes it an ideal choice for active dogs with dietary sensitivities.
For pregnant bitches, we typically recommend moving onto a more energy-dense diet from about week five of their pregnancy. At this point, a diet with a higher provision of key nutrients (protein, fat and carbohydrates, to name a few) can be really important to help support the bitch. This is where Working 30 can be a great choice as it can help to support the bitch's energy demands and provide her with key nutritional support, in the final third of the pregnancy. At this point, you may need to feed her smaller, more frequent meals of Working 30, as her stomach capacity will start to be restricted by growing pups!
Struggling to find the right food for your dog?
Zoe and the Nutrition team offer nutritional advice and can help you find the right diet for your dog. Please contact them at nutritionsupport@skinners.co.uk and they would be happy to help.