Skinner's Puppy Feeding Guide
Written by: Zoe Russell, BSc (Hons)  
Nutrition Officer, Skinner's Pet Foods
How much should I feed my puppy?
This will depend on your puppy's age and their current weight. If you don't know your pup's current weight, then speak to your vet next time you have an appointment or try sitting your pup on a set of accurate household scales. Below is our feeding guide for puppies.
GENERAL FEEDING GUIDE FOR PUPPIES
Weight of puppy (kg) 
Weaning to 12 weeks (g/day) 
3 – 6 months 
(g/day) 
6-9 months 
(g/day) 
9-12 months (g/day) 
0.5 
35
35
25
20
1
65
55
45
35
2
130
95
75
60
3
195
125
105
85
4
265
155
130
105
5
330
185
155
125
7.5
395
250
210
165
10
460
310
260
205
12.5
525
365
305
245
15
590
420
350
280
20
–
520
435
350
25
–
615
515
410
30
–
710
590
470
35
–
–
665
530
40
–
–
730
585
45+
–
–
800+
640+
It is also important to note this is just a guide and may need adjustment to suit your individual puppy.
How many meals per day should I feed my puppy?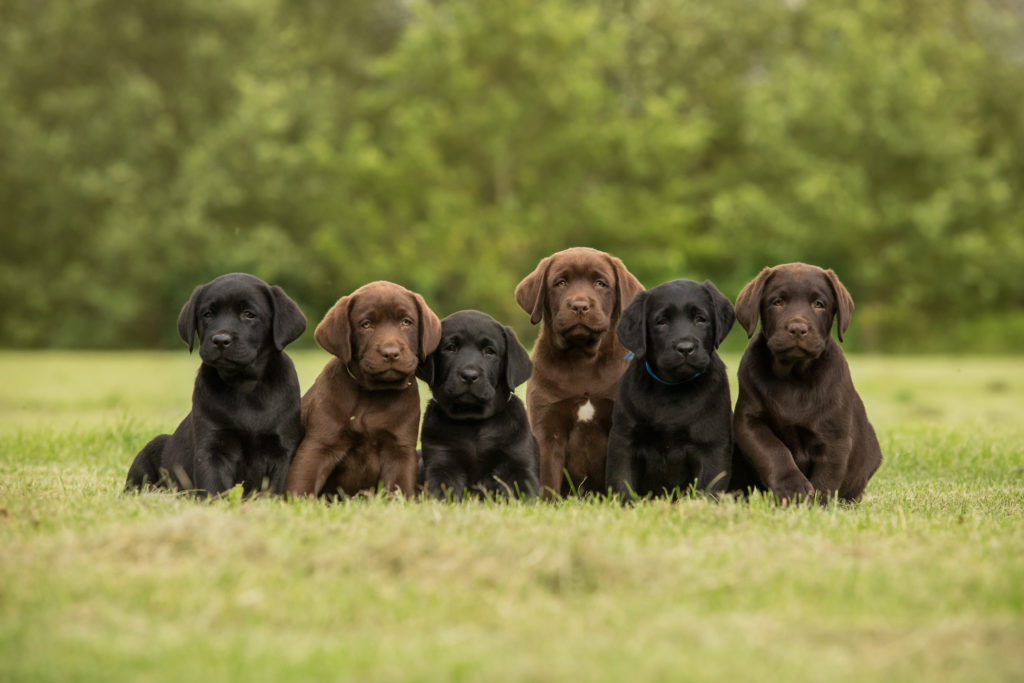 Ideally puppies should be fed little and often by providing small portions from their daily food ration at regular intervals throughout the day. When you first bring your pup home, start by feeding the number of meals your breeder has suggested. After this, general guidelines from the PFMA advise feeding four meals per day up until they are four months old, then three meals a day until they are six months old, then two meals a day after this, although this might vary based on your individual puppy's requirements.  Always monitor their growth and overall body condition to get an idea of how their food intake is supporting their growth and activity.  Remember that very young puppies grow fast and that growth rates slow down as they reach maturity and adulthood. 
What's the difference between the guide on the back of the bag and the online guide?
The back of the bag provides more general feeding guidelines, while the online guide provides recommendations based on the unique information you have entered about your dog. The online guide is therefore tailored to your dog's individual requirements.
What is the difference between your puppy diets?
The Field & Trial Puppy Chicken is a poultry-based diet which is high in protein and fat to support the early growth and development stages of a young dog. It is an ideal choice for the majority of breeds.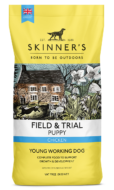 Puppy Chicken
Supporting growth and development.
£11.45 – £50.29
The Field & Trial Puppy & Junior Duck & Rice contains a marine algae source of DHA omega 3 fatty acids to support cognitive development and is made using a sensitive recipe, making it ideal for puppies with dietary sensitivities. It also provides a good source of protein and fat to support their early growth and development.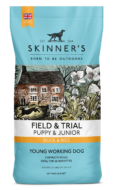 Puppy & Junior Duck & Rice
Ideal for sensitive puppies.
£13.70 – £59.99
The Field & Trial Puppy Lamb & Rice is an ideal choice for large to giant breeds as it has managed protein, fat and mineral levels to encourage gradual, healthy growth and has a larger bite size than our other two puppy diets. Equally this food can be suited to other breeds of dog and because of its managed nutrient levels, can also be fed as a junior diet.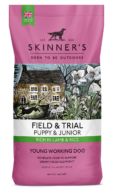 Puppy & Junior Rich In Lamb & Rice
Suitable for all breeds of puppy particularly large breeds.
£11.45 – £50.29
It's also important to note that all of our diets are nutritionally complete and so do not require additional supplementation.
When should I move my puppy onto Junior food?
In general, a puppy can be moved onto a junior food from approximately 6 months of age and remain on a junior food until approximately 18 months of age. However, this can depend on the breed and activity level of the dog, as well as their overall growth rate and body condition. 
We do also advise that changing a dog's food should be done slowly and gradually (over 7-10 days) to minimise the risk of digestive upset.
For more information…
Take a look at the PFMA's Puppy Nutrition fact sheet which provides information about puppy feeding and nutrition, or for more general advice take a look at The Kennel Club website which includes handy information about caring for a new puppy.
For more specific advice regarding our diets, please contact our nutrition team at nutritionsupport@skinners.co.uk and we would be happy to help.
---
Worth Reading