Skinner's wet food is great for dogs with sensitive digestive systems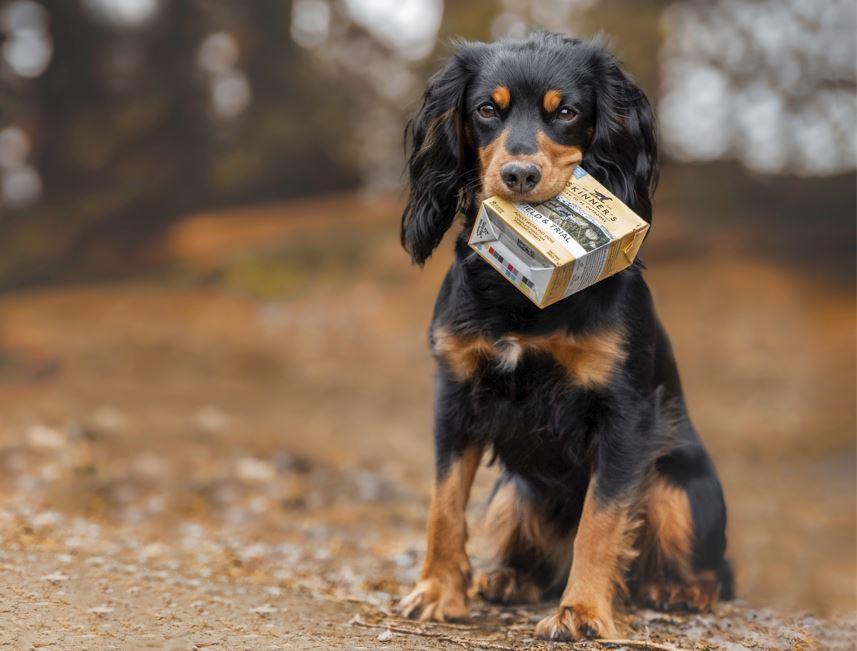 Finding a food that your dog enjoys and knowing they will thrive on when they have a sensitive digestive system can be a challenge, but it isn't impossible. Our wet food range has been formulated with the nutritional requirements of working dogs and dietary sensitivities in mind.

By choosing good quality, local ingredients we've produced a complete dog food that follows simple recipes. Each individual carton is gently steam cooked, therefore locking in all the nutrients your dog's needs. From the recipes to the cooking process, this range is perfect for dogs on exclusion diets.
Is your dog food grain Free?
Yes, the Skinner's Field & Trial wet food range is grain free, as is the brand new Get Out & Go! range.
is grain-free dog food just for dogs with sensitive stomachs?
No, our entire grain free wet dog food range can be fed to dogs as a topper to any of our dry foods or as a complete meal on its own.
Does Skinner's use mixed protiens in their recipes?
A dog's intolerance to certain proteins can rule out many food options. That's why our Field & Trial wet dog food range has four grain free, single protein recipes. Each recipe contains only one source of protein: chicken, lamb or salmon.
Does Skinner's offer a sensitive dog food without chicken?
Yes. Looking at our adult wet food range, we have two diets which don't include chicken: Lamb with Root Veg and Salmon with Steamed Veg. Our dry food range is comprehensive, from our adult working dog Lamb & Rice to our Puppy & Junior Duck & Rice diet.
Why not complete our feeding guide for a personalised recommendation for your dog.
Does Skinner's offer a sensitive dog food without fish?
Yes, apart from our Salmon & Rice and Salmon with Steamed Veg, the rest of the Field & Trial range is made following fish-free recipes.
Help, I think my dog has a food sensitivity!
If you suspect your dog has a food intolerance/sensitivity, here are 3 tips from our Nutrition Team:
If you suspect an ingredient, eliminate it from the diet for at least 3-4 weeks.
Be aware of other foods you are feeding (that includes treats, titbits and table scraps that may include this ingredient!)
If no changes, slowly re-introduce the ingredient and monitor your dog closely.