Why choose Junior?
Written by: Zoe Russell, BSc (Hons)  
Nutrition Officer, Skinner's Pet Foods
Should I feed a junior specific dog food?
When changing from puppy food to adult food, there is typically a gradual decrease in the nutrient provision – in particular, a step-down in dietary protein, fat and energy levels, as well as managed levels of key minerals such as calcium and phosphorous. Our Junior diets can help make this step down from puppy food to adult dog food more gradual by providing a nutritional "stepping stone". This is because junior diets are typically less-energy dense than Puppy diets and can help to support the final growth and development stages before adulthood- ultimately "bridging the gap" between these key life stages.
When should I move my dog off puppy food?
In general, we recommend dogs transition over to a junior diet around 6 months of age and remain on this diet until around 18 months of age. However, there are exceptions to this, so we do suggest having a chat with our nutrition team if you are unsure. As with any dietary transition, we suggest making any changes slow and gradual over approximately 7-10 days to minimise the likelihood of digestive upset.
Is my puppy ready for adult food?
If a dog has reached adult height and is starting to slow down their growth, then a gradual transition to an adult diet may be suitable. However, for young dogs who are possibly still using their energy for growth, play, activity and maturation, a more energy-dense diet such as Junior can be more beneficial.
How do I choose the right dog food?
At Skinner's we have a range of junior diets to suit nearly every breed, shape and size of dog. All of our junior diets are also nutritionally complete meaning they provide all the nutrients a dog needs without requiring additional supplementation.
Field and Trial Junior is the ideal choice for the majority of breeds as it provides a good source of key nutrients to support a dog's later growth and development stages.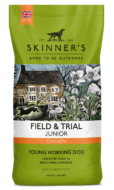 Junior Chicken
Perfect for the transition from puppy to adult dog.
£9.15 – £36.59
Field and Trial Puppy & Junior Duck & Rice is a great choice for junior dogs with digestive sensitivities. Our recipe is formulated without ingredients such as wheat, maize, barley, dairy and soya, so can be ideal for dogs with dietary intolerances to these ingredients.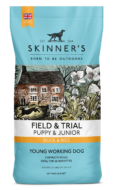 Puppy & Junior Duck & Rice
Ideal for sensitive puppies.
£13.70 – £59.99
Field and Trial Puppy & Junior Rich In Lamb and Rice is an ideal choice for both puppies and junior dogs. It is less energy-dense than some of our other puppy and junior diets, so can be more suitable for large breeds with longer growth periods before physical maturity. It is also a sensitive diet, so can be ideal for dogs with dietary intolerances.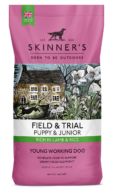 Puppy & Junior Rich In Lamb & Rice
Suitable for all breeds of puppy particularly large breeds.
£11.45 – £50.29
Skinner's Nutrition Team
If you would like any further information, or you would like help choosing one of our diets, then please contact our nutrition team at nutritionsupport@skinners.co.uk and we would be happy to help.