Can I feed my dog wet and dry food together?
Nutrition
February 15, 2021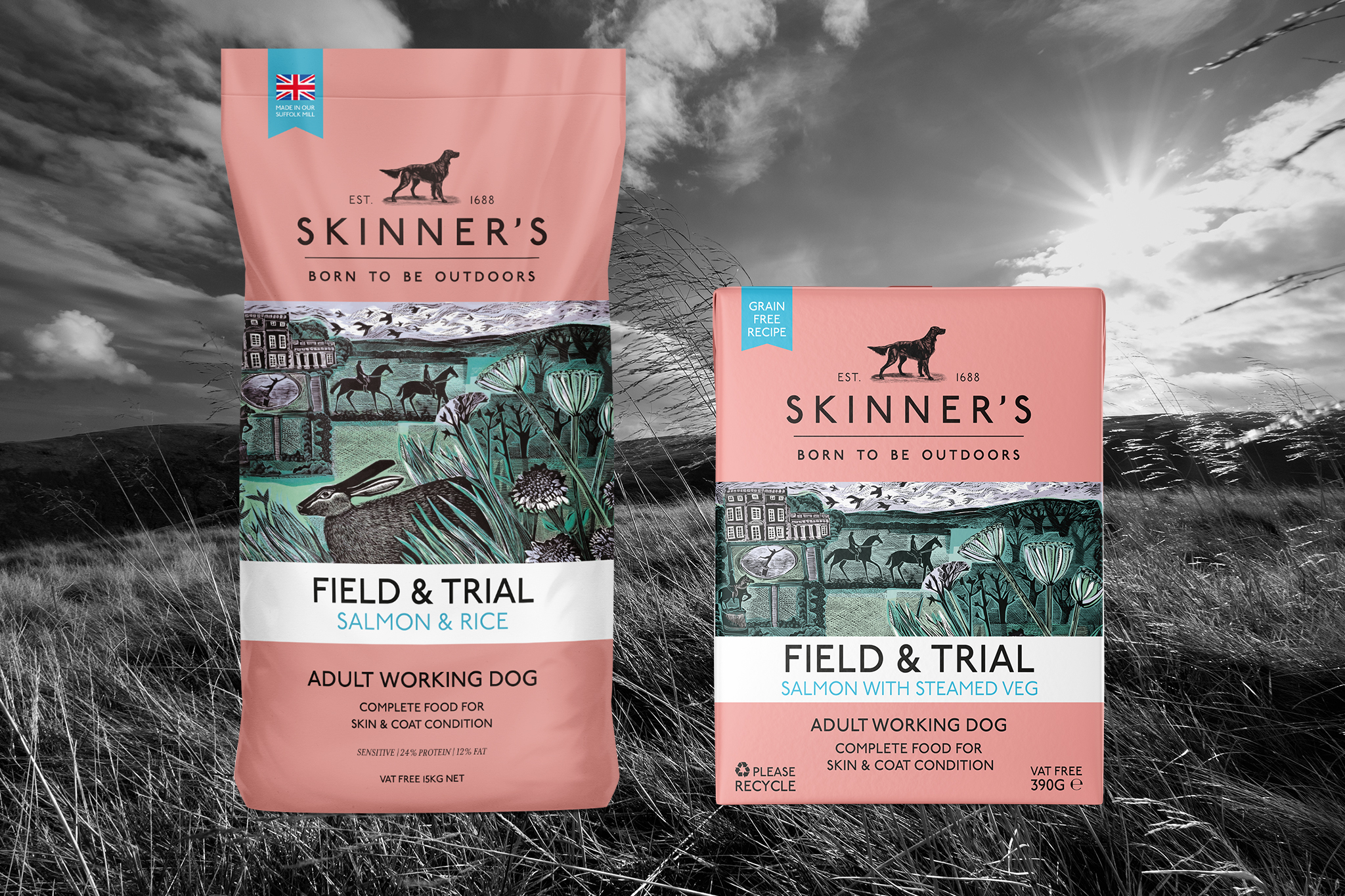 In almost every area of our lives, we are surrounded by choice; and when it comes to feeding our dogs, the available options out there can seem endless! One of these choices is whether to feed a wet food, dry food, or a combination of both; but what are the benefits of each and how can we compare them?
Introducing our NEW wet range!
We are very excited to announce that we have a brand-new range of wet foods to add to our extensive Field & Trial range of delicious kibble diets! These come in a variety of tempting flavours, including chicken, lamb, and salmon, which are all made right here in the UK!
Each one is lightly cooked, making them nutritious and easy to digest, so can be suited to dogs with sensitive digestive systems. Due to their grain-free formulation, they are also perfect for those with sensitivities to grain. Not to mention, each diet is rich in meat, making them highly palatable.
Each one of our new diets has been specifically developed to support the nutritional demands of working dogs and are made with carefully selected ingredients to ensure they are both delicious and nutritious!
Should I feed a wet food?
Wet diets are typically 70-80% water and usually come in cans, trays, cartons or pouches. They can be useful for fussy eaters as they may be more palatable. They also have a higher moisture content, which can be beneficial when trying to increase a dog's water intake, and for those who struggle to chew kibble; for example, those who have had teeth removed or a misaligned jaw.
We are proud to say that our range comes in eco-friendly, compact cartons, which contain 390g of food – the same amount as a standard size can, tray or pouch! They help us reduce our plastic waste and our carbon footprint. Plus, they keep our foods fresher for longer!
Get creative with your feeding
Not only do they make delicious meals, but they can also be used in feeding enrichment toys such as Kongs, Lickimats and puzzle feeders. These can make mealtimes more exciting and provide mental and physical stimulation, which can be especially useful if they are a driven, working breed.
What is the difference between a wet and a dry diet?
Dry kibble is usually 8-10% moisture and is sold in sacks or bags. These offer a more cost-effective option with reduced storage and packaging requirements due to the lower moisture level.
They also have a lower spoilage time once opened if stored correctly. This is useful if your dog is a 'grazer', as the meal can be left down for longer than wet food can.
Further to this, it is not so straightforward as just looking at the label when comparing the two. The level of protein in some wet foods can be 8-12% whereas for dry foods they can be between 18-30% and beyond! This is because it has a much higher moisture content and so to compare them equally, it is important to do this on a dry matter basis.
Can I feed both?
Here in the UK, many owners like to feed a combination; more so than our European neighbours who are more likely to feed either wet or dry.
If you prefer to offer a mix, then it is important that you feed the necessary balance of both; so that you do not unbalance a complete diet.
Mixer biscuits and 'toppers' will often not be complete, so the general rule of thumb is not to replace more than 10% of your dog's complete food with these in order to maintain the nutritional balance of the complete food.
How do I feed wet and dry together?
As our new range of Field & Trial Wet diets are complete, it is possible to adjust the ratio of wet to dry to suit your dog's taste. For example, combining 80% of the portion of dry and 20% of the portion of wet or vice versa can cater for the fussiest of palates whilst still maintaining the nutritional balance of their diet.
Whichever format you choose to feed, it is important to feed the appropriate food for their current life stage and weight, and any dietary changes should be implemented slowly over a period of 7-14 days to help their digestive tract adjust to the change. During the transition, it is quite normal for the dog to experience flatulence or loose stools, but these should diminish as the digestive tract adjusts to the change. It is also very important to carefully monitor their body condition and weight so that you are in the best position to make any ration adjustments sooner rather than later.
If you are unsure of how to calculate your dog's daily ration then please contact our Nutritional team who will be happy to help.
Where to buy?
To learn more about each of our delicious new options, head to our website where you can view the full range and give your four-legged friend the chance to try it. Alternatively, you can find them in our stockists. Our products are stocked in pet shops, country stores, garden centres, agricultural merchants, and veterinary practices all over the UK. Head to our stockist locator to find your local retailer.
Did they enjoy it?
We'd love to hear how your dog gets on with our new foods, so please tag us in your photos on social media to let us know what you think!
#fedonskinners #fieldandtrial #borntobeoutdoors