Essential Top Tips For Keeping Your Dog Happy & Safe this Christmas
Blog , +1
December 20, 2017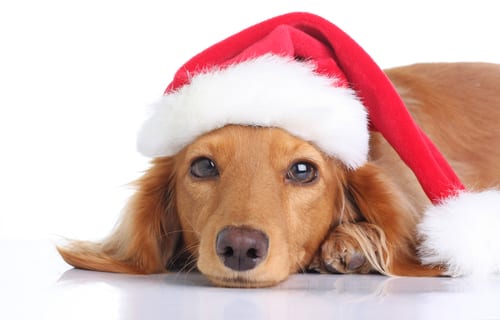 Help keep Christmas magical with these essential tips for keeping your dog happy and healthy over the festive period.
Christmas Tree
Dogs love Christmas trees – they look interesting and smell great too. Avoid any potential injuries by keeping tinsel, lights and ornaments out of your dog's reach, as these pose hazards including shocks and choking. If you don't fancy having the bottom of your tree bare, why not buy a smaller one and have it up out of the way?
Deck The Halls
If you're decorating your home with holly, mistletoe or a poinsettia plants you need to be aware that all three are poisonous to dogs. You can still use them; just make sure they're out of your pet's reach.
Present Appeal
Your dog is an important member of your family, so you'll probably want to include them when it comes to present giving. Make sure you choose good quality toys as cheap ones manufactured for Christmas won't last and might not be safe.
It's best not to wrap gifts for your dog – let them rip the paper off one gift and they might think it's okay to do so on all of them! Also, tape, ribbons and other decorative bits can be quite harmful to dogs, so it's best to keep them unwrapped. Your dog won't mind!
Festive Food
There's no reason why you can't indulge your dog in some tasty treats over the festive period but you need to know which seasonal foods pose a health threat to your dog. Grapes, raisins, macadamia nuts, rich fatty foods, and alcohol are some of the items that need to be kept out of your dog's reach. Mouldy food can also harbour harmful bacteria which can also upset your dogs stomach as well as your own, if it is not good enough for us humans then don't risk giving it to the dog either!
Chocolate is poisonous to dogs, so make sure chocolate tree decorations and edible gifts are well out of reach. Why not buy your dog some specially formulated dog chocolate to enjoy when you're having your chocolate fix?
Avoid giving your dog bones from meat you've cooked, as they can split and hurt your dog. Want to feed your dog a Christmas dinner? Some plain turkey with their usual food is the best idea, or why not treat them to a festive bag of Skinner's Field & Trial Turkey and Rice?
Noel Needles
If you are having a real Christmas tree this year make sure you keep on top of hoovering the needles from your floor. Dogs can't digest tree needles and they can be toxic so don't give your dog the opportunity to have a tasting session. They can also be painful if they get stuck in paws. Ouch!
Chill Out Zone
Christmas fun and games can be tiring for dogs, who (like their owners) appreciate a bit of down time. Your dog will be grateful for their bed and some fresh drinking water in a quiet corner where they can choose to go for a rest if all the fun gets overwhelming.
Good Guests
If your dog gets over excited when guests arrive try distracting and calming them with a chewy treat that'll take a while to get through. Make sure your guests are aware of house rules such as not feeding your dog from the table and that they are aware some human food is poisonous to dogs. If you have children staying who aren't used to dogs make sure they know how to behave appropriately and to leave them alone when they're eating or sleeping.
Routine Matters
The festivities can mean life gets pretty chaotic with a constant stream of visitors and guests. Although your dog will enjoy getting fussed by extra friends and family, a move away from your normal routine can be unsettling. Help your dog stay happy, calm and content by sticking to your daily feed and walk routines.
Happy Christmas from everyone here at Skinner's!