New year, new challenge! What to expect from a Canicross class with DogFit
Blog , +1
January 4, 2022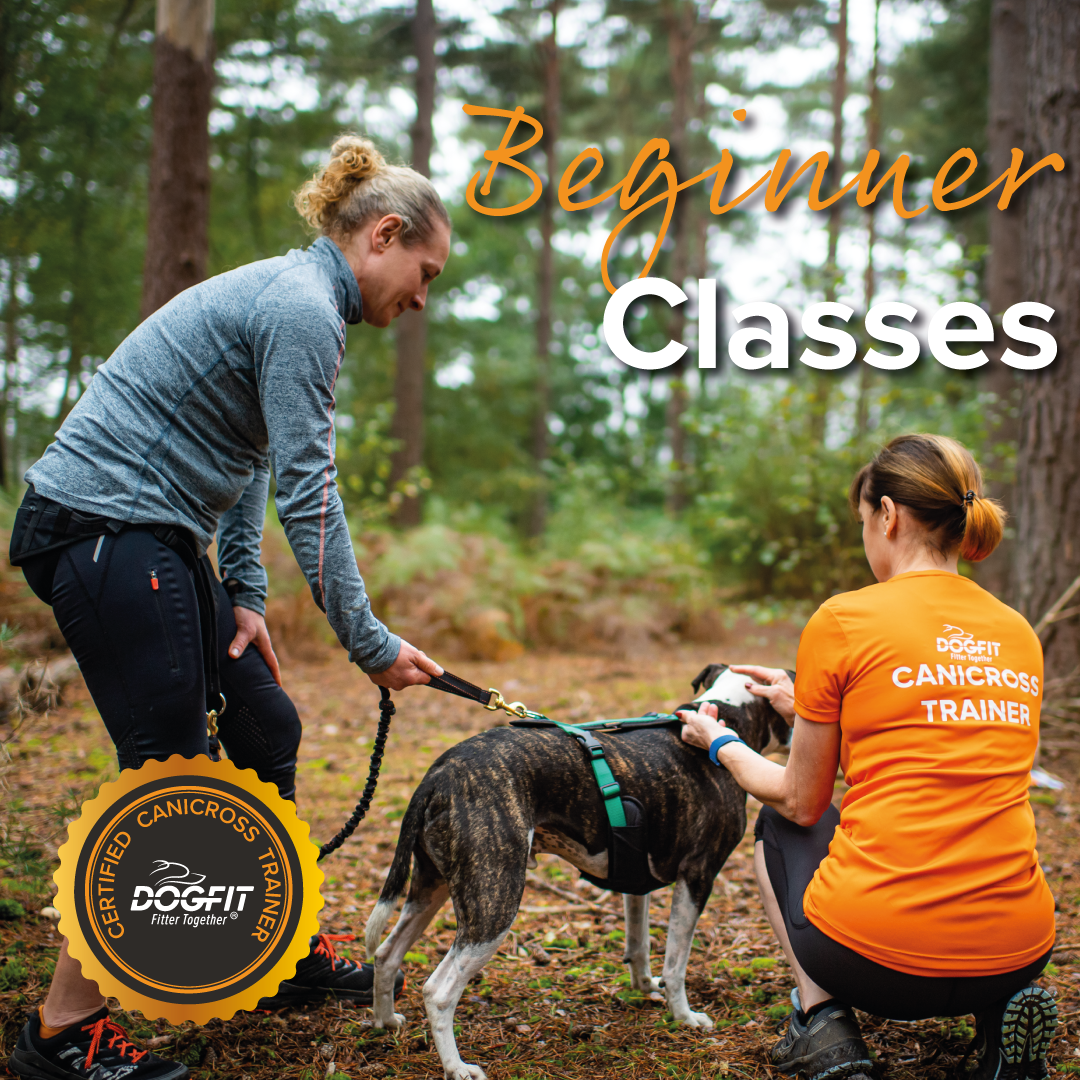 Written by DogFit UK
As we begin a new year, it is also a time to start thinking about new challenges. One that we think should be on your 'to do' list for 2022 is to give the wonderful sport of Canicross a try. Hands-free trail running with your dog is the hot new sport that is guaranteed to bring the fun back into exercise!
DogFit run Canicross classes all across the UK but what can you and your dog expect when you turn up? Hear from DogFit co-founders Gail and Ginetta.
The great thing about our DogFit Trainers is that they offer a combination of knowledge and experience of Canicross and running, and a genuine love and passion for dogs and exercise, with each offering something unique through their classes.
Whether it's experience in dog training and behaviour modification, experience and qualifications in personal training or leading sports classes. Customers don't just get an exercise class, they get added value from a DogFit session. Our Trainers are also certified to teach Canicross having completed their training with us. This is all backed-up by our partnership with CIMSPA – the professional development body for the UK's sport and physical activity sector.
What to expect during a session or class
Our Trainers offer a wide range of services and classes that are tailored to the individual's and dog's needs. You might be a complete beginner looking for a fun, friendly and non-pressured environment to exercise in. But equally, you may already be active and looking to try out something new and exciting. Either way, we have a class for you.
Our Trainers have vast experience in many aspects of the sport; some in dog behaviour modification and training, some in personal training along with a knowledge and understanding of a variety of dog breeds. They will lead you on the best route for you and your dog and are on hand to keep all classes under control, ensuring everyone's safety and enjoyment. Classes are generally held in small groups but our Trainers do offer one to one sessions if a dog has any form of behavioural issue which deems it unsuitable for a group environment at first to enable them to build confidence before entering a group session.
Who are DogFit classes suited for?
We welcome anyone who is looking for a new, fun and effective way to exercise with their canine companion. Any level of fitness, breed, size and energy can take part; we just ask that your dog is fully grown (normally 12-18 months depending on the breed) and that you are both physically able to take part – do consult your GP/vet if unsure.
We ensure everyone is catered for and comfortable. From Canitrekking (hands-free walking) through to Canicross, there's no harm in trying, it may turn out to be something you both love!
What if I'm worried about whether I'm fit enough to join a class?
There is absolutely no need to feel intimidated or anxious as our Trainers have sessions available that cater for beginners and people that have very little or no experience in running. You won't be alone as everybody is in the same boat and they have programmes designed to help build levels of fitness/distance/speed and confidence up gradually over the course of a number of weeks. Their priority is to ensure everybody feels comfortable and enjoys the experience as well as getting fitter. Our Trainers will also give you plenty of help with the kit; advising you on the best harness for your dog and best belt for you.
What would you say to someone who already runs but hasn't ever given Canicross a go?
Exercising with your dog(s) is a wonderful way to stay motivated, get fit and have a lot more fun than you would running alone. Running with a group of like-minded people and their dogs is a perfect social activity that makes exercising fun, and that is motivation enough alone!
Canicrossing really does transform the entire experience whilst allowing you access to more areas of the countryside as your dog is under control at all times.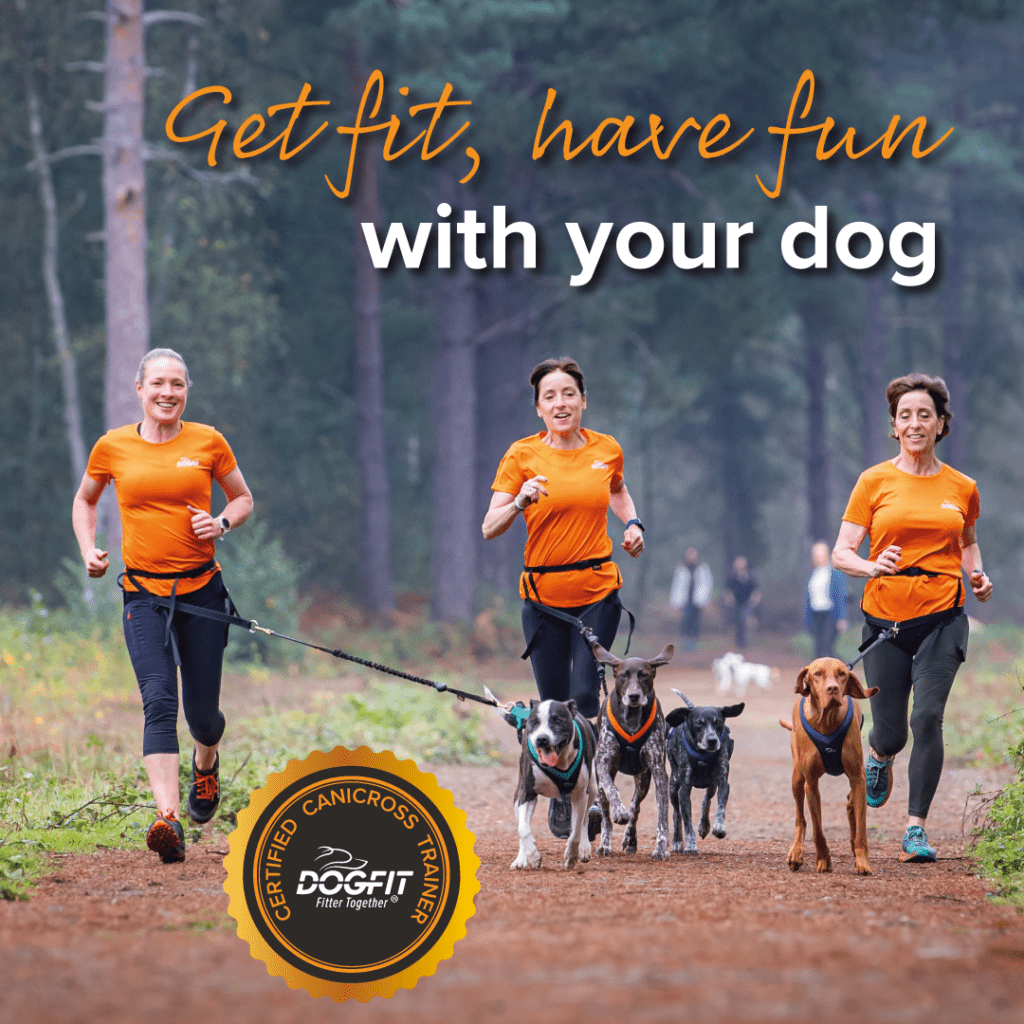 What are the main benefits of getting fit with your dog?
There are a breadth of benefits to keeping fit with your dog. One that we see regularly is the unbreakable bond that is formed, especially when commands are introduced. It's a real team sport. Dogs are a great support system when it comes to exercise; they never let you down and you can work with each other whilst enjoying every second. As well as the benefits to mental health and wellbeing, and there are a multitude of physical benefits that keeping fit provides – for both you and your dog, such as a longer lifespan, joint and liver disease prevention, stronger bodies.
What results do you see from dogs where their exercise needs are being met?
When a dog has received the essential exercise, training and love that they require, they are much happier, more relaxed and less likely to create or develop problems. Canicross in particular gives the dog a job to do but it's fun as they are part of a group and this helps with their socialisation as well as exercise needs. In fact, we have lost count of the number of anxious or reactive dogs that completely transform when they are Canicrossing,
Dogs don't ask for much. However when they receive the essentials, their behaviour, bond and loyalty to us is like no other.
We offer a wide range of Canicross classes at DogFit. For complete beginners learning how to Canicross, right through to courses and drop in sessions.
Here's just a few of the comments our DogFit Trainers receive:
To find out about DogFit Canicross classes in your area, please visit our classes page here.
or you can fill in our online form and we will put you in touch with your nearest DogFit Trainer here.