Rescue dog Skye makes amazing transformation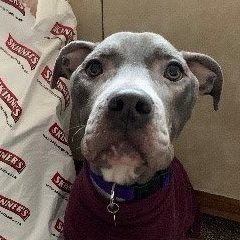 Skinner's Pet Foods are incredibly proud to have played a part in the rehabilitation of Skye, a rescue dog who was left severely malnourished and alone. The Staffie was found by a member of the public in the Quinton area and taken to the PDSA; who contacted the dog warden. The dog warden took her to the vets, where she was immediately admitted under The Animal House Rescue. The Staffie was incredibly weak, although she was registered to someone; unfortunately, this was out of date. Abandoned, starved, weighing just 12.8kg and dehydrated, she was put on a drip. Blood tests were taken, to see if there was something more causing her illness. The results came back showing that she was anaemic. However, her lack of weight and poor condition was simply down to the fact she had been neglected and starved. It didn't look good for this poor little Staffie.
The out of date chip showed that she was 2 years old, and her name was Skye. She was de-flead and wormed, but being severely anaemic, with a tiny stomach, and little fight left in her; the vets feared for the worst and didn't think she would pull through.
Skinner's Pet Foods' Area Sales Manager for the West Midlands is Laura Peakman. She sponsors The Animal House Rescue events with goody bags, and each year decides to feed one dog from the rescue which is a neglect case for the year. When she found out about Skye, she knew that this was a dog that needed some serious love, care, and feeding up!Laura Peakman said "It's a privilege to have played a part in Skye's journey to recovery. However, it is heart-breaking to know that there are hundreds more dogs out there just like Skye was, who aren't as lucky as she has been to find a loving forever home".
Due to Skye's stomach being so small, she couldn't go straight into eating normal food. She started by having small meals of Skinner's Field & Trial Salmon & Rice along with special gastro food, little and often. The amount of food she was eating was slowly increased, and so did her trust and happiness. Starting at 12.8kg, she now weighs 24.5kg; all thanks to the time, effort and determination of The Animal House Rescue, and the nutrients and nourishment of Skinner's Field & Trial!
Skye is now at her "forever home" with another rescue 'Zeus', where her nerves are gradually improving, and she knows what it feels like to be loved by her new family!