Skinner's celebrate International day of Women in Science
Blog , +2
February 11, 2019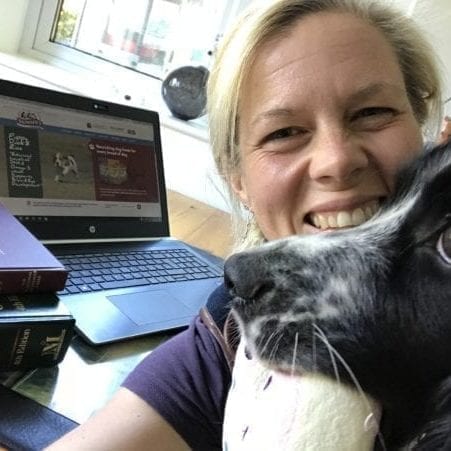 Here at Skinner's, we are incredibly fortunate to have our very own in-house nutritional consultant, Dr Jacqueline Boyd.
Owner of four cocker spaniels, Dr Jacqueline Boyd originally studied Zoology followed by a MSc in Animal Nutrition, and most recently receiving a Ph.D in Genetics/molecular parasitology from the University of Aberdeen. She has spent 11 years as a Senior Lecturer in Animal and Equine Science, and her background education, research and teaching interests include nematology, molecular genetics, animal nutrition, companion animal biology, human-animal interactions, performance animal biology and educational developments and approaches, especially linked to Humane Education. Jacqueline feels very passionately about women in science and is proud that she gets to use science daily, to make the world a better place. We are so privileged to have her as part of our team!We asked Jacqueline a couple of questions about her job and science, and what they mean to her:
What excites you about Canine Nutrition and science?
"I am particularly passionate about applied science. I love that we can use science and apply it to our everyday lives, helping those around us. With this sort of science, you can see the results almost immediately, and can educate owners; meaning that they also can see the results of science."
What made you want to study Animal Nutrition?
"I have always liked animals, ever since I can remember. It hasn't just been Canine Nutrition that I have been interested in, but also Animal Nutrition as a whole. I have always wanted to improve animal welfare, and the relationships between humans and animals. I love how it also links in with my personal interests and hobbies, and that I'm doing something that I love!"
When did you first know that you wanted to study Animal Nutrition?
"I had always wanted to study science related to animals, which is why I studied Zoology at university. Whilst I was studying Zoology, I then realised that applied animal science really interested me, and I loved the difference that you can make through it; which is why I went on to study Animal Nutrition."We are grateful for all the females out there who are pursuing their goals and achieving their dreams in science! We appreciate their knowledge and the advice that they give to help strengthen the bonds between us and our 4-legged friends; ensuring that our dogs are as well-looked after as they can be. So, let's keep encouraging our women to chase their dreams down the science route!