Why should I feed Salmon & Rice?
Written by: Zoe Russell, BSc (Hons)  
Nutrition Officer, Skinner's Pet Foods
At Skinner's, we understand every dog is different. That's why we've created a range of diets to suit dogs of all ages, breeds and activity levels. This includes a selection of sensitive diets developed to suit all dogs, including those with dietary sensitivities. Within this range is one of our very popular diets- Field & Trial Salmon & Rice.
Complete and balanced
Skinner's Field & Trial Salmon & Rice is a complete diet specifically developed to support the nutritional requirements of adult dogs undergoing regular work at moderate intensity. Our recipe uses digestible salmon meat meal to help support muscle integrity and development, as well as a moderate level of fat to provide a source of dietary energy. Our rice-based formulation also provides a source of digestible carbohydrates to support energy output and to provide a great nutritional alternative to ingredients such as wheat, which some dogs cannot tolerate. Furthermore, Salmon & Rice has been carefully formulated to be complete and balanced, meaning it provides all the nutrients a dog needs without requiring additional supplementation.
Dietary sensitivities
Our Salmon & Rice diet is made using a sensitive recipe, formulated without ingredients such as wheat, maize, barley, dairy and soya, which makes it an ideal choice for dogs who have dietary sensitivities or intolerances. For a full ingredient list, please take a look at our website or contact us for more information.
Essential fatty acids
Salmon and linseed in our recipe provide a good source of omega-3 fatty acids which can help support coat health, skin health, joint health, organ health and immune health. Furthermore, because dogs are incapable of producing Omega-3 fatty acids on their own they must get them through their diet, meaning these fatty acids are regarded as "essential" to ensure dogs stay fit and healthy.
Healthy movement and mobility
Skinner's Field & Trial Salmon & Rice contains enhanced levels of glucosamine and chondroitin which helps support healthy movement in all types of dogs. This is because glucosamine can regulate the synthesis of collagen and cartilage in the body, while chondroitin can inhibit the effect of destructive enzymes in the body and help preserve joint condition. They are therefore supplemented into our feeds to help encourage healthy joints and movement in dogs of all shapes and sizes.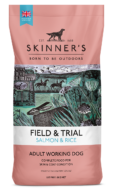 Salmon & Rice
This food is great for skin and coat condition.
£11.60 – £46.99
Contact us
If you would like any further information, or you would like a feeding recommendation for your dog, please contact our nutrition team at nutritonsupport@skinners.co.uk and we will be more than happy to help.