Using nutrition to support perfect performance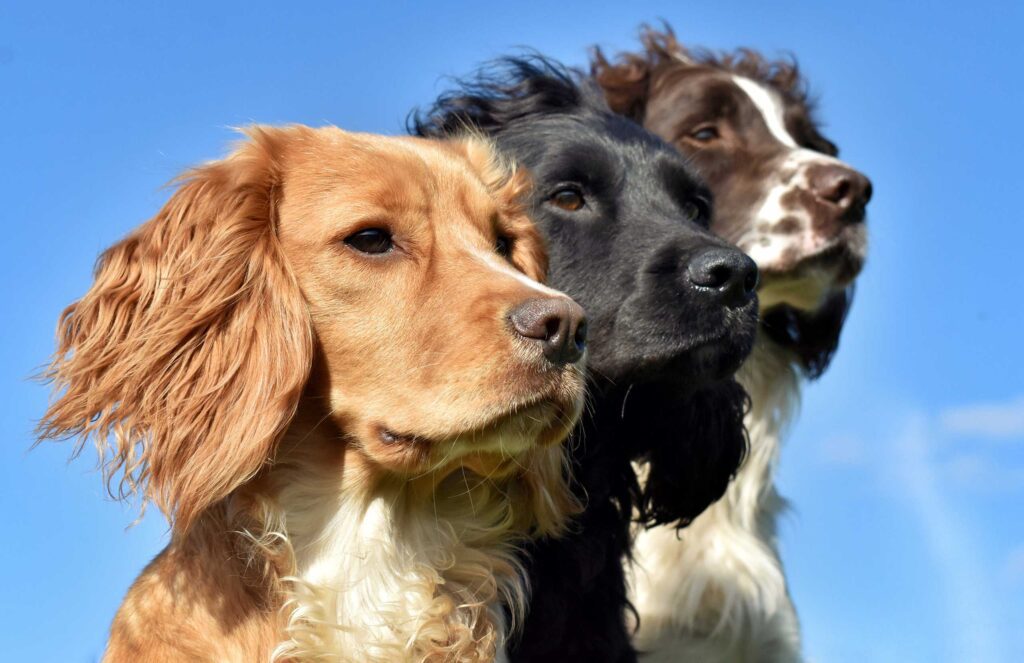 Skinner's is proud to have a long heritage in fuelling working dogs by providing a range of complete diets. We continue to produce diets to support activity and performance for dogs of all breeds, types, sizes and activity levels. Some dogs undertake activity that is much more than the typical pet dog, and this is where an awareness of balancing input (i.e. food) with output (i.e. activity) is critically important to support health, welfare and performance. Highly active performance dogs should be viewed as canine athletes, and like their human counterparts, these dogs often need additional nutritional support to help them reach their genetic and performance potential. At Skinner's, we are passionate about supporting dogs and their owners in reaching their performance goals!
Fat as fuel
The dog has an entire biochemistry that is preadapted to use dietary fat as a source of energy, so for highly active dogs, a moderate to high level of fat in the diet is important. Indeed, for dogs that are working hard in cold, wet conditions, fat is critical to support both activity output but also for bodily warmth and to support heat generation!
The Skinner's Field & Trial range includes diets with differing levels of fat, this enables the diet to be tailored for the individual dog and their activity level. For those hard working, performance dogs that need a little extra dietary support, the energy-dense, Field & Trial Working 30 is an excellent choice, with 30% protein and 20% fat to support performance output and recovery! This food fuels both mental and physical activity and has proven to be an ideal choice for dogs across a range of disciplines, from gundog work to agility to canicross. The high level of protein is useful to support repair and recovery of hard-working muscles, and the fat content also helps support skin and coat health.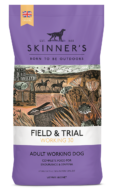 Working 30
Higher in protein & fat for endurance and stamina.
£9.30 – £41.79
Feeding for activity type
For some dogs, the level of fat in the diet must be carefully managed for both health and weight gain reasons. Sometimes, the activity type itself needs a different type of fuel. Activities of high intensity, but short duration (think flyball dogs or similar) benefit from balanced levels of carbohydrate, fat and protein in the diet (Skinner's Field & Trial Working 26, Working 23, Muesli Mix or the Field & Trial Sensitive range are all worth considering).
For dogs that might need a little bit of nutritional support during a highly active day, Skinner's tried and trusted Muesli Mix is a diet rich in digestible carbohydrates that makes it an excellent choice as a "snack". Coated in wheat glucose syrup, it is a highly palatable choice too – particularly for fussy dogs.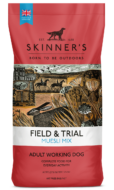 Muesli Mix
An appetising mix of tastes and textures.
£8.10 – £28.49
The Skinner's team are highly experienced at feeding the performance dog. We constantly review and apply current science to our feeding advice and guidance. If you would like more information about how best to feed your dog for performance, contact our nutrition team.