A day in the life of our Puppy Pack Administrator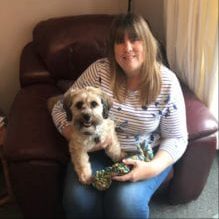 Name                                    Job role
Suzanne Gardner                                                     Puppy Pack Administrator
Suzanne is our Puppy Pack Administrator. When at home, she enjoys spending time with family and friends and going for long walks. Suzanne spends her day collecting registration forms from online, sorting them out and putting them into the Puppy Pack schedule. She books the Puppy Packs on for the day onto courier, and onto the database and sorts out vouchers for new owners which goes into the Puppy Packs. As well as this, Suzanne also sits in our Customer Service area and takes phone calls; mainly answering Puppy Pack enquiries! Her high points are that she gets sent lots of cute puppy photos, and she says her job doesn't have any low points; you can't really when your job involves sending presents to puppies!
Favourite Hobby?
Spending time with family and friends.
High of the job?
Getting sent lots of puppy photos.
Low of the job?
There isn't any when your job is sending presents to puppies!
How many dogs do you have and what are they?
I don't have any dogs – but I would love one!
What is an average day for you?
Gets up and likes to go for a walk before making the kids' packed lunch.
Drop children off at school and gets to work for 9am.
Gets all the Puppy Pack registration forms offline, sorts them and puts them into the Puppy Pack Schedule; along with the postal forms.
Books the Puppy Packs onto the courier and adds them onto database.
Post the vouchers and new owner cards out to the breeders.
Take phone calls and orders in Customer Services department and help to answer any queries that come in.
Go home at 5pm, collect children and get dinner on the go. Help with homework, listen to reading, catch up with Husband and try to keep on top of the housework!
If you would like to find out more information about our Puppy Pack Scheme or if your dog is expecting a litter which you would like to register, then head to https://www.skinners.co.uk/puppypacks/.