All breeds great and small – Why Canicross is 100% inclusive
Blog , +1
December 9, 2021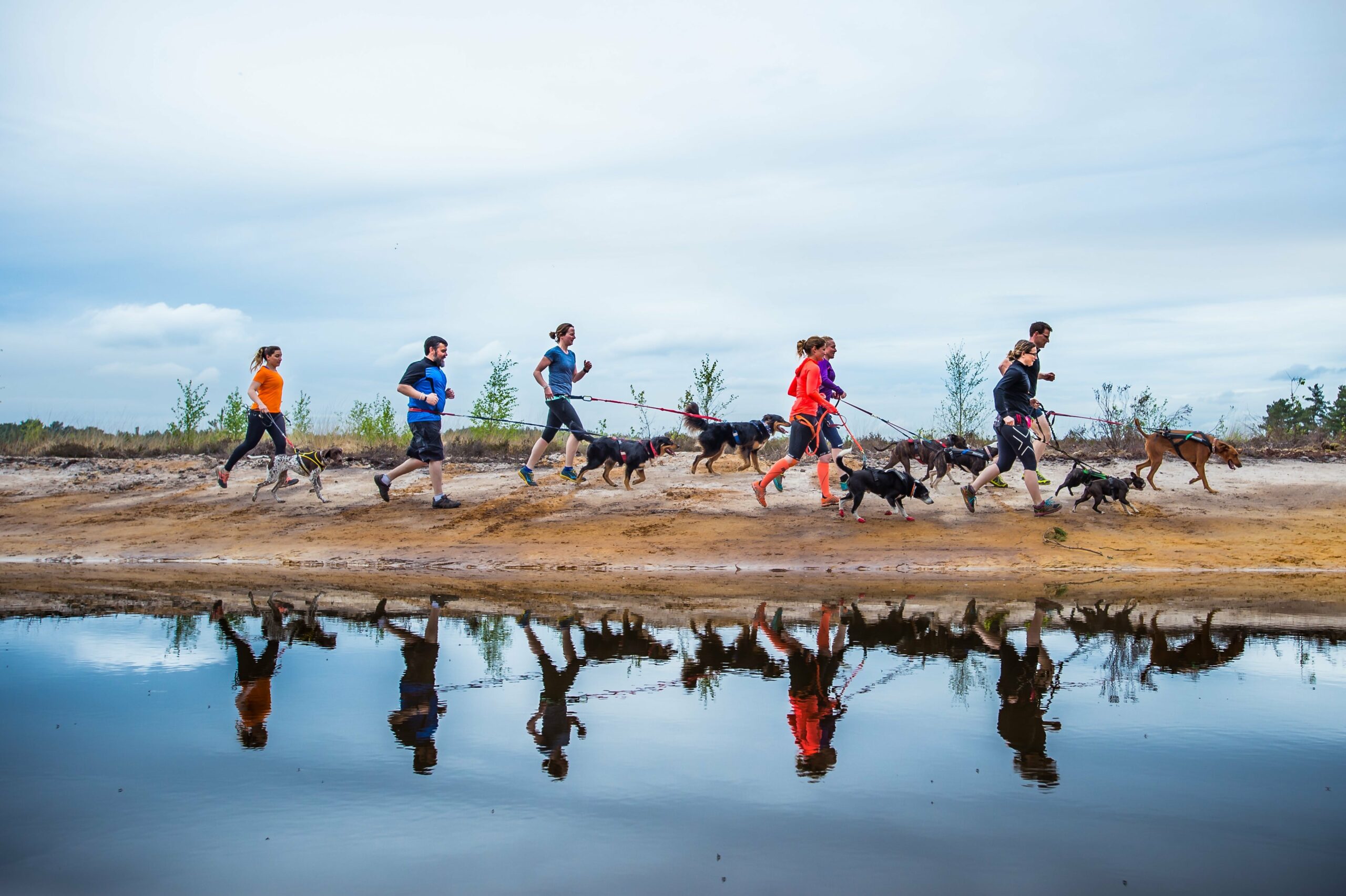 Written by by Gail Walker, DogFit
In our latest feature on the wonderful sport of Canicross, or hands-free trail running with your dog, we wanted to address any concerns that only certain breeds and certain sized dogs can take part.
Many people assume that Canicross is only suited to strong athletic dogs with high endurance levels. But that is simply not the case. All sized dogs and breeds can take part. It is true that some dogs may be better suited to shorter distances or even Cani-trekking (hands-free walking) whilst others are quite happy running anything up to marathon distance over time. But at DogFit we believe that every dog, great and small, can take part in Canicross, just like any person can.
We have customers who run with dachshunds, west highland terriers and boston terriers through to GSPs, vizslas and spaniels and even large huskies, dobermans, rhodesian ridgebacks and weimaraner.
Simply put, all types of breeds are actively taking part in Canicross and enjoying the many health and social benefits it brings. You may just need to vary the distance and intensity of your runs and take into consideration the weather conditions and terrain. But there's no reason why you and your dog can't get outdoors and enjoy the trails together.
What equipment do you need
So now you know Canicross is very much inclusive, where do you find the right harness for your dog?
At DogFit we sell a wide range of sizes, colours and styles of harness to suit your dog and if you need specific help with deciding which to buy we offer a free harness consultation service. Simply fill out our online form and someone will get back to you with all the information you need.
If you run with a small dog we do sell a lightweight Canicross line which you may prefer to our standard line. It is specially designed for dogs weighing under 10kg and has lighter clips.
If you are thinking of buying yourself or a loved one a Canicross set for Christmas, our Starter Kit is just £89.99 and has everything they need including harness, running belt and line as well as a beginner's guide to Canicross.
Getting started
If you want some help getting started in Canicross or simply wish to develop your technique and/or fitness, we offer DogFit approved Canicross classes across the UK that are run by qualified Trainers. Classes range from complete beginner to intermediate sessions so there is something for everyone, and their number one priority is to help you and your dog enjoy the sport in a social, fun and safe environment.
Don't forget to check out our blog for all the latest news and tips to help you get the most out of your Canicross adventures.