Is Skinner's the right food for an agility dog?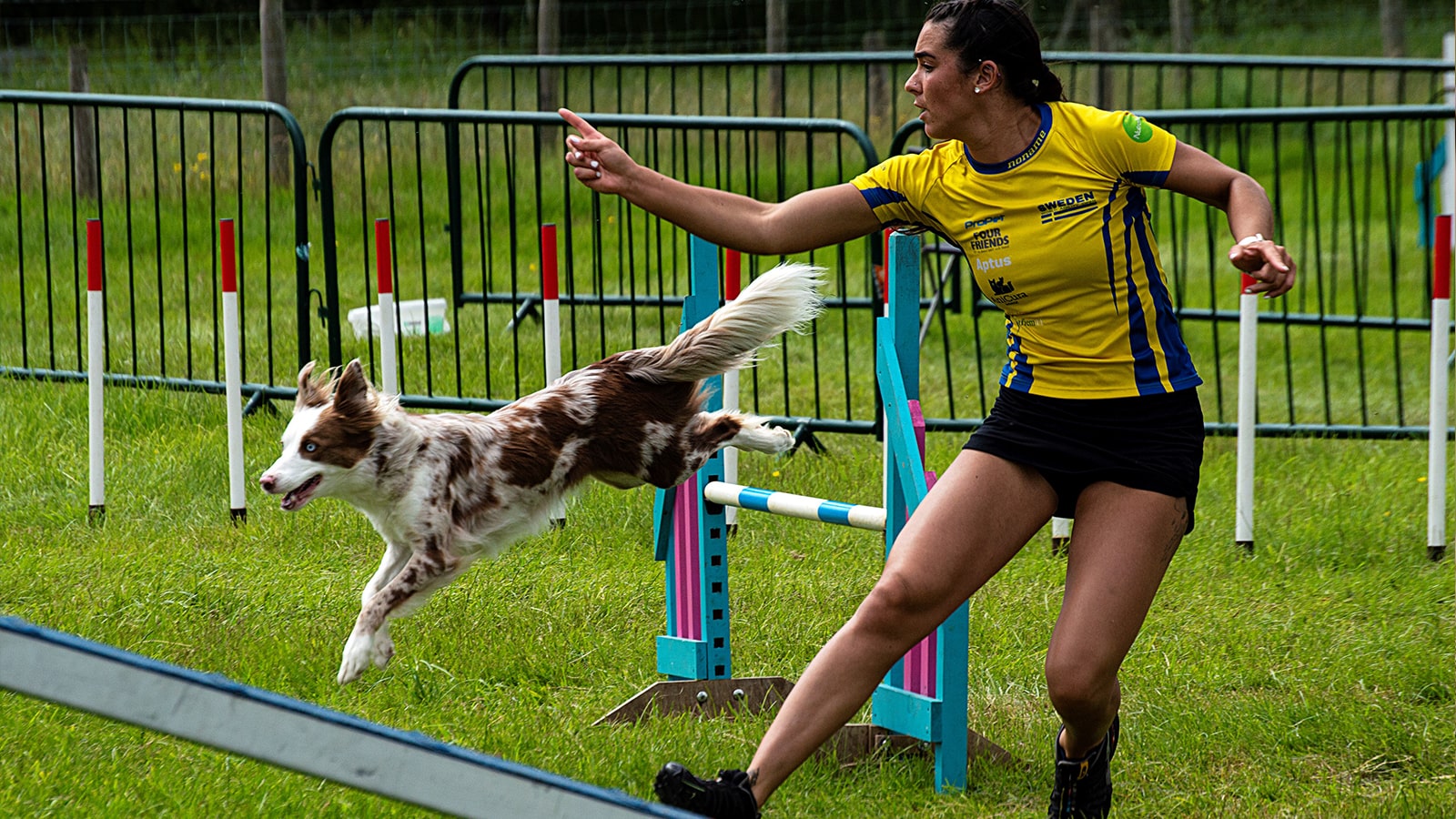 Agility is an activity enjoyed by many, both at a competitive level and just for fun. Any breed can take part in this exciting sport, but collies are one of the breeds you will most commonly find taking part.
Perhaps you're already involved in agility but are struggling to find a food that will meet your dog's energy demands, and that they will thrive on. "Rachael Gilmour" is a name you may have heard of in the world of agility. She competes at a variety of levels with her dogs, who are all fed on Field & Trial.
Learn a bit more about her, her achievements and why she feeds Skinner's…
Meet a Skinner's fed agility star
Handler's Name:
Rachael Gilmour
Dog's Name:
Tantrum
Breed:
Border Collie
Age:
2 years old
Currently fed on:
All of Rachael's dogs are fed on Skinner's Working 26 (Crunchy). This food contains 26% protein and 16% fat; and being a more energy-dense diet, it makes it ideal for dogs with higher activity levels.
When did Rachael first start doing agility?
Rachael has been doing agility for 16 years! She first started competing when she was just 6 years old, with a Rottweiler!
What level does she compete at now?
She currently competes at Championship level and European level!
Her Border Collie, Tantrum is currently grade 3 (there are 7 grades of competition in total) and has even managed to gain herself a spot on The Scottish Agility Team for 2022, following a win she earned at a recent Agility Open.
How often should you train an agility dog?
Rachael trains her dogs four nights per week, and this training varies between both agility and fitness.
Why does she feed her agility dogs on Skinner's?
Her dogs are fed on Skinner's because of how well they perform on it. Field & Trial Working 26 is ideal for dogs that need support for shorter, intense periods of activity of a moderate to high intensity, such as agility dogs.
This diet also a popular choice with owners whose dogs are prone to losing condition during periods of growth or high activity. It's also a great food for slowing down greedy eaters, due to its slightly larger cubed shape.
She also uses our Field & Trial Training Treats because they are a quick and easy reward when doing fitness training. Rachael finds that her dogs love these treats, which is the most important factor for her!
What advice would Rachael give to someone thinking about starting agility?
"DO IT! Agility is an incredible way to build strong bonds, whilst still having great fun with your dogs. Plus any dog can give it a go!"
Watch her in action!
Watch Rachael and Tantrum as they demonstrate something beginners can try in the comfort of their own home…
What obstacles are involved in agility?
There are a number of different obstacles that can be used in this sport, however The Kennel Club only allows a combination of any 20 obstacles to be used per course. These include:
Hurdles, Weaving poles, Wall, Pipe Tunnel, Rising spread jump, Water jump, Brush fence, Wishing well, Long jump, Hoop, A-frame, See-saw and Dog walk.
Wondering what to feed your agility dog?
We have a wide range of foods to support performance dogs who are involved in activities such as agility and flyball, which include:
Working 30 (Superior):
With 30% protein and 20% fat, this diet has been specially formulated to support endurance and stamina. This wheat-free recipe is a perfect choice to support the energy demands of agility dogs and is also ideal for bitches during and after pregnancy.
Turkey & Rice:
Made with Joint Aid for Dogs to help maintain healthy joints and flexibility, this wheat-free recipe is formulated with 24% protein and 11% fat; making it a great choice for agility dogs!
Salmon & Rice:
Containing a protein level of 20% and a fat level of 12%, this diet is the perfect choice for agility dogs with dietary sensitivities, whilst including glucosamine and chondroitin to support joint health.
Energy Bar:
The new Skinner's Field & Trial Energy Bar is specially formulated to support your dog's recovery and is a great way to replace the energy expended during periods of intense activity.

Dogs with activity levels exceeding those of the typical dog might need additional energy to be supplied in their diet in the form of calories. The bars are packed with delicious ingredients – including chicken liver, honey and carrots.
If you'd like advice on any of our diets, simply head to our website and try our free online feeding guide or email our friendly nutrition team on nutritionsupport@skinners.co.uk who will be happy to help.
Interested in starting agility?
Would you like to get into this popular sport, but not sure where to start? The Kennel Club have all you need to know! From everything you need to know about starting agility, through to the different types of shows, learn more today!
Don't forget to show us what you achieve on social media, by tagging @skinnersfieldandtrial and using #borntobeoutdoors.