Meet the breed – English Springer Spaniel
English Springer Spaniels are one of the oldest sporting gundogs and remain a popular choice with working dog handlers even today.
This happy, intelligent, hard-working breed is most commonly found out working in the field, and it's not hard to see why…
Learn more about the breed
How much do you know about this working dog?
Also known as:
Springer, Springer Spaniel, ESS, English Springer, Spaniel.
Country of origin:
England. At one point, this dog was called the Norfolk Spaniel, because it was believed that the Duke of Norfolk developed the breed.
Original purpose:
They got their name from the action of 'springing' forward to flush game into nets. Once guns were invented, they were then used to flush game from the undergrowth.
Breed standard:
Height: Approximately 51cm
Size: Medium
Life Expectancy: Over 10 years
Number of puppies registered in 2020:
9,123.
Kennel Club show group:
Gundog.
Colour variations:
Black & White.
Liver & White.
Black, White & Tan.
Liver, White & Tan.
Coat length:
Medium.
How often they need grooming:
More than once a week.
Kennel Club priority Gene testing:
Gonioscopy eye testing.
DNA Test: Fucosidosis.
DNA Test: Progressive retinal atrophy.
Eye screening scheme.
Temperament and breed characteristics:
This Spaniel's friendly, happy and keen to please nature makes them easy to work with when out in the field, but also makes them a brilliant family dog when trained and exercised in the right way.
They have very high energy requirements, needing plenty of exercise. Not only are they a great companion in the field, but this breed is often used to participate in activities such as flyball, agility and obedience.
You will notice that some English Springer Spaniels look different from each other. This is because some are bred for show purposes and others are bred for field purposes. Springers that are bred for the field, tend to have shorter ears and coats, and a pointier nose than that of show Springers.
Exercise:
Both show and field Springer Spaniels need a lot of exercise. It is recommended that they get at least 2 hour per day and need a large garden; this isn't the breed to have if you live in an apartment with little to no garden space.
Meet some of our Skinner's fed English Springer Spaniels…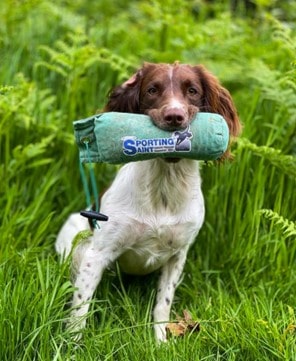 Name: Mona
Age: 15 months old
Describe Mona in 3 words: Enthusiastic, fun and loving.
Fed on: She is currently Field & Trial Turkey & Rice but also loves Salmon & Rice. She has our wet food as a topper to her kibble, which is often our Salmon with Steamed Veg or Chicken with Root Veg.
Mona loves her food so much that she has to use a slow feeding bowl to stop her eating too quickly!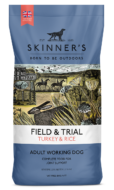 Turkey & Rice
Specially formulated for joint support.
£12.75 – £53.89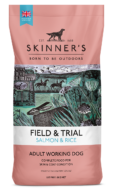 Salmon & Rice
This food is great for skin and coat condition.
£11.60 – £46.99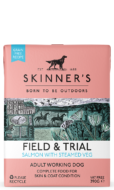 Salmon with Steamed Veg
Natural Ingredients & rich in Omega 3.
£1.43 – £25.75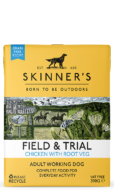 Chicken with Root Veg
All-round nutrition for adult working dogs.
£1.43 – £25.75
Favourite activity: When asked, Mona's owner said "Can we say anything that involves food?", but on a serious note, Mona has so much drive. She loves to retrieve, and to play with her sister Wilma.
Family: She lives with two other dogs; 6 year old Winston and 3 year old Wilma; all three are English Springer Spaniels.
Favourite place to walk: Mona is very lucky to live in stunning Devon! They have lots of greats walks including Exmoor, and plenty of amazing beaches just a short drive away. She loves woodland walks, but her firm favourite is Watersmeet at Exmoor National Park.
Mona's job: She is training at the moment, but will be out working soon. Her owner hopes that she will be picking up with their other dog Wilma. She is also amazing at lifting her family's spirits and making them smile; her tail doesn't stop wagging.
Fun fact: Mona loves nothing more than waking her human up whilst lying and climbing all over her in bed.
What advice would you give to someone getting an English Springer Spaniel:
"I think there is a bit of a misconception with Springer Spaniels. I honestly couldn't imagine having any other breed. Yes, they need to be kept mentally and physically stimulated but they are also very good at having an off switch.
I would say to do lots of research. Ask yourself, do you have the time to put the training in? You definitely get out what you put in, but if you don't put the training in, this can lead to them not behaving and coming across as "hyper".
I have also always said that I would 100% recommend that you train your ESS with gundog training, even if you don't plan on working them. It's a fantastic way to train them to a high standard, and also keeps them mentally and physically stimulated.
I think another thing to think about is with any breed you can never guarantee how your dog will be. All my three have different strengths and weaknesses but it's about learning and adapting to each individual dog.
I utterly adore the breed; loyal, affectionate, fun, enthusiastic, full of love and great workers!"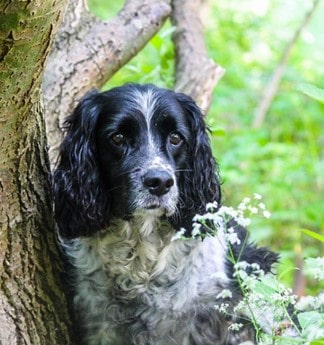 Name: Beau
Age: 9 years old
Describe Rupert in 3 words: Stubborn, loving and funny.
Fed on: Beau is fed on Field & Trial Light & Senior, which helps him to maintain a healthy weight as he doesn't do as much exercise as he did when he was younger (plus he finds it delicious!).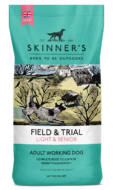 Light & Senior
Reduced fat for weight management.
£9.85 – £43.99
Favourite activity: Running through the fields.
Family: Beau lives with his human and her Mum, a Springador called Kona, and another English Springer Spaniel called Harvey.
Favourite place to walk: Beau loves the woods and open grass fields.
Beau's job: Although he is not used for a specific job, he has excellent hunting skills, especially when it comes to pheasants and partridges. He has never been worked because his recall is a bit hit and miss but he does love to hunt in controlled areas.
Fun Fact: He hates going to the vets!
What advice would you give to someone getting an English Springer Spaniel:
"Make sure you have plenty of time and patience to put into them. All they need is a little direction, training and whole lot of love, and you'll have yourself an amazing dog."
Is a Springer Spaniel the right breed for me?
If you're still unsure as to whether a Springer is right for you, the Kennel Club have a page on their website with everything you need to know about the breed.
Tag us on social media
We want to see your ESS! Simply tag us in your photos, and we may even choose to feature your dog on our page! #borntobeoutdoors