Meet the breed – Border Collie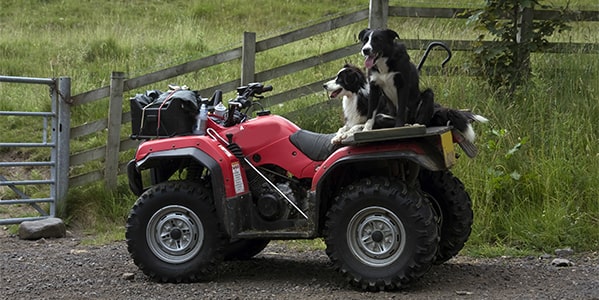 There's nothing quite like seeing a Border Collie eagerly watching his handler, waiting for the next command amongst a herd of sheep. Whilst this agile yet determined breed is a pleasure to watch, they don't suit everyone.
Find out and if this is the dog for you, and whether you can meet their energetic demands!
Learn more about the breed
Test your knowledge on this hard-working breed…
Also known as:
Collie, Sheep Dog.
Country of origin:
England and Scotland
Original purpose:
Herding livestock.
Breed standard:
Height: 53cm for males, and slightly less for females
Size: Medium
Life Expectancy: Over 12 years
Number of puppies registered in 2020:
1,718
Kennel Club show group:
Pastoral
Coat length:
Medium.
How often they need grooming:
More than once a week.
Kennel Club priority Gene testing:
Hip dysplasia screening scheme.
Eye screening scheme.
Gonioscopy eye testing.
Temperament and breed characteristics:
Not only are Border Collies an extremely hard-working breed, they are also very intelligent; meaning they need both plenty of physical and mental exercise. These two key personality traits often make them successful in activities such as agility, flyball and obedience, and can often result in them being used as sniffer dogs for drugs and detecting explosives.
This loyal and eager to learn breed is also very keen and alert, often making them easier to train than other breeds.
If you're looking for a family dog, this is a breed to you need to look at with a lot of careful consideration; especially if you have young children. If a collie is socialised with children from a puppy, it's likely they will get on well, however due to collies' natural instinct to herd, we would advise always supervising them when together.
Exercise:
This breed is an extremely high energy dog, meaning that it's important to give them the exercise they need; it is recommended that they get more than 2 hours of exercise per day.
Border Collie's certainly aren't a breed to suit every house, and even when they get a minimum of 2 hours exercise a day, it's also important that they have a large and secure garden for them to run around in between walks.
Meet some of our Skinner's fed Border Collies…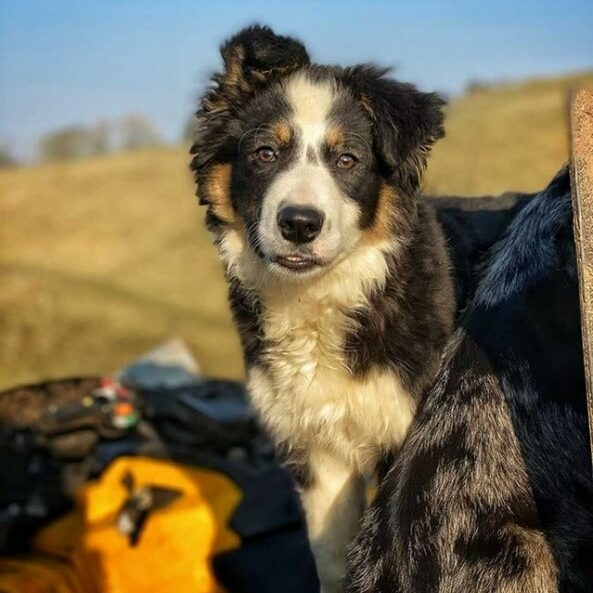 Name: Star
Describe Star in 3 words: Loyal, happy, beautiful.
Favourite activity: Her favourite activity is gathering sheep, of course!
Family: Star's owner is Hannah Jackson, also known at The Red Shepherdess. Star is the youngest member of Team Red, (Hannah's team of sheep dogs that help them on the farm) and she also comes everywhere else with Hannah. Her teammates are Fraser, Butch, Drift and Swift.
Favourite place to walk: Anywhere up in the fells. She loves to be outdoors and exploring different places, but she doesn't like water!
Fed on: Star is fed on Field & Trial Muesli Mix, because it full of different tastes and textures and gives Star all the energy she needs through her sheep dog training, and for all of life's adventures. Her owner wouldn't use anything else for their border collies.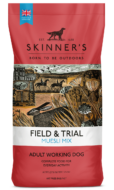 Muesli Mix
An appetising mix of tastes and textures.
£8.10 – £28.49
Star's job: Star is learning to be a sheep dog to help her humans on the farm and so far she is showing lots of promise to be an incredible dog… she is an absolute natural! Hannah is so excited to see her grow more.
Fun Fact: Star is the daughter of the international supreme sheep dog trial champion, Kevin Evans Hybeck Blake!
What advice would you give to someone getting a Border Collie:
"Collies are absolutely amazing dogs, they are loyal to the core and will be your best friend; but make sure you have a lifestyle suited for a collie, they need a lot of mental and physical stimulation and that can take up a lot of time."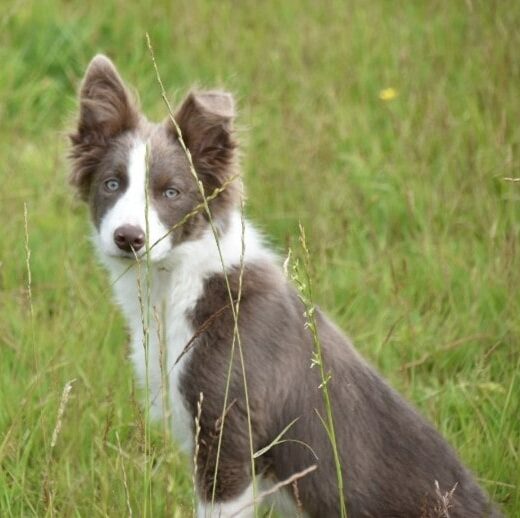 Name: Skye (Pentir Lassie)
Age: 5 months old
Describe Skye in 3 words: Intelligent, driven, faithful.
Favourite activity: Learning to work with sheep.
Family: Skye lives with her owner Damian in his kitchen, plus she is sometimes kennelled outside next to Damian's gundogs.
Fed on: Skye is currently fed on Field & Trial Puppy & Junior Duck & Rice, which is an ideal choice for young dogs with sensitive digestive systems.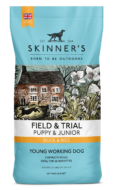 Puppy & Junior Duck & Rice
Ideal for sensitive puppies.
£13.70 – £59.99
Skye's job: She is a trainee sheepdog.
Fun fact: Skye set a world record as the most expensive untrained sheepdog pup ever sold, and her dad is 'Reivar Grey', owned by Emma Gray from BBC's This Farming Life!
What advice would you give to someone getting an Border Collie:
"Only get a Collie if you are an experienced dog owner. If you are getting it from a farm, be aware that it's probably a working dog and will have all the energy and drive that goes with this.
Think about where you live – if there are sheep nearby, your Collie will want to work them and may also chase any passing vehicles."
Name: Haze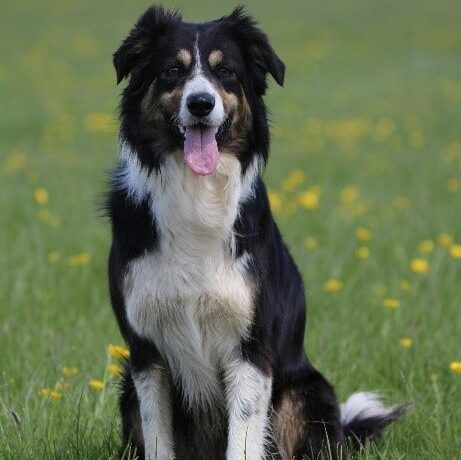 Age: 2 years old
Describe Haze in 3 words: Friendly, loyal, happy.
Favourite activity: Haze loves to do agility and to play with other dogs.
Family: She lives with three other agility dogs (one of whom is her mum) and two other sheepdogs.
Favourite place to walk: Haze loves to go for walks on the farm or anywhere else she can go and say hello to people.
Fed on: Haze is fed on Field & Trial Working 23, which keeps her in top condition and gives her enough energy to keep going all day.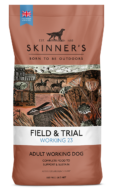 Working 23
Perfect balance For active dogs
£8.10 – £28.49
Haze's job: Haze is an agility dog.
Fun Fact: Her nickname is "Heffalump" and she puffs her cheeks out when she's concentrating.
What advice would you give to someone getting a Border Collie:
"Make sure they have a job to keep their mind busy and brain games are really important! Also remember to let them be a puppy and establish your bond before expecting too much from them."
Is a Border Collie the right breed for me?
If you're still unsure as to whether a collie is right for you, check out the Kennel Club's page on their website which has everything you need to know about the breed.
Tag us on social media
We want to see your collie! Simply tag us in your photos, for the chance to feature on our page! #borntobeoutdoors