Meet the breed – Golden Retriever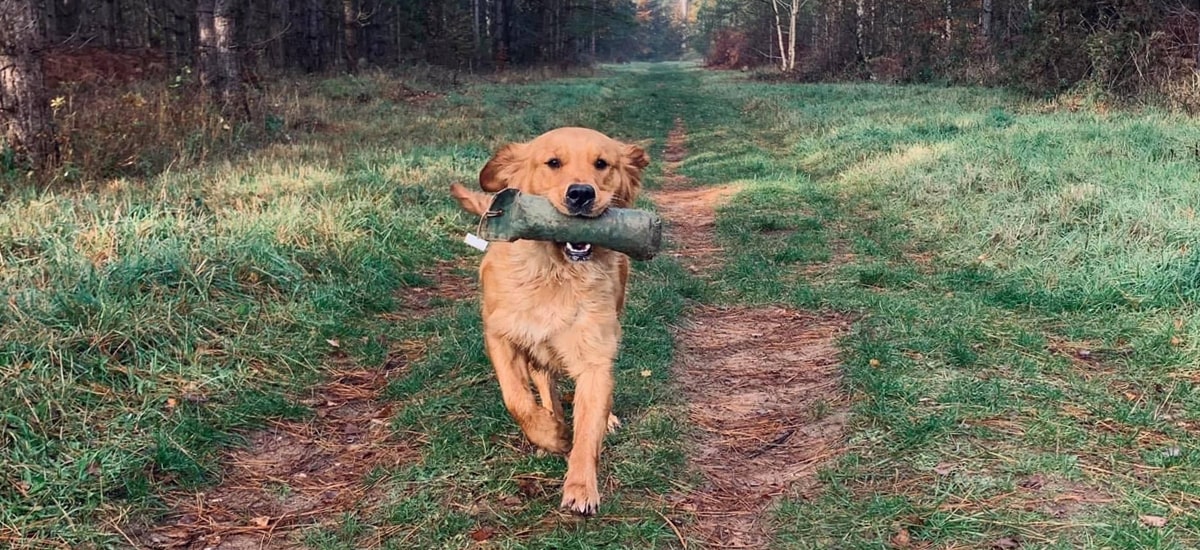 Golden Retrievers are a breed that are less commonly seen in the field, but that doesn't stop them from being an excellent gundog.
This kind, hard working and happy breed also makes a fantastic family dog too, due to their gentle, friendly nature!
Learn more about the breed
How much do you know about this loyal breed?
Also known as:
Golden, Retriever
Country of origin:
Scotland
Original purpose:
To retrieve shot waterfowl and game birds.
Breed standard:
Height: 56-61cm for males, 51-56cm for females
Life Expectancy: Over 10 years
Number of puppies registered in 2020:
8,653
Kennel Club show group:
Gundog
Coat length:
Medium
How often they need grooming:
More than once a week.
Kennel Club priority Gene testing:
Hip dysplasia screening scheme.
Elbow dysplasia screening scheme.
Temperament and breed characteristics:
Golden Retrievers are a loving, loyal and friendly breed. Generally, they are easy to handle, and are similar in nature to a Labrador. Whilst they're not as commonly found in the field as what some other retrievers are, their easy to train nature and soft mouth makes them a great breed to have as a working companion.
Their coat length can put some handlers off having this breed as a gundog, because it requires a lot of attention, and will pick up a lot of mud, brambles, twigs and other debris. They are also big moulters, which may be an inconvenience to some owners.
You won't just find this loyal breed in the field… Their intelligent and eager to please nature means that they also make fantastic therapy dogs, guide dogs for the blind and hearing dogs for the deaf!
Exercise:
It is recommended that this breed receives at least 2 hours of exercise a day, and should also have a large garden to run around in.
Whilst they might not seem it, these working dogs are very active with good stamina and therefore need plenty of opportunities throughout the day to exercise; which is another reason why they can make a great gundog.
Meet some Skinner's fed Golden Retrievers…
Names: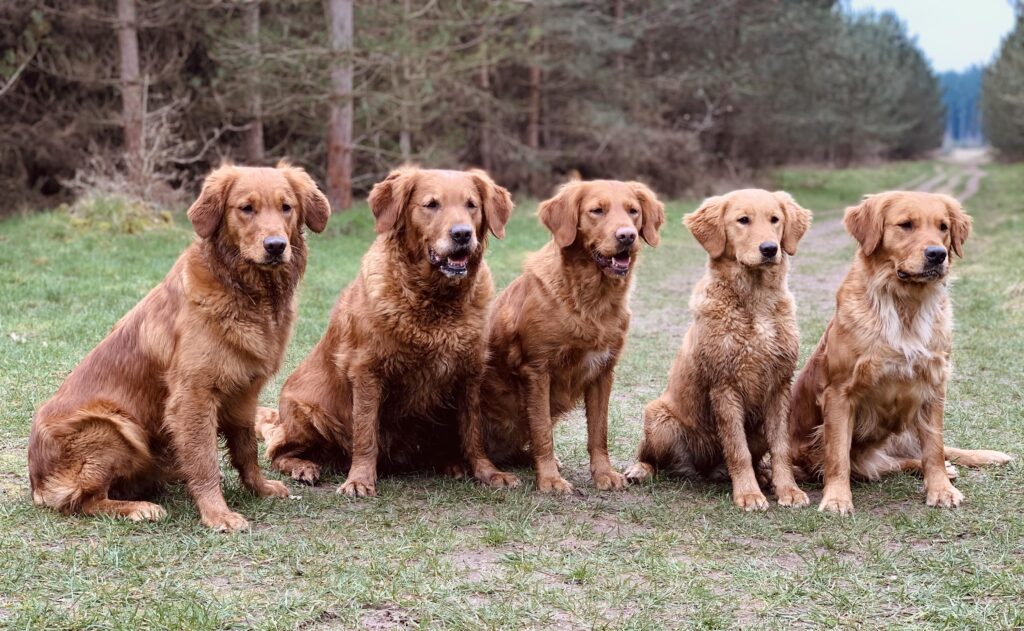 Flo (7 years) – She is Mum to Toad, Breeze and Crunch and Grandma to Snap.
Toad (4 years) – She is Mum to Snap.
Breeze (2 years)
Crunch (14 months)
Snap (11 months)
Describe your team in 3 words: Loyal, affectionate and happy!
Fed on: "We feed all of our dogs on Field & Trial Maintenance. It keeps our dogs looking in tip top shape all year round; be it when they're in light work in the summer or come winter when their workload increases; it also helps maintain strong muscles and condition. Another benefit of feeding this food is the amazing shine it gives our girls' coats; they've received many compliments on how healthy they look!"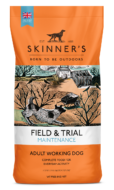 Maintenance
Perfectly formulated for everyday activity.
£8.10 – £28.49
Favourite activity: "Our goldens love spending days out in the field picking up, beating and just generally having a fun time. They also love to socialise with the other dogs and people, especially if there's a chance of a fuss!"
Favourite place to walk: "The dogs have a variety of walks that they enjoy, but their favourite place to visit has got to be Brancaster beach. They all love nothing more than splashing in the sea and playing a game of chase! It's a great place for the dogs to let loose and enjoy themselves!"
Dogs' job: "All of our goldens are working dogs and absolutely love their job in the field. Flo and Toad have enjoyed many days sitting on the peg – they both love nothing more than retrieving game. It'll be Breeze's first season out this year, and we can't wait to put all the hard work and training into practice; she really does love it and has shown all the right signs of being a good working dog."
Fun Fact: "Toad is definitely the most affectionate out of the pack. She puts a huge grin on her face as soon as you start stroking her, it's very funny!
Flo has been known to give our bantam cockerel (Eric) a ride on her back, she seemed quite happy with herself and he didn't seem to mind either… that's goldens for you!"
What advice would you give to someone getting a Golden Retriever:
"If you're wanting an affectionate, loyal and loving companion then I cannot recommend a more suited breed! However, despite developing a reputation as a 'couch potato', they do have lots of energy and are a sporting dog so do require a good amount of daily exercise; this is one of the main factors I would consider if you're considering a Golden Retriever – they thrive from work and enjoy mental stimulation."
Is a Golden Retriever the right breed for me?
Are you still wondering if a Golden Retriever is the right breed for you? Check out the Kennel Club's page on their website where you can learn even more about this fantastic breed.
Tag us on social media
We don't often see goldens on Instagram but would love to see more! If you have one, tag us in your photos. You might even be lucky enough to feature on our page! #borntobeoutdoors