Meet the breed – Jack Russell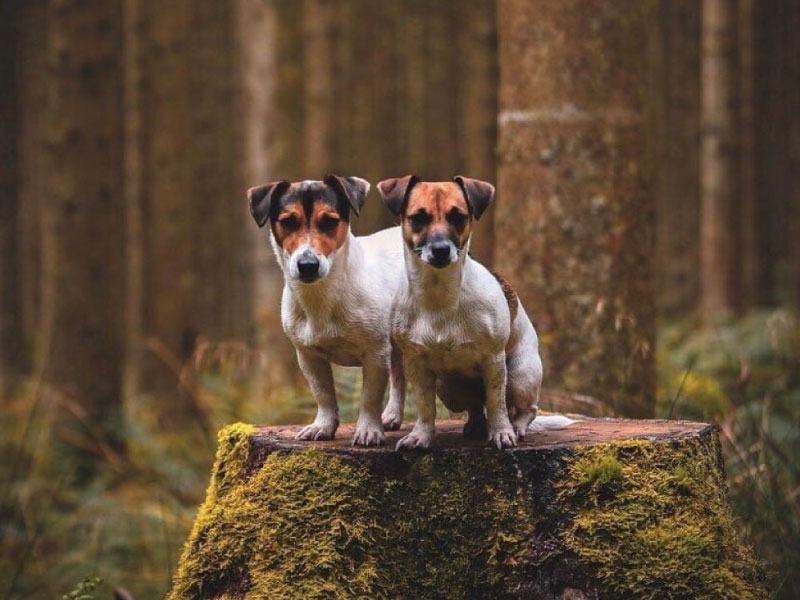 Jack Russell Terriers are happy, lively, and independent dogs with a strong hunting instinct. Despite being bred for fox hunting in the early 19th century, Jack Russells are unlikely gundogs, but their hunting instinct and explorative nature means they work well on the beating line.
If you like to be active and explore the great outdoors, why not take a companion? A Jack Russell may be the dog for you because they love to explore, hike, run, dig, and play!
Learn more about the breed
How much do you already know about this energetic breed?
Also known as:
Parson Russell Terrier, Parson Jack Russell Terrier, Jack
Country of origin:
England
Original purpose:
Bred for fox hunting in the early 1800s
Breed standard:
Life Expectancy: 13 – 15 years
Number of Jack Russell puppies registered by the Kennel Club in 2020:
391
Kennel Club show group:
Terrier
Coat length:
Short
How often they need grooming:
Once a week
Kennel Club priority Gene testing:
Late onset ataxia (LOA) – loss of balance
Spinocerebellar ataxia (SCA) – spinal cord degeneration
Primary lens luxation (PLL) – loss of vision due to movement of the lens in the eye
Temperament and breed characteristics:
Jack Russells are a brave, bold, sturdy and confident breed that love to explore and hunt. They can also be friendly family dogs as they are happiest when they have human companions. Jack Russells can sometimes struggle to get on with other pets, so it's important to consider this before becoming an owner. Due to their lively, alert, and bold nature, it is also recommended that this breed is trained to achieve the best from their temperament.
Exercise:
It is recommended that these small dogs have up to an hour of exercise each day because they are energetic and active. Their hunting instinct and willingness to explore can sometimes cause them to wander off, so it's important to keep a close eye of them when let off the lead.
Meet some of the Skinner's fed Jack Russell Terriers…
Finn & Pip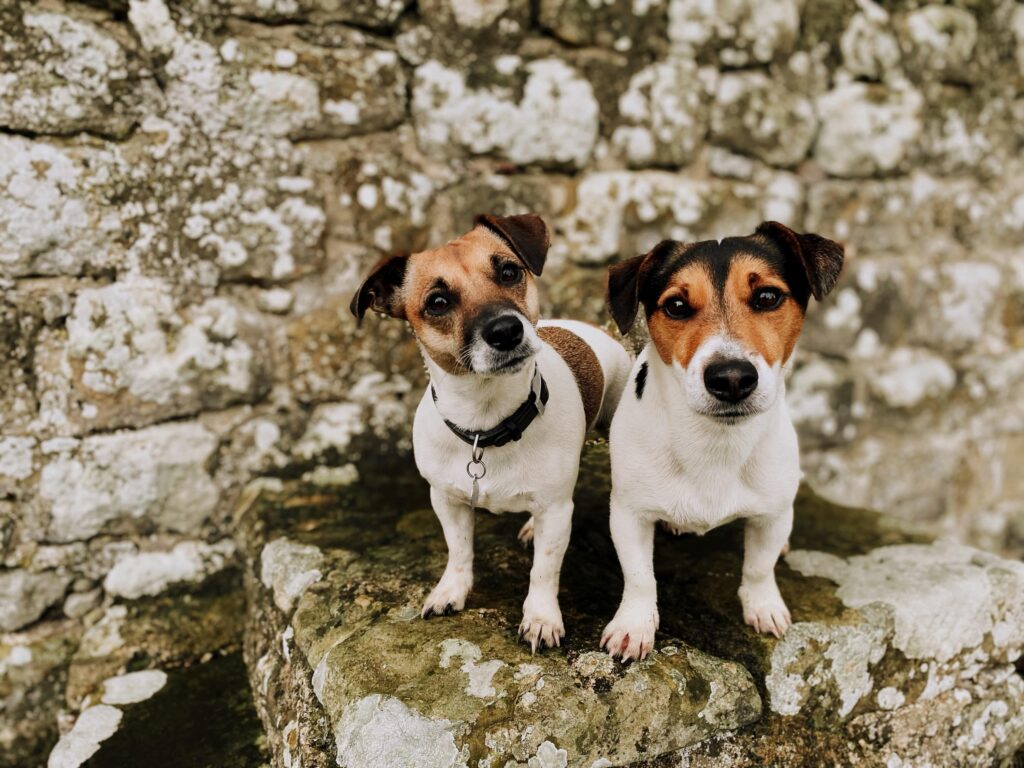 Names:
Finn (3 years)
Pip (2 years)
Describe them in three words: I could never pick three words to describe both as a pair as they are complete opposites ha!
Finn: People pleaser, sensitive, ball obsessed!
Pip: Stubborn, super strong willed, a sucker for a cuddle!

Which food are they fed on and why? They are both on the Muesli Mix for breakfast, and then the Salmon & Rice for dinner, both are mixed with the Skinner's wet food. I've found changing the wet food flavours has been great for Finn who regularly gets bored of his food, it's kept him eating full meals twice a day!
Favourite activity: Anything active! They both absolutely love exploring; woodlands seem to be a firm favourite. Finn has recently had his first try at flyball and loved it so I'm keen to keep going with that! However, they do both enjoy a duvet day sometimes!
Who do they live with? They live with myself and my boyfriend, along with our Labrador Remi and my two horses!
Dog's job: They both come to work with me every day, I'm a dog walker, so they lead a very active lifestyle! They keep me company every day as well as providing entertainment to all my clients dogs. Pip is occasionally used for pest control also!
Favourite place to walk: They love any woodland, but also love the beach as we go there on days off sometimes, the beach is their switch off and have-fun place!
What advice would you give to someone getting a Jack Russell? Expect the unexpected! They are little dogs with the biggest personalities. Find ways to compromise – don't argue, they won't listen… trust me! Be prepared for the best cuddles and a lifetime of loyalty!

Fun Fact: They both understand the word 'fridge' – my dad seems to have taught them that shouting fridge means run to the utility room for sausages! Finn often comes out with me while I train the Labrador and likes to have a turn!
Bramble and Teasel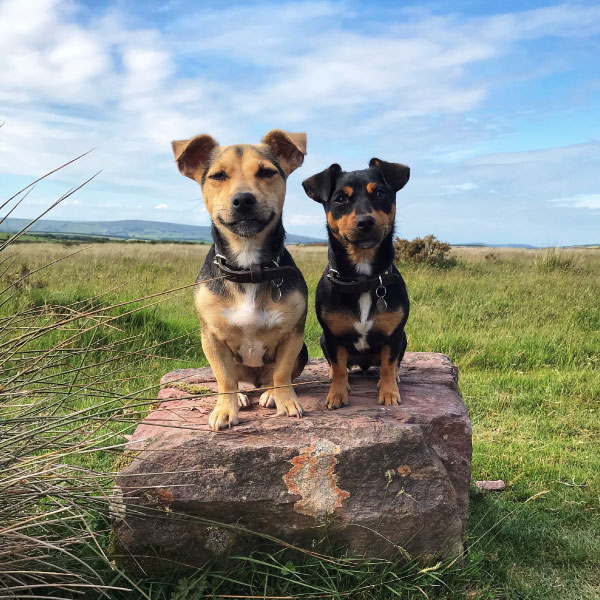 Names:
Bramble (4 years)
Teasel (1 year)
Describe them in three words: Energetic, cheeky and loyal
Which food are they fed on and why? Field & Trial Chicken & Rice with any of the three wet foods on top. They really enjoy the food, it keeps them healthy and their black coats are always lovely and shiny. Our family have been feeding their dogs Skinner's for over 40 years and it has always been good value for money without compromising on quality.
Favourite activity: Has to be walks in the woods, anywhere they can chase a squirrel!
Who do they live with? They live with our family of four: Mum (Dawn), Dad (Graham), Karl and Zoe.
Dog's job: We don't use them as working dogs, but they are the best companions and pest control!
Favourite place to walk: They have many favourite walks in the fields and woods local to our house.
What advice would you give to someone getting a Jack Russell?
They're full of character and will be your best and most loyal friend for life. Make sure that you are the boss from the get-go and they like lots of exercise. Jack Russells are very intelligent and need to use their brains, so it's a great idea to take them to training classes or agility classes from a young age. Unfortunately, Jack Russells have a name for being snappy, this couldn't be further from the truth, as long as they are brought up correctly, and as with all dogs, never tease them.

Fun Fact: Their tummies rule their heads, so they'll do anything for a treat! They love their home comforts, whether that's a comfy chair in the sun or laying by an open fire!
Is a Jack Russell the right breed for me?
If you want to know more about Jack Russells, take a look at the Kennel Club's page on their website, where you can learn more about this fun-loving breed.
Tag us on social media
We would love for you to tag us in your photos and tell us about yours; you may even feature on our page! #borntobeoutdoors