Skinner's 'Get Out and Go!' named official dog food supporter of parkrun
Get Out & Go! , +1
October 19, 2021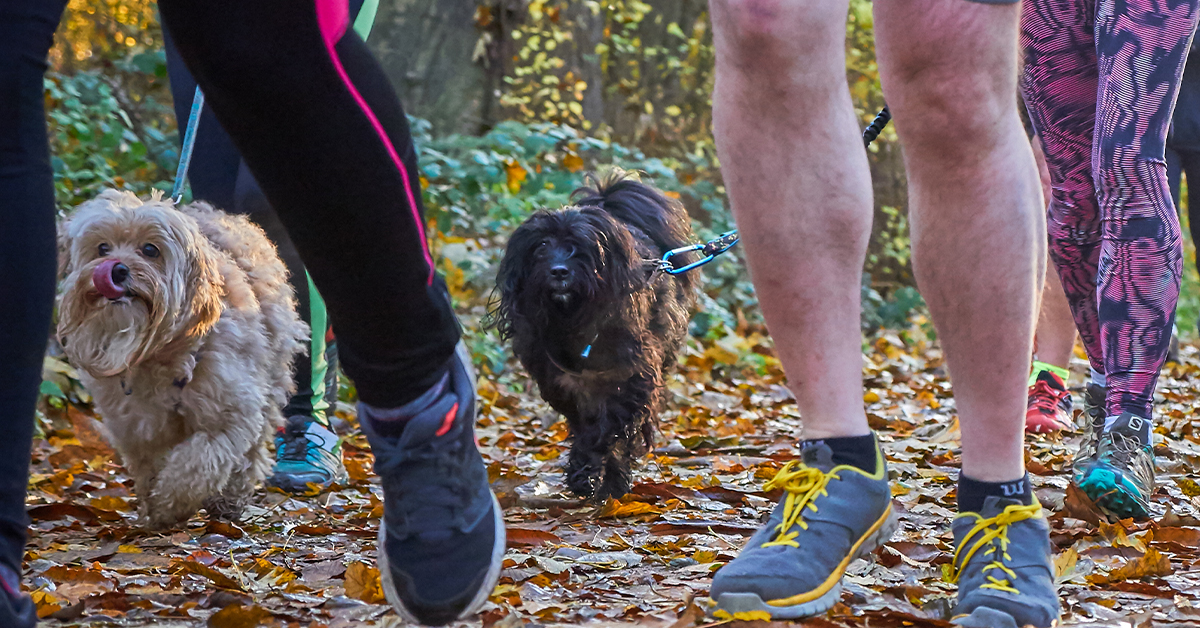 Helping the nation ensure active dogs refuel, rest, and recover.
Skinner's, the heritage dog food brand, is proud to partner with parkrun, the biggest provider of free, physical activity in the world.
A recent survey by Skinner's and parkrun found that dog owners like to get active with their dogs. In addition to regular walks, 70% regularly partake in a run or long jog with their dog and 25% already take their dogs to parkrun events.
Encouraging the nation to 'Get Out and Go!' with their dogs, in some of the great parks across the UK, Skinner's is asking parkrunners to think about bringing their canine companions to those parkrun events this October (but be sure to read the rules on where you can participate with dogs and what leads you can walk, jog or run with) all whilst being fuelled by Skinner's new dog food range Get Out and Go! A range of dog food which supports active dogs with diets to maintain energy and wellbeing.
With 50 years of experience of feeding the nations working dog, who have unique energy demands, Skinner's has a strong understanding of how vital it is that active dogs just like their owners, have a certain diet that lets them rest and recover with the right food. This new high-performance dog food range has been formulated to ensure you can enjoy every adventure together.
Get Out and Go! supports whatever activities and adventures dog owners choose and offers complete wet and dry foods, training treats and innovative energy recovery bars all in 100% sustainable packaging, which is widely recyclable, allowing you to keep yourself, your dog and the planet happy.
From muscle and joint health to skin and coat condition, as well as boosting immunity and promoting stamina and recovery, there's a diet in the Skinner's Get Out and Go! range that's right for every active dog.
Tim Hansell, Skinner's CEO says: "We are delighted to be the official dog food supporter of parkrun. The partnership is a natural fit for us, building on shared values of community, wellbeing and sustainability.
At Skinner's we believe there's no greater feeling than being in the great outdoors, and it's even better with a dog by your side. With over 50 years of nutritional know-how, we understand what it takes to keep dogs active, healthy and ready for a challenge.
With our new Get Out & Go! range, we want to inspire people to put down their devices and Get Out & Go! on adventures (big or small) with their dogs (including parkrun), to reconnect with the great outdoors and to enhance wellbeing together."
Nick Pearson, parkrun CEO says: "We're proud to welcome Skinner's to the parkrun family. We know how many parkrunnners already enjoy the company of their dog on a Saturday morning and with Skinner's expertise and values, we look forward to working towards a happier and healthier planet together."
Comprising of three varieties of nutritionally balanced complete wet food and four varieties of complete dry, in addition to handy training treats and a pioneering energy and recovery bar, the range has been formulated using functional ingredients to benefit dogs' energy, stamina, performance and recovery.
All foods in the range are formulated to a grain free recipe and the dry food and wet food has a protein base of chicken with a boost of superfoods, including the likes of kale, spinach, blueberries and turmeric, meaning you can change to a different food when necessary, by moving up and down the protein and fat levels of the range, dependent on your dogs' energy output.
Launched in 2004 in Bushy Park London, parkrun has since gone from strength to strength with more than 4 million registered parkrunners in the UK.
Studies show that dog owners are four times more likely to meet physical activity levels, as they motivate us to get outside and exercise, which boosts endorphins for both parties, all whilst reaping the benefits of fresh air, vitamin D, and a strengthened bond between you and your canine companion.[1]
Participants and their canine companions can choose from more than 700 5k events across the country to embrace the great outdoors whilst exercising with their dogs.
To purchase the new, Get Out & Go! range visit www.skinners.co.uk
To sign up for you to participate in parkrun visit https://www.parkrun.org.uk/.
---