Meet the Skinner's Team – Ben & Georgie Skinner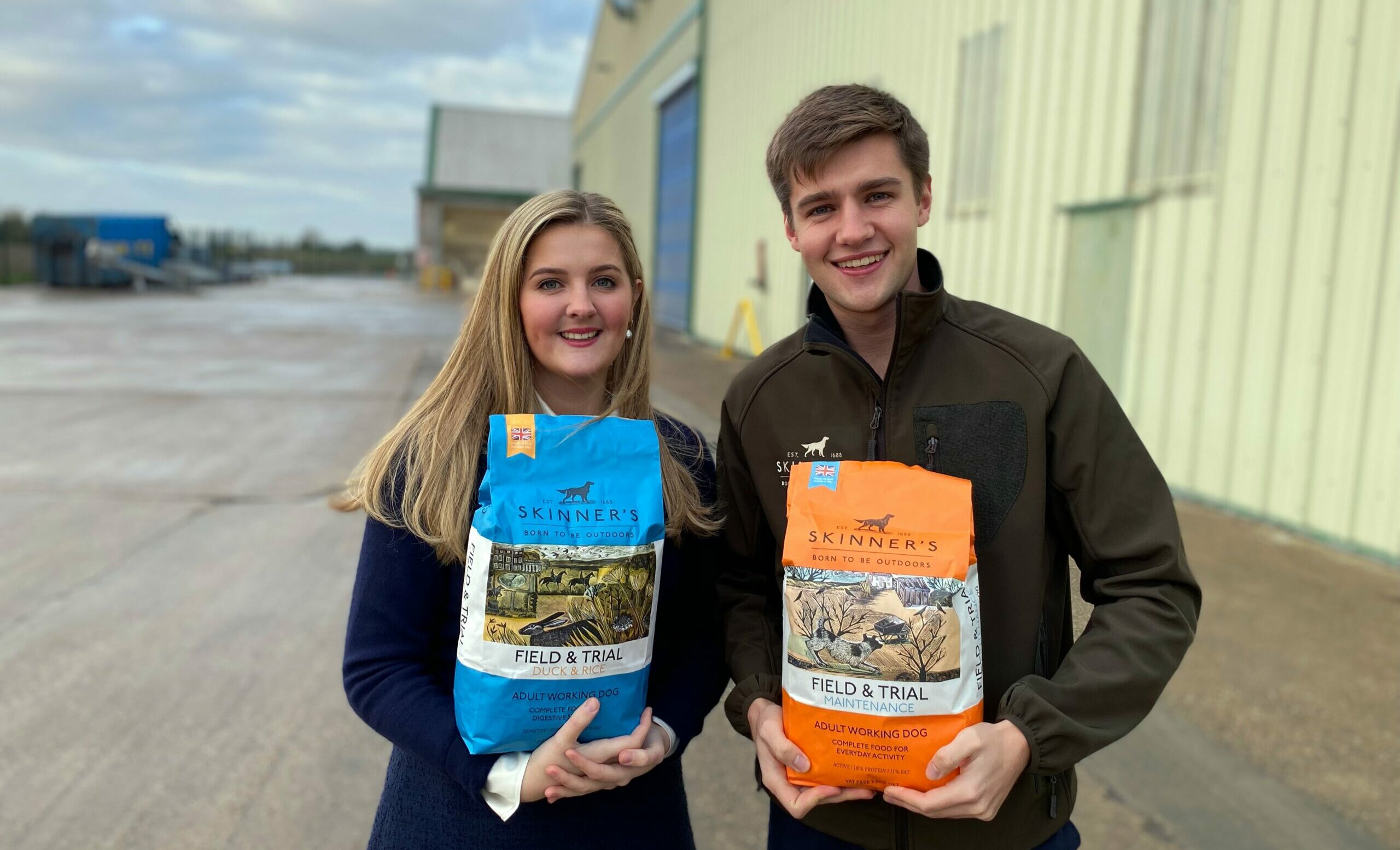 As you may well know, Skinner's is a family-run business that has been passed down through the generations. This year, the 7th generation Skinner's, Ben and Georgie have joined the Skinner's team to gain an even greater understanding of how their family's business is run. We interviewed them both to find out what a typical day in their life looks like…
Names:
Ben and Georgie Skinner
Number of dogs:
2 Labrador Retrievers
What they feed their dogs on:
Their two dogs are currently fed on Field & Trial Duck & Rice dry food, along with our new Seasonal Turkey, Chicken & Cranberry wet food; although before this delicious new food was launched, they also fed Field & Trial Lamb with Root Veg wet food.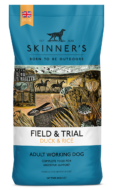 Duck & Rice
Wheat-free recipe for dogs with sensitivities.
£11.60 – £47.29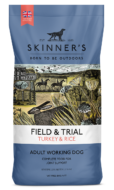 Turkey & Rice
Specially formulated for joint support.
£12.75 – £53.89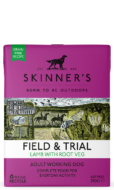 Lamb with Root Veg
Steam-cooked to retain the valuable nutrients.
£1.43 – £25.75
What are their hobbies?
Ben: Shooting, tennis, travelling.
Georgie: Cooking and baking, shooting, reading, and studying (in anticipation for medical school).
What departments do they work in?
Ben currently works as a Delivery Driver in the Logistics and Deliveries department, whilst Georgie is working with the Marketing Team.
What do their jobs involve?
Ben
Georgie
• Meeting and visiting customers with their deliveries.

• Managing local deliveries of dog food.

• Picking orders and making up pallets.
• Writing blogs as well as customer and trade emails.

• Helping the team manage the social media accounts and create content.

• Getting associated brands involved in our giveaways.

• Photographing the new dog food and treats that were recently launched.

• Updating stockist information.
What does a normal day at Skinner's look like for them?
Ben: "I'm normally up around 6:30am every morning and have a wonderful mum and twin-sister (Georgie) who make my breakfast and packed lunch– something I'm definitely going to miss one day! Georgie and I commute to work together and get there for around 8.00am. I enjoy catching up with Julie in Customer Services and Stan who is also in my department, when I get to the office. After this, Julie gives me my delivery notes for the day. I go to the factory to pick the orders, making up individual pallets, then set off on the road delivering to customers all over East Anglia."
Georgie: "I am always up and about early to let the dogs out, make packed lunches and take the builders their morning coffees. My twin brother Ben and I usually commute to the Mill together which gives us a chance to catch up on our plans for the day. Ben and I always catch up with Julie and then I head upstairs to check my emails.
Amelia, our Social Media & PR Executive and I then share the responsibility of running our social media pages and replying to messages from customers. During the day I work on articles and blogs for our website, proof read whatever crosses my desk, write emails for customers and trade, recruit and talk to brand ambassadors, update our stockist locator page on our website and work in a team to create new content.
When time allows, I love to walk around the factory with our Chief Operating Officer, Matthew to see what progress is being made in the ever-evolving factory behind our offices. At 5pm, I occasionally pop into the factory to help Ben hand-pick his last dog food deliveries of the day before heading home."
What are their favourite aspects to their job?
Ben: "I thoroughly enjoy meeting our local customers when I'm out on my deliveries.
Some very long-standing customers remember my father and even my grandfather delivering food to them, so I often get a 'trip down memory-lane' which I find endearing and often amusing."
Georgie: "One of my favourite things about being at Skinner's is the lovely marketing team I get to work with – they are so diligent and enthusiastic; working with them and learning from them is an absolute pleasure. We even have '4 o'clock positivity' in the office where everyone announces their best achievement of the day – it's certainly a light-hearted way to round off the day."
Are there any difficult aspects to their job?
Ben: "I travel around 1000 miles a week delivering dog food, which is not only quite tiring, but also in a diesel van, worsens our carbon footprint; something which we are very mindful of here at Skinner's. It would be nice to think that, in the near future, we will be delivering on a carbon-neutral basis. Other than that, it's wonderful to be working with people within my family's business and it's heartening to hear so often that they enjoy working here too."
Georgie: "The aspect I sometimes find difficult about my new job is switching off when I go home. I love catching up with my parents about my day and completing unfinished tasks, that I sometimes forget to relax. Much like my father, I often need to be prised from my desk just to have dinner."
What made them both want to work for Skinner's?
Ben: "I hadn't planned to get involved in the family business at such an early stage in my working life. I would, perhaps, have followed the property route a little further. However, this summer, with the work at the Mill becoming busier than ever, I felt it was just the right time to get involved. I enjoy every minute of my work and look forward to learning about other parts of the business, such as production and sales; I can certainly see a future for myself within the company."
Georgie: "As a 7th generation Skinner, I feel a strong sense of duty to contribute to my family's business in one way or another, as every generation has done before me. It is special to learn about – and understand the running of – a business that is so engrained into my family's history. I admire how hard my father, Roger, has worked over the last 50 years to build Skinner's into the company it is today; learning from him is truly inspirational.
It is still my dream to pursue a career in medicine, but in the meantime, I am thoroughly enjoying working at Skinner's and I will never say never to changing my career path from medicine to manufacturing."
We hope you've enjoyed this small insight into what a day in the life of our 7th generation Skinner's look like, and don't forget to give Ben a wave if you spot our Skinner's van around East Anglia, or pop onto social media where Georgie will be more than happy to help you with your questions!