Skinner's Announce Sponsorship of Gundog Awards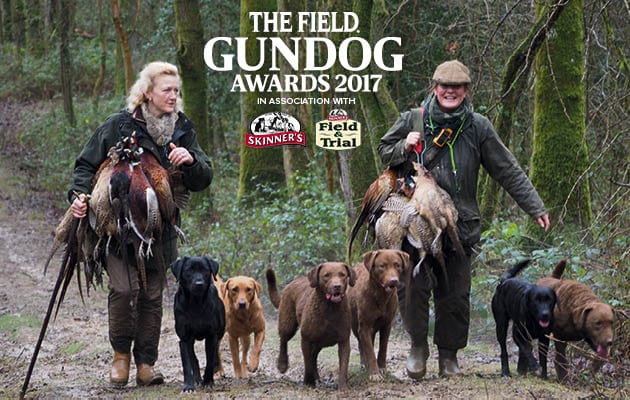 Skinner's Pet Foods are delighted to be sponsoring The Field magazine's first ever Gundog Awards. The name Skinner's has long been associated with working dogs, particularly gundogs, and our Field & Trial range has been the number one working dog food for around 25 years.
William Delamore, Skinner's Sales and Marketing Director says, 'Skinner's are already renowned throughout the gundog sector because of our absolute passion for making sure we provide the dogs with the best possible nutrition, so it really was the perfect fit to team up with The Field on their inaugural Gun Dog awards. The main aim of our food has always been to produce happy, healthy working dogs – and these awards are a great celebration of what can be achieved by gun dogs in tip top condition as a result of excellent nutrition'.
The aim of the awards is to encourage gundog work throughout all sections of the shooting world. The awards will be judged by an experienced panel, with years of fieldsports knowledge and expertise between them.
The categories are as follows and entries close on 1st August 2017:
Outstanding retrieve by any retrieving breed during the 2016/17 season.
Outstanding work by a spaniel (springer or cocker) during the 2016/17 season.
Outstanding work by any pointing breed during the 2016/17 season.
Outstanding work by any rare breed during the 2016/17 season.
The best amateur picker-up.
The best family gundog.
The naughtiest gundog.
The best gundog that does not belong to a gundog breed
The winners will each win a year's worth of Skinner's dog food and will be invited to a special celebratory lunch at Burghley Horse Trials on Thursday 31st August 2017.
Skinner's many years of experience in producing high quality food for working dogs has given us a unique understanding of dogs and the role good nutrition plays in maintaining optimum health. Earlier this year they also launched their Life range for pets to make sure that their experience in producing high quality premium foods could be enjoyed by all dogs.