Is Light & Senior the right food for your dog?
Written by: Zoe Russell, BSc (Hons)  
Nutrition Officer, Skinner's Pet Foods
Field & Trial Light & Senior is a nutritionally balanced and complete dry dog food, which provides all the essential nutrients your four-legged friend needs. This diet has been specifically developed for dogs with reduced activity levels, predisposed to weight gain, senior dogs and those who require a diet lower in key nutrients such as fat and protein.
Weight management
Light & Senior is one of our lowest fat diets making it an ideal choice for adult dogs who require dietary support (alongside appropriate exercise and lifestyle management!) to help maintain a healthy weight and body condition. It is also a less energy-dense diet, making it a suitable choice for those who are less active and even food-orientated dogs who might benefit from larger meals of reduced energy density.
Top tip:
Whether they are the perfect weight or need to drop a few pounds, we always recommend weighing their food daily to help provide accurate and consistent meals. We generally avoid using measuring cups as these can be inaccurate.
Joints, movement and mobility
Our recipe contains enhanced levels of glucosamine and chondroitin which can help to support healthy movement in all types of dogs. Glucosamine is involved in the formation of tendons, ligaments, bones and cartilage, while chondroitin is essential for the resilience and regeneration of cartilage and can help to support joint condition. They are therefore supplemented into our dry dog food to help encourage healthy joints and movement in adults of all breeds, shapes and sizes.
Healthy coat and skin
It's important to keep our four-legged friends healthy inside and out. That's why our recipe uses poultry oil as a source of key nutrients including Omega-3 fatty acids which can be beneficial as they help to support coat and skin health, as well as heart, eye and cognitive health. Furthermore, because dogs are incapable of producing Omega-3 fatty acids on their own they must get them through their diet, meaning these fatty acids are regarded as "essential" to ensure they stay fit and healthy.
Dietary sensitivities
We understand that some dogs have sensitive digestive systems, that's why our Light & Senior food is made using a wheat gluten free recipe. This makes it an ideal choice for those who have a dietary intolerance or sensitivity towards wheat. Our recipe also uses easily digestible chicken and rice which provide a source of important nutrients such as protein and fibre. For a full ingredient list, please click here.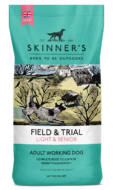 Light & Senior
Reduced fat for weight management.
£9.85 – £43.99
Contact us
If you would like any further information or feeding advice, then please contact our nutrition team at nutritionsupport@skinners.co.uk and we would be more than happy to help.