Back To School
Blog , +1
September 9, 2020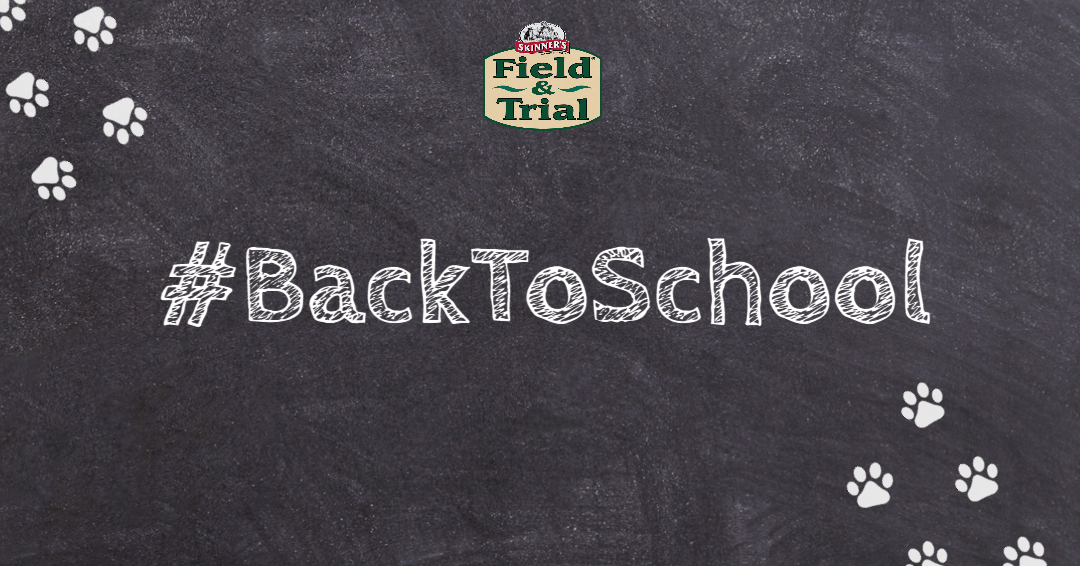 Written by: Zoe Russell, BSc (Hons)  
Nutrition Officer, Skinner's Pet Foods
For generations, September has marked the end of the summer holidays and the start of a new academic year. 2020 has been far from normal and will certainly be one for the history books. As the government and advisory bodies navigate the challenges that come with the reopening of schools, it got the team here at Skinner's, thinking about what a nutrition class would look like.
Everyday's A School Day
We take care of the nutritional research so that you can focus on the training!
Here at Skinner's, our team of In-House Nutritionists are continuously researching and learning about what is required to keep your canine colleagues performing at their very best.
We understand the investment that you put into your gundogs, the dedication and time spent training to ensure your Spaniel is the best in the field and your Labrador returns back to the kennels as the best retriever. That's why our complete working dog food has the right ingredients to support your dogs, providing them with the energy when then need it most!
Remember The Basics
FOR ENERGY – LOOK FOR FAT
Dogs are preadapted to use dietary fat as a primary source of energy, so for active, working dogs, a moderate to high level of fat in the diet is important. Fat provides more than double the calories per gram than either protein or carbohydrate, so can be a useful source of energy for active dogs. Furthermore, fat is critical for bodily warmth as it provides a level of insulation and helps to support heat generation, making fat a key nutrient for dogs working in cold, wet conditions. An ideal diet for hard-working dogs requiring a good source of dietary energy is our Field & Trial Superior, which is by formulation one of our highest fat diets (20%) and can help to support high energy demands.
Recommended product: Field & Trial Superior.
FOR JOINTS – LOOK FOR JOINT AID, GLUCOSAMINE AND CHONDROITIN.
Looking after a dog's joints is critical for their health and welfare, that's why Skinner's have formulated a range of diets that help to support healthy joints. All of our sensitive diets are made with enhanced levels of glucosamine and chondroitin, which help to support the structure, resilience and regeneration of cartilage. Furthermore, our Maintenance Plus and our Turkey & Rice are made with Joint Aid for dogs- a joint and muscle supplement suitable for dogs of any age and activity level. Joint Aid for dogs contains 22 active nutraceuticals which help to maintain the natural anti-inflammatory actions of the dog's metabolism, support the structural framework of tendons, muscles and cartilage and support immune function, amongst other benefits.
Alongside feeding a supportive diet, it's important to make sure dogs remain lean, fit and in good condition to avoid excess weight on their joints. The appropriate use of feeding guides and balancing food intake with activity levels can help to keep your dog in a fit and healthy shape.
Recommended product: Field & Trial Maintenance Plus or Field & Trial Turkey & Rice.
TO MAINTAIN CONDITION – LOOK FOR AN ENERGY-DENSE DIET
Ideally a dog should enter the season with a good level of fitness and overall conditioning. However, it can be easy for a dog to start dropping condition at the start of the season and we may not spot this until changes in their physical condition become more noticeable, or their performance begins to drop. We therefore advise weighing dogs weekly, tracking any changes and adjusting their feed intake accordingly to help keep them at an ideal weight and in prime condition. If, however, you are feeding a large volume of food and they aren't maintaining condition, or their performance is dropping, then it may be time to consider a more nutrient-dense diet such as our Field & Trial Crunchy or Field & Trial Superior. These are energy-dense diets that provide a good source of key nutrients such as protein to support muscle integrity and fat to support energetic output, overall helping to maintain performance and condition in hard working dogs. Dietary fat also provides a source of essential fatty acids which can also help to support skin and coat condition.
Recommended product: Field & Trial Crunchy or Field & Trial Superior.
FOR GLOSSY COATS – LOOK FOR OMEGA-3 FATTY ACIDS.
Dogs require omega-3 fatty acids and omega-6 fatty acids in their diet, as they are essential for normal biological and metabolic functioning in the body. The provision of these fatty acids in the diet can be beneficial, as omega-3 in particular helps to support skin, coat, heart, eye and cognitive health. Furthermore, these fatty acids are regarded as "essential" in the diet as they cannot be naturally synthesised by dogs (or indeed many other species). Dietary sources of omega-3 fatty acids include fish such as salmon, as well as marine algae and linseed. Our Field & Trial Salmon & Rice provides a good level of omega-3 fatty acids and is therefore an excellent choice for dogs with skin sensitivities, or simply to support overall skin and coat health.
Recommended product: Field & Trial Salmon & Rice.
FOR RECOVERY – LOOK FOR WHEAT GLUCOSE SYRUP, GLUCOSE, SIMPLE CARBOHYDRATES AND DIGESTIBLE SNACKS
There is some key science behind providing a digestible snack during an intense work session to maintain performance and to minimise the likelihood of diminished energy levels or even hypoglycaemia (essentially low blood sugar). Even fit, healthy, well-conditioned dogs may benefit from a nutritional "boost" during the working day, as often a long shoot day will greatly test their fitness capabilities. The provision of digestible snacks during the working day can help a dog refuel and recover by helping to maintain blood glucose levels, supporting the replenishment of muscle glycogen stores at the end of the day and helping recovery after the working day. Some owners choose to feed a small handful of the Field & Trial Muesli as a snack between exercise, or perhaps a handful of their normal kibble. This can be beneficial as our Field & Trial Muesli is coated in a wheat glucose syrup which provides a digestible source of immediate glucose energy. Small "snacks" like these can be really useful in supporting recovery and refuelling, however it is important to avoid giving large meals in the middle of the day.
Recommended product: Field & Trial Muesli.
School's Out
At the end of a long day, be sure to give your dog time to rest before their evening meal. Rewarding your dogs with a complete dog food that will help them recover from a hard day's work will help prepare them for the following day.
Find us on social
Throughout September, at the end of each week our Nutrition Team will be bringing you some helpful facts about your dog's diet. Check these out on our social media pages!