Skinner's first-time gundog owner guide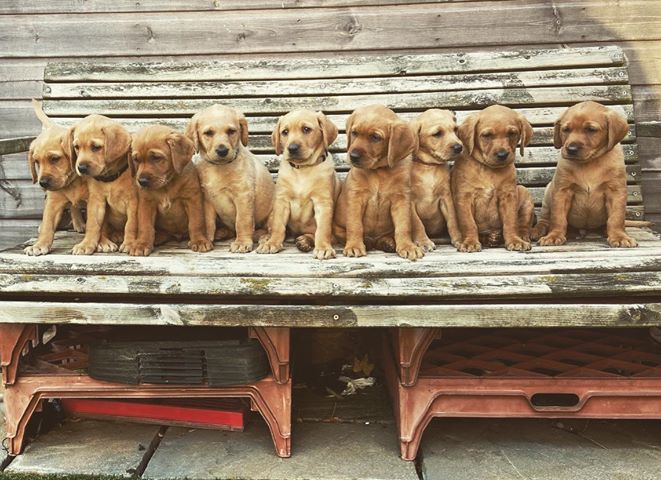 Starting out with a future gundog can be daunting, especially if you've never been there before. From finding the right puppy for you, to knowing when to begin training; there's a lot to think about! This is why we've put together some advice to help you as you start out with your new addition.
What is a gundog?
Traditionally this group of dogs were bred to assist those hunting game. It's important to note that each of the different breeds have their own area of expertise; from retrieving to pointing – it's worth noting this when considering a new member of the team.
There are 38 breeds recognised by The Kennel Club, some you may already be familiar with are:
Labrador Retriever
Golden Retriever
Flat Coated Retriever
Chesapeake Bay Retriever
Working Cocker Spaniel
English Springer Spaniel
Clumber Spaniel
Hungarian Vizsla
German Shorthaired Pointer
English Setter
Gordon Setter
Munsterlander (Large and Small)
How do you choose the right puppy?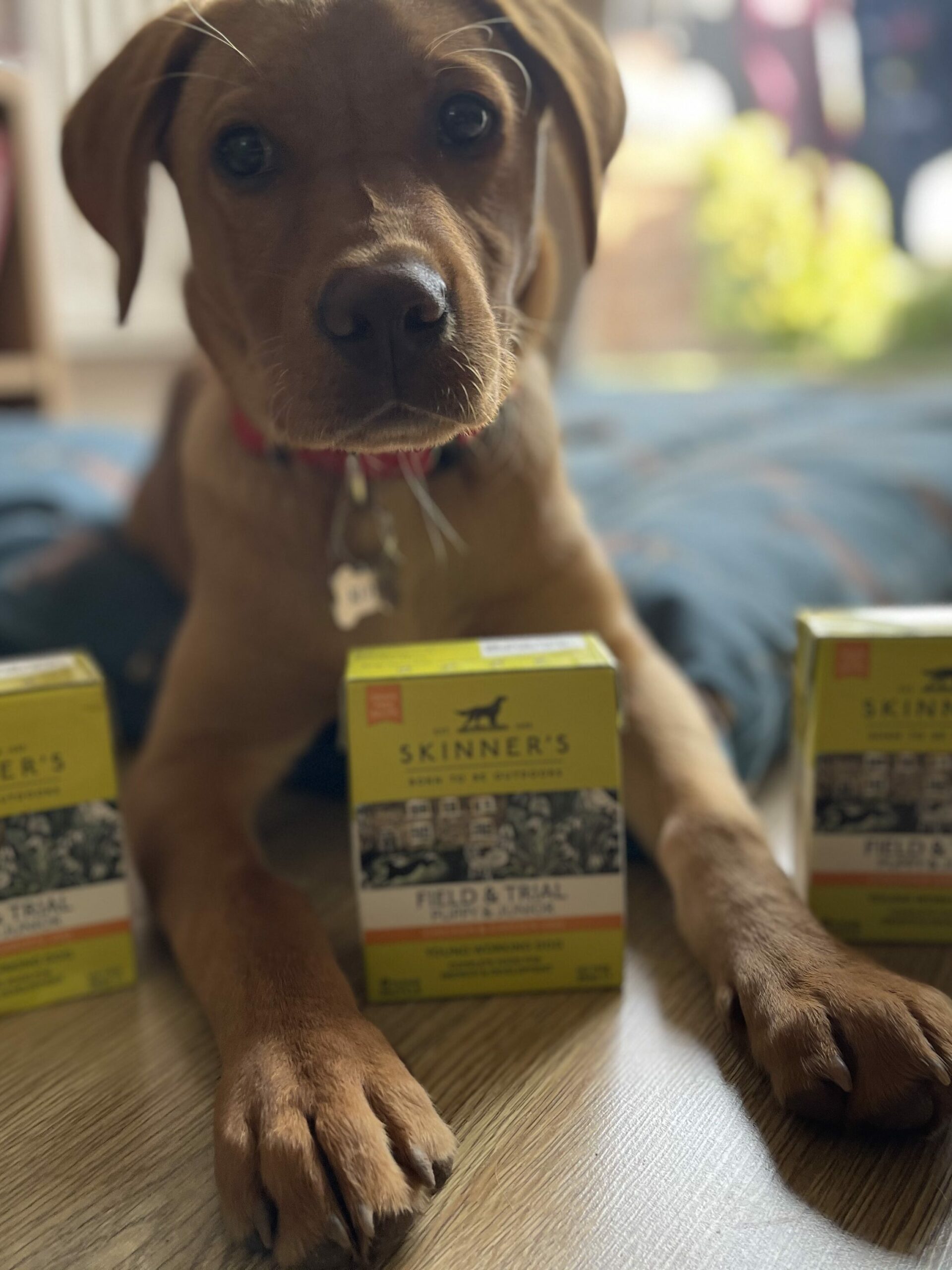 We need to start at the very beginning… choosing your puppy. This can feel like a bit of a minefield! There are so many things to consider; breed, sex, how much they will be worked, where you live, will their personality suit your family? Just to name a few!
Firstly, you need to do your research on the breed you would like to get:
Will you be able to meet their energy demands?
Is your house and garden big enough for their size?
How will you keep them mentally and physically stimulated outside of the season?
Will they suit your shooting needs?
Once you have answered these questions and you know what breed, sex and colour you would like, we recommend that you visit the parents.
Your puppy's parents
The parents will give you an indication to the type of personality your puppy will have as they get older. If you can, it's also a good idea to watch both parents in action in the field. Ask the breeder to show you the whole litter, watch how they interact with each other, and don't feel pressured to buy one if you're not happy!
Another import thing to check is whether the parents have both had the necessary health checks. Different breeds can be more prone to specific weaknesses, you can find the Kennel Club's full list of breed specific requirements and recommendations here.
Bringing your new puppy home
Before any training begins, you must form a strong bond with your new addition. One day, they are going to be your partner out in the field; so you both need to be able to trust one other.
The Coronavirus pandemic has made bringing a new addition home slightly more challenging than the normal, so we've put together an article to help you welcome a puppy during lockdown.
Travel safely
It's also important to remember that some dogs don't travel well. When you collect your new addition, it's a good idea to come prepared for travel sickness. A few things we recommend for car journeys with a puppy are:
Ensure there is a good airflow – simply lower the window slightly to allow fresh air in.
Use a travel crate to keep them safe and secure, which you can learn more about here.
Ask the breeder to limit how much food they have before travelling – a puppy with less food in their stomach is less likely to be sick.
First few days of bringing a puppy home
It's important to remember that when you bring your new addition home, they may get an upset stomach. This is often due to the stress of their new surroundings, and usually isn't something to worry about. That being said, if you are concerned or you think something isn't quite right, seek veterinary advice immediately.
Their first meal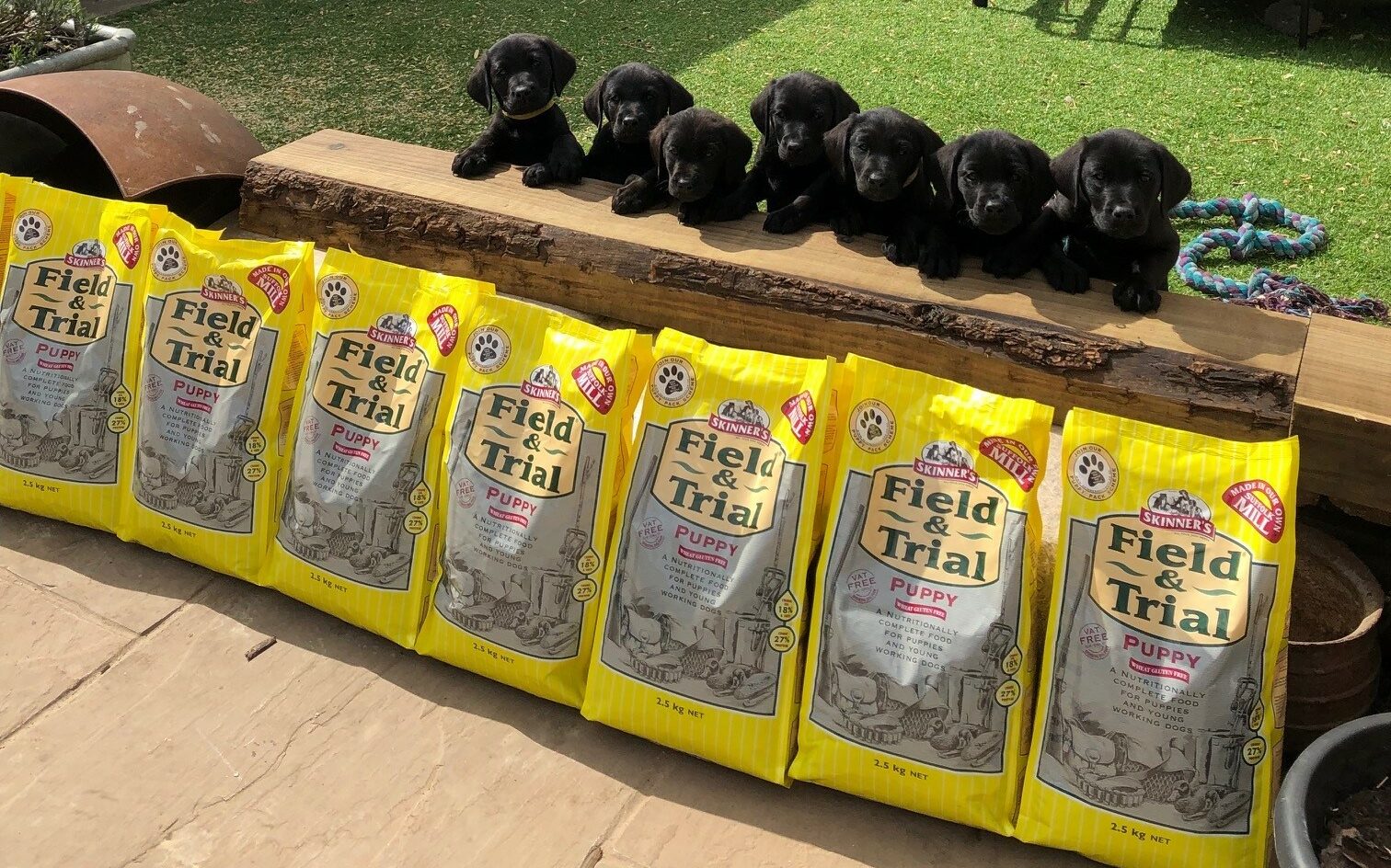 Your puppy may have come home with one of our Puppy Packs, and if they did that's great! If this is the case and you want to keep them on the food they came on, then you shouldn't have to make any adjustments. However, if you're looking to change them onto one of our foods, then a slow, gradual transition is key! To reduce the likelihood of digestive upset, we recommend this process taking about 10 days.
Finding the right food
Don't forget that every dog is unique with different dietary needs. This is why we have a variety of dry and wet diets within the Field & Trial range, to help you find the one they will thrive on. Which is why we have plenty of ways to help you find the right food:
Try our FREE online Feeding Guide for a personalised feeding recommendation.
Visit our Advice Centre, where you will find a library of interesting reads relating to our foods and canine nutrition.
Speak to one of our friendly nutritionists. Simply call 01379 384247 or email nutrition@skinners.co.uk and they will be happy to talk through your dog's diet with you.
Should I crate train my puppy?
Many handlers will use a crate for their dog, to provide them with a "safe space". If you do decide to use one too, start by gradually introducing your puppy to the crate by leaving the door open and letting them explore it for themselves. When they enter the crate on their own, be sure to give them lots of praise! It should be an inviting and cosy space for them, where they know they can go and not be disturbed. If you want them to get used to being in the crate with the door closed, it's important that you slowly increase the time they spend inside.
When does my puppy need to be vaccinated?
You will need to ensure that they receive the correct vaccinations. Usually, puppies can receive their first vaccination at around 8 weeks of age, yours may have already had their first whilst they were with their breeder; so make sure you get this checked. You should then get their second vaccination 2- 4 weeks after the first, and you may even be asked to come back for a third; your vet will advise you on this.
Until they have been fully vaccinated, you should not take them out to public places due to their increased vulnerability. You can take them out if you keep them held in your arms, but they should not come into contact with potentially infected dogs or areas where infected dogs could have been.
Annual vaccinations
Once they have had their initial vaccinations, you will be asked to bring them back for a booster every year. You may also be offered additional vaccines, which your vet will be able to talk you through.
What else does my puppy need?
Something else your dog will require is flea prevention and worming. It is recommended to worm a puppy at 2, 4, 6, 8 and 12 weeks of age and after that at least every 3 months, although this can vary depending on lifestyle; always check this with your vet if you're concerned.
It is important to regularly de-flea them. Your vet will be able to recommend a flea product that will work best for your puppy and show you how you can do it is home. There are a variety of flea treatments, and the time left between each treatment will vary from product to product.
If you have any questions regarding your puppy's vaccinations or health, always speak to your vet in the fist instance; they will be able to advise you best and support your dog's individual needs.
How much exercise should a puppy have?
The general rule is to give a puppy five minutes of exercise for every month of their age, up to twice a day until they are fully grown.
Whilst it can be tempting to spend longer exercising your new addition, they are still growing and developing and too much exercise could damage their developing joints.
When to begin gundog training
Whilst you'll hear a variety of opinions of when to start gundog training, the general view is to begin when they reach between 6 – 8 months of age. Remember that every dog is different, and while some pups may take to it with ease, others might find it a bit more of a challenge.
Just because it isn't recommended to get ready for being out in the field before 6 months of age, this doesn't mean you can't start putting in the basics. Make it fun- you can do this without your puppy even realising they're being trained.
What equipment do I need to start training a gundog?

When starting with the basics, a dummy, whistle and lead are all you need. As you progress with your dog, you will probably want to add to your dummy collection.
What commands do I start with?

Sit
Stay
Heelwork – just remember to make it fun and little and often is best; our Cognitive Training Treats are a great way to reward them for their hard work!
For instance, practice retrieves with a tennis ball in the garden. Simply roll the ball out for them and get them to bring it back to you; making sure that you give plenty of praise on their return!
Dog Training Treats (suitable for puppies 8 weeks+)
Motivating, Healthy & delicious reward.
£2.30 – £17.99
If this is your first time training, when they are at an age and stage to begin, we would recommend using a gundog trainer.
There are many professionals around the UK that work with first time owners, who can help you simply learn the basics or can work with them into adulthood; the Kennel Club list of accredited instructors is a great place to start.
Watch renowned trainer Jason Mayhew as he practices the basics with his puppy Ash:
Will you compete with your dog?
What is a gundog scurry?

A scurry is a competition which begins with a someone throwing a dummy about 30 – 40 yards from where you are stood. Your dog should then retrieve the dummy as quick as possible, and the dog with the fastest time wins.

Scurries don't tend to be too serious, and you can take part in them at most county fairs.
What is a working test?

These are competitive tests to challenge the agility of gundogs. These are designed to test the capability of the three gundog groups; Retrievers, Spaniels and Hunt, Point & Retrieve breeds.

The tests consist of individual exercises using dummies, that try to mimic what you would see on a normal shoot day. The dogs are then judged on their performance against a set criteria. The dog with the most points at the end of the day wins.
What is a field trial?

Field Trials are organised under the authority of the Kennel Club, for Kennel Club registered dogs.

The dog will be judged on their performance on retrieving game in the shooting field, and then awarded a place. For dogs that perform well, at the end of the season, trophies can be won.
Recent Crufts Gundog Group winning breeds

Irish Setter (2020), Irish Water Spaniel (2019), Pointer (2018)
Advice Centre
For a free and personalised feeding recommendation for your new addition, why not try our online feeding guide! Alternatively our nutrition team are always more than happy to answer any questions you might have regarding their diet, simply contact them on 01379 384247.
Let us know how you're getting on
We'd love to hear how you get on with your new puppy. Don't forget to tag us on social media and use the hashtags #fedonskinners and #borntobeoutdoors so that we can follow their journey into becoming a working dog!